Overview:
Students spend enormous amounts of money on textbooks each year, and the ability to rent books saves money for college students. I am a college student who has used Chegg's (NYSE:CHGG) rental service, and I have found that it is quick and easy.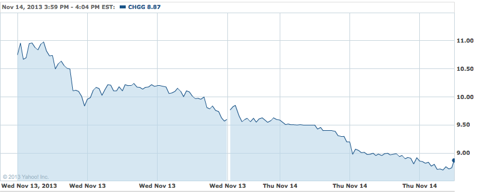 The recent IPO of the company sent shares down more than 30% over the past two days, as concerns have been raised as to the company's future. This article will serve to go over some of the more blurry pages of the company's prospective future to shed some light on what the future may hold for the company. Chegg's CEO has stated that they can be a profitable company right now if they wanted to be. One main reason for not being profitable is the large depreciation expense the company takes for its textbooks each year. On the other hand, Chegg CEO's loaded statement may not exactly be true - let's read this book and see just how the future fares for Chegg. Going over some of the biases against the company reveals a brighter picture than at first glance.
What Exactly Does Chegg Do: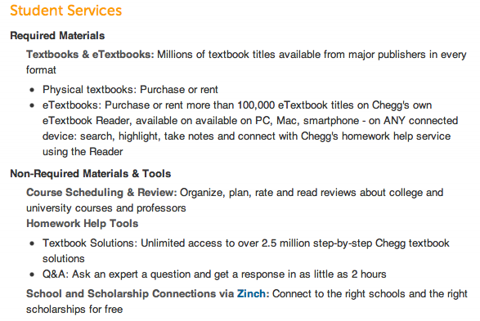 Click to enlarge
(Click to enlarge)
Chegg is in the college textbook business. The company offers a wide range of services ranging from millions of textbook titles available across a wide spectrum of publishers to homework help and connecting to scholarships.
Recent IPO
Based in Santa Clara, California, Chegg recently had its initial public offering of 15 million shares priced at $12.50 per share. This amount was above the projected price range of $9.50 to $11.50 per share (I). The current share price of $8.88 discloses a discount to the IPO price of nearly 30% that could provide investors with significant gains in the long term.
The Textbook Market Itself:
There are several key factors that should be pointed out before delving into a discussion on some of Chegg's key caveats.
The costs for college textbooks continues to escalate and have rose 812% in the past decade. (I)
Students can save 20%-70% buying or renting textbooks online (I)
The number of college stores offering textbook rental over the past four years has gone from 300 in the fall of 2009 to roughly 3,000 today. (I)
"Such print-version rental programs can save a student between 45% - 65% off the price of a new print textbook, and is often less expensive than digital formats," - Charles Schmidt, corporate spokesman for the NACS, trade group. (I)
Chegg's CEO has stated that they are targeting a trillion dollar market - education. (I)
"College students spend about $667 a year on required course materials, according to the National Association of College Stores." (I)
College textbook costs continue to escalate, leading students to less costly alternatives such as renting through companies like Chegg. Moreover, renting textbooks is much cheaper and Chegg is a direct beneficiary of students renting textbooks.
Depreciation: Chegg Could Have Positive Income Now, Although That Would Mean Massive Write Downs Later. Moreover, Revenues and Net Income Will Outpace Textbook Depreciation.
Companies depreciate its assets over a long period of time as many lose value over the course of the asset's useful life. This is used instead of writing down the asset at the end of its useful life since profit would be higher and then the write off at the last year of use would be a huge loss. Instead of writing the asset off the balance sheet in the final year of use, the cost of the asset is divided by the number of years in which the company expects to use the asset.
Chegg takes a rather large depreciation hit each quarter, to depreciate the value of the textbooks it rents out. This creates a clearer picture of income each quarter, instead of huge profits that are awaiting a massive write down when a percent of the company's books become illegible and have to be written down. This depreciation expense could sway investors away from a company that is not currently profitable, although an understanding into why Chegg is doing this could lead to a greater understanding into this proactive choice by the company. With this knowledge an investor can make a better, more informed long-term decision.

Click to enlarge
(Click to enlarge)
As we can see from Chegg's annual depreciation expense, if the company did not depreciate its assets (books) then the company's net income would be positive for each year.
This event may seem to send the message that Chegg is a bad investment since they are not profitable, although as stated this is better than taking a massive write down when the assets reach their useful life. Moreover, even though these assets are depreciated Chegg can still earn income by renting these books out to customers. This can create a domino effect in the future. Such that Chegg is earning more in income from past depreciated books than what is being depreciated for newer books - a snowball effect that has yet to take effect.
For example, Chegg's EBITDA income for 2012 was ($41,374,000) although the company's net loss was ($49,043,000) for 2012. For the same year, Chegg's depreciation expense for textbooks alone was $57,117,000. Taking away this depreciation expense would move earnings to a positive $8,074,000. At 14.4 million shares, this would lead to an earnings per share of $0.56. With this EPS for 2012, at Chegg's current price per shares, it would sport a P/E ratio of 15.85 for 2012.
So in essence, Chegg could be profitable and sport a P/E of 15.85 (for 2012), although they would rather do the responsible thing and depreciate its assets instead of a massive write down later on.
(video)

Click to enlarge
(Click to enlarge)
Chegg may not be a profitable company right now, although in retrospect they could avoid depreciating its assets and be profitable right now. Chegg's CEO is correct in his statement that Chegg could be profitable and it would even sport a P/E of 15.85 - although that would set the company up for massive write downs and they would lose their tax deductions.
Chegg's cost of depreciating its textbook library may be increasing, although that is perfectly fine as long as revenue and gross profit is increasing at a higher rate. Personally, I was wondering just how fast Chegg's depreciation expense is growing, along with gross profit. Below is a graph of Chegg's SEC reported values for 2008-2012 that I have extended on to 2016.
(In thousands)

Click to enlarge
(Click to enlarge)
As we can see, Chegg's textbook depreciation expense does not grow nearly as fast as net revenues or gross profit. One of the main reasons for Chegg's IPO decline was that the company was not profitable, although they could be. The caveat here holding the company back from profitability was the company's huge depreciation expense impacting the company's balance sheet. A further look into the future reveals that this will not be a limiting factor moving forward, as Chegg's net revenues and gross profits are growing at a much faster rate than the company's depreciation expense.
Print Is Not Dead: Although The Growth Of E-readers and Online Books Have Increased, Print Textbook Growth Is Not Dead.
Many, including myself, are of the bias that print textbooks will be gone soon and as such companies that deal with them will be out of business. Although Chegg is not in the same direct consumer book business that has seen the growth of e-readers. A company such as Barnes and Noble (NYSE:BKS) is more affected by the growth of e-books than Chegg, since Chegg deals with college textbooks. College textbooks are a very different ball game than all books in general.
The growth and transition to e-books may be slower than some are aware of. McGraw-Hill Vice President of Learning Solutions Tim Malek states that only around 3% of students use e-books on campus (I). This means that Chegg's physical textbook business is not going anywhere anytime soon. Moreover, the thought that textbooks are being phased out for digital versions is true - although on a much longer scale than next year or the year after. As such Chegg should still earn considerable revenue from their physical book sales, and the phase out argument is thwarted by the statistics.
What About When Print Dies: Future Plans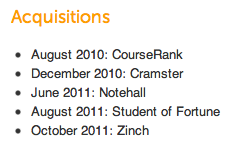 Chegg has significant plans for the future of the company's business beyond print textbooks, and they are executing that plan in advance.
With the advent of eTextbooks, we developed a web-based, multiplatform eTextbook Reader and offer eTextbooks and supplemental materials from approximately 80 publishers both as a rental-equivalent solution and for free for students awaiting the arrival of their print textbook rental. (I)
In the fourth quarter of 2010, we purchased Cramster, a company that provided online homework help for college students. We further developed the offerings of Cramster to create our Homework Help service, which we fully integrated into our platform in the second quarter of 2012. (I)
In the fourth quarter of 2011, we purchased Zinch, a company offering college admissions and scholarship services to students and enrollment marketing services to colleges. We have continued to offer these services through Zinch.com and expect to complete our integration of Zinch.com into Chegg.com in 2014. (I)
Chegg is not a business that has a life time linked to its physical textbook operations. The company's marketing services even allow marketing services to colleges that are interested in reaching college students - for a fee.
In addition, we offer enrollment marketing services to colleges, allowing them to reach interested college-bound high school students that use our College Admissions and Scholarship Services. (I)
We also work with leading brands, such as Adobe (NASDAQ:ADBE), Microsoft (NASDAQ:MSFT) and Red Bull, to provide students with discounts, promotions and other products that, based on student feedback, delight them. (I)
For example, for Red Bull, we inserted a free can of Red Bull in select textbook rental shipments to students, and Hulu paid us to include a package insert offering students a free one-month subscription to Hulu Plus. All of our brand advertising services and the discounts, promotions and other products provided to students are paid for by the brands. (I)
Chegg is no stranger to working with large companies to directly advertise to students looking to purchase or rent textbooks from the company. Chegg is building out its online operations through acquisitions way ahead of the game - before the end of its physical textbook business in the future. Chegg is offering two more additions to its online operations through acquisitions - an online self help system and a marketing operations business. These acquisitions coupled with the growth of Chegg's online e-book business will provide a future for the company against the skeptical belief of the company not having a future beyond print textbooks.
In 2012, we had a net gain on liquidations of $2.6 million resulting from proceeds received from liquidation of previously rented print textbooks on our website and through various other liquidation channels. The number of textbooks liquidated in 2012 was comparable to those liquidated in 2011; however the amounts recovered were higher in 2012 than in 2011 due to more liquidation volumes through our website, where the recovery proceeds are greater than through wholesalers or other channels.
Moreover, by the time these physical textbooks are fully depreciated and have satisfied their useful life, Chegg has a way to profit from them that is more advantageous than wholesalers - its own website. Chegg can sell its fully used textbooks on its own website for a profit directly to the company, instead of using a third party.
Competition: Risk Factor
One of Chegg's main risk factors is the growth of competition. Although the growth of Chegg in the face of Barnes and Noble, Amazon (NASDAQ:AMZN) and others points to the idea that these larger companies may actually have trouble competing with Chegg itself.
Barnes and Noble rents textbooks at 42.5% of their original price at 636 of its campus stores - started back in 2010.
Amazon started its textbook rental service in 2012
Pearson and McGraw-Hill partnered to introduce a service called CourseSmart offering digital textbook rentals. (I)
Bookrenter.com
Textbooks.com
Chegg obviously has a large number of competitors, although the big players sprung up after Chegg's 2007 online textbook rental move. With Barnes and Noble starting in 2010 and Amazon in 2012, the larger players make the area more competitive. On the other hand they cement their belief in the target market's profitability.
Chegg's Market Reach:
"Chegg says it reaches 30 percent of college students and 40 percent of college-bound high school seniors in the U.S." (I)
Chegg has a large reach to not only college students, but also college bound students as well. This increases Chegg's marketing efforts and compounds the large exposure the company has to the marketplace it conducts business in.
Past Financials
One of the best ways to target a great long-term investment is to see when the market is mispricing a stock. The market may be mispricing Chegg, although the company's past financials have been improving they are worrisome.
Chegg lost $37.6 million in 2011, $49 million in 2012 and $21.2 million in the first six months of this year.
On the other hand, net revenue has consistently grown to $213 million in 2012.
Chegg has been improving its balance sheet over the years, although one thing is very clear. A company does not need massive net income numbers when revenues are consistently up. A perfect candidate for this example is the ever resilient Amazon.

Click to enlarge
(Click to enlarge)
Although I may not agree with the gains Amazon has had in the face of flat or negative income one thing remains clear - Amazon's PPS has grown with revenue. As such, Chegg can increase its PPS on the basis of rapidly rising revenue. The difference between Chegg and Amazon is the fact that the main item holding Chegg back from profitability (textbook depreciation expense) is not growing nearly as fast as revenue. As such, revenue will more than cover the expense and lead to gains later on in the future for Chegg. Although in the meantime, rising revenue can more than feed a growth in Chegg's price per share.
Improvement:
As I would rather not jump the gun on a long -erm idea, comparing the most recent 6 months ending June 2013 to the annual year of 2012 can shed some light on Chegg's financial improvement.

In the last six months ending June 30, 2013, Chegg has an EBITDA worth 77% of the entire fiscal year of 2012. Moreover applying a factor of two to Chegg's net loss demonstrates a value lower than the fiscal year of 2012. Although these items are more specific and applying a simply factor is not a conclusive item. Put simply, Chegg's financials are improving.
CEO Has To Think Long Term: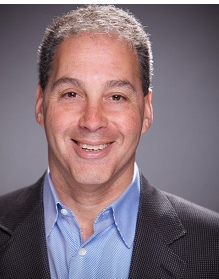 Chegg's CEO Dan Rosensweig has been seen lately on Bloomberg (linked above), although he will be with Chegg for quite some time. He is best known for his work as President of ZDNet where he managed the very successful merger with CNET. Mr. Rosensweig currently has 1.5 million stock options that are vesting over four years. Also the CEO has a grant of 750k restricted shares that are also vesting in addition to his 400k annual salary, before his annual bonus. The vesting nature of Chegg CEO's options and restricted shares demonstrates the need for him to execute and expand for shareholders.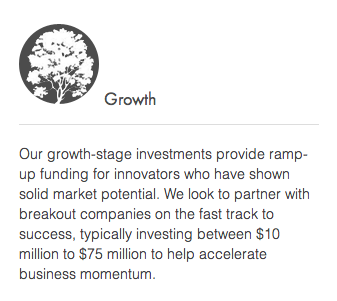 Chegg also has a venture capital stake that is quite a large sum. Kleiner Perkins holds a 15.1% stake in the company that amounts to 12.5 million shares. A Kleiner Perkins partner, Ted Schlein, also sits on the board of Chegg. The firm obviously wants a close eye on its investment.
Outlook For 2015
Since this company is being considered for a long-term investment, I have chosen to provide an outlook for 2015 with regard to Chegg's PPS instead of 2014. This is due to the fact that it may take several months to execute my buy price. Several other companies, but not limited to, Groupon (NASDAQ:GRPN), Facebook (NASDAQ:FB) and LinkedIn (NYSE:LNKD) fell several months following their IPOs. Being close to 2014, It may take some more months after 2014 begins for Chegg to set in its low. Even if the company does have some pops in the meantime.
As such, using the extrapolated model for 2015, Chegg is looking to have revenue of $440 million, earn gross profit around $131 million and have a textbook depreciation expense around $64 million. I believe that significant changes to income can take place over the course of time until 2015 - and as such I feel that simply extrapolating numbers do not serve a purpose here.
As such, I do see Chegg's depreciation expense for books decreasing as its higher margin online business continues to grow. Moreover the large increases in revenue may sport the Amazon effect. For the more comprehensive reasons discussed above and highlighted below, I could see Chegg's shares trading between at least $14-$16 sometime in 2015. At a good entry point around $7-$8 this could provide investors with a 50% gain sometime in early 2015. This would be a time horizon of a year, since the prospective investor would not be buying shares tomorrow and may have to wait some time for a better entry point that may take several months (just like the other tech names below post IPO).
Conclusion and Buying Analysis

Click to enlarge
(Click to enlarge)

Click to enlarge
(Click to enlarge)
Facebook and Groupon cratered after each company's IPO. Even LinkedIn fell 32% seven months following the company's IPO - after an initial fall then pop up.

Click to enlarge
(Click to enlarge)
Chegg's shares fell almost 20% on Wednesday following the company's IPO and another 9% in Thursday's trading. My belief is that Chegg's shares will remain extremely volatile in the coming months and will trade between the $7-$12 range. It may take a few months to get shares down to a more risk adjusted buy price, although like the larger names it is not unlikely.
Coupled with news regarding Chegg's future profitability, near-term volatility, competition and the trend of post IPO selloffs for tech names - I believe investors should wait to buy shares of Chegg. Although after such a bottom is in, for the above reasons Chegg will not be going out of business anytime soon.
The company's print business is growing, and is not being phased out by e-books nearly as fast as some may assume.
The company can be profitable today as the CEO has stated, although depreciating the company's textbook supply is the right financial choice. This avoids costly write downs later and the company can still profit from depreciated books now and in the future.
Chegg is growing its online presence through its eTextbook reader and its offering of eTextbooks. Moreover, the company has acquired Cramster to provide online homework help for college students and Zinch to provide admissions and scholarship services to students and marketing services to colleges.
Larger names have popped up after Chegg's online textbook rental programs' inception in 2007. Barnes and Noble in 2010 and Amazon in 2012 demonstrates the larger player's acknowledgment of the profitability of this market, and Chegg's lead in the marketplace.
Chegg has huge exposure to college students 30% and college bound students 40%.
Chegg's large increases in revenues Y/Y demonstrate a concept much like Amazon's - that a company's PPS can increase in the face of rising revenues and flat or negative net income. Although with regard to Chegg, the main item holding the company back from profitability (textbook depreciation expense) is not growing as fast as revenue. This could mean profitability later on as revenue is growing exponentially faster than this depreciation expense.
As such, I would advise interested investors to make sure you have a long-term horizon coupled with an understanding of the business that Chegg is in. Mainly the obvious risk factors of competitors eating Chegg's lunch. Although we have seen Chegg's rental service co-exist with Barnes and Noble and Amazon's services as Chegg's revenue has increased year over year. Compounding the idea that Chegg has the market lead. I would keep a close eye on Chegg and if shares fall below $8 I would begin accumulating slowly with a strong buy around $7 per share. These short-term targets are due to internet peers' price per share losses post IPO such as Groupon, LinkedIn and Facebook. As many of these companies trade more on the news, than fundamentals post their IPOs.
If any events unfold in the interim that may be materially negative for Chegg - then a re-analysis would be in order. Shares of Chegg are already down largely post IPO, and an attractive entry point around $7-$8 could provide investors with substantial gains over the long term. On a closing note, as an investor I would not doubt future innovations at Chegg. Anything longer than a year is a long time for a company, especially to develop, grow and expand with funds raised from an IPO.
Disclosure: I have no positions in any stocks mentioned, but may initiate a long position in CHGG over the next 72 hours. I wrote this article myself, and it expresses my own opinions. I am not receiving compensation for it (other than from Seeking Alpha). I have no business relationship with any company whose stock is mentioned in this article. This article is informational and is in my own personal opinion. Always do your own research and contact a financial professional before executing any trades to make sure an investment is right for you.