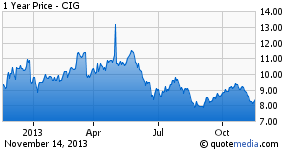 CEMIG's (NYSE:CIG) 3Q earnings announcement on November 14, 2013, provided some short-term comfort for investors while leaving unresolved the fundamental strategic issue. Earnings per share of $.42 exceeded the $.40 projection of the one analyst covering CEMIG. Cash flow from operations was up by 35% year-over-year. Debt levels continue to come down to 26.9% of equity and payment schedules continue to elongate while borrowing rates remain attractive at 5.47% overall. Despite a 28% reduction in electricity rates imposed by the government CEMIG consolidated net revenue year-over-year was only down -3.2%. Operational cost reductions are underway and the impact of those reductions should be clearer in 2014. The market reacted positively to CEMIG's results and shares were up over 2% after the market open.
My prior analysis of CEMIG's 2Q earnings call highlighted the investment opportunities and risks associated with CEMIG. For an excellent overview of Brazilian utilities refer to Mr. Spivak's analysis on Seeking Alpha from June of 2013. Briefly summarized the pros and cons with CEMIG come down to these factors:
Pros
· Strong history of 20% CAGR growth in the 5th largest world economy.
· Experienced management with a clear vision for CEMIG's future growth.
· 5%+ growth in projected annual energy usage supports growth story.
· 22% dividends paid in 2013 at these depressed share prices.
· DCF fair value analysis suggests a price double or triple the current $8.40 market price.
Cons
· Brazil's government could rescind their hydroelectric generating licenses.
The 3Q earnings call basically re-emphasized the pros associated with CEMIG. Their acquisition strategy appears to be working and 44% of 3Q 2013 net income was derived from equity holdings. Their push into renewables added significant generating capacity and their gas business grew 8%. Customer growth exceeded earlier 5% annual projections and was up 3% and 19% for CEMIG D and CEMIG GT respectively. CEMIG is ahead of its EBITDA guidance and hit the lower end of its full year projection at the end of 3rd quarter.
The one major "con" in this investment was left open. CEMIG successfully filed for an injunction to prevent the loss of the Jaguara hydroelectric plant concession, but the final decision from the higher appeal court could go either way. CEMIG executives expressed their confidence in Brazil's judicial system and felt they would prevail, but I'm not aware of any way to handicap this decision. CEMIG stated they expected a decision imminently. Without this political headwind CEMIG's shares would be open for a fair evaluation of its earnings growth potential. With this headwind fair value remains sequestered in the proverbial government lockbox. Meanwhile a 22% annual dividend is soothing, but there was no indication on the earnings call regarding dividend projections for 2014. Dividends are paid at 50% of net profit for the prior year with special dividends potentially distributed every two years.
The political risk is clearly the single largest and most critical issue. I remain cautiously optimistic about CIG's growth potential and hope the market has too large a discount on the risks. CIG remains a high potential investment, but carries with it high risks.
Disclosure: I am long CIG. I wrote this article myself, and it expresses my own opinions. I am not receiving compensation for it (other than from Seeking Alpha). I have no business relationship with any company whose stock is mentioned in this article.