How can a stock that is up over 800% since its IPO, over 200 % over the past 5 years, and over 40% year to date still have room for upside? It can as long as the company's name is Google Inc. (NASDAQ:GOOG). In this article I will present to you an argument in which I think Google could be trading for at least 15% higher than its current price. This argument stems from Google passing a strategy that has significantly outperformed the market in the past as well as my confidence in Google's diverse, powerful, and growing set of products for business and individuals.
Google, according to Yahoo Finance, "is a technology company that builds products and provides services to organize the information and make it universally accessible and useful." Its main revenue driver is Google search which enables pay-per-click advertising. Google Search, according to this article, owns about 65% of the share of unique searches worldwide. The massive amounts of high margin revenue generated from Google's pay-per click advertising enables the company to produce an ever expanding portfolio of revolutionary products. Some of its main products include:
Android Operating System: Android is the world's most widely used operating system in smart-phones with a commanding lead over Apple (NASDAQ:AAPL) IOS. According to this Bloomberg article, in the 3rd quarter of 2013 smartphones using Android's operating system accounted for 81% of the 261 million units shipped while Apple's IOS accounted for 12.9%.
YouTube: YouTube is an online video service that ranks as the most popular in the world with second place falling far behind.. "YouTube Delivers 2 of Every 5 Videos Viewed Worldwide" according to this article written in December of 2011.
Google Maps: Google Maps is a web mapping service application. As stated in this article, "Google Maps is the most used smartphone app on the planet with over half of all devices accessing a version of the app."
Google Chrome: Google Chrome is the world's most popular web browser. Although it has only been around for about 5 years, "Chrome now holds 43.12% of market share as of July 2013 followed by Internet Explorer 24.53%, Firefox 20.09%, Safari 8.59%..." according to this article.
Others include Nexus Phones, Google Finance, Google Analytics, Google Earth, Google Wallet, etc.
Newer Upcoming products
Google +: Google+ is a fairly new social media service, but according to this article written in September of 2013, Google+ now ranks 4th in mobile app popularity worldwide. Surprisingly, Twitter (NYSE:TWTR) ranked 6th behind Google+.
Google Glass: Google Glass is a wearable computer with an optical head mounted display. The product is expected to launch sometime in 2014 and excitement and anticipation is high for the product.
Google Fiber: Google Fiber provides internet and television services to a small but growing amount of users in the United States. Google claims to provide internet speeds that are 100 times faster than average broadband speeds. The product launched in Kansas City, Kansas and is expected to expand to more cities in short order.
Chrome Book: The Chromebook is an aggressively low priced personal computer that runs on Chrome OS. According to this Bloomberg article "Chromebooks have, in just the past eight months, snagged 20 percent to 25 percent of the U.S. market for laptops that cost less than $300, according to NPD Group Inc."
Next Revolutionary Google Product: Fill in the blank.
The Strategy
The strategy that Google currently passes looks to locate stocks that meet the following criteria:
Forward PE based on their 2014 EPS estimate as well as the forward PE based on their 2015 EPS estimate must me at least 25% less than its industry average. Stocks with a market cap less than 250 million and a forward PE above 100 are excluded from the average.
The five year expected EPS growth rate reported by analysts must be greater than 15%
The stock must be within 20% of its maximum high since January 1, 2000
Sales growth from 5 quarters ago to last quarter must be greater than 10%
The Equities Lab Income Statement Score must be greater than 6 (out of 10).
The Equities Lab Income Statement score is a score from 0-10 measuring income statement health. A stock gets a point for passing each of the conditions below illustrated in the screen shot: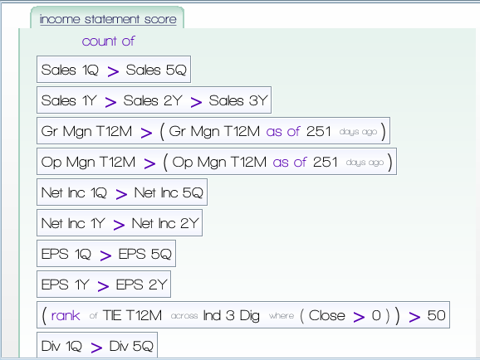 The result of the above criteria is 11 stocks including: Google Inc. , Whirlpool Corporation (NYSE:WHR), Time Warner Cable (TWC), Cognizant Technology Solutions (NASDAQ:CTSH), Catamaran Corporation (NASDAQ:CTRX), Lear Corporation (NYSE:LEA), United Rentals Inc. (NYSE:URI), Jazz Pharmaceuticals (NASDAQ:JAZZ), AMC Networks Inc. (NASDAQ:AMCX), Hornbeck Offshore Services (NYSE:HOS), and U.S. Silica Holdings Inc. (NYSE:SLCA).
I am confident in the stocks this strategy returns because of how the strategy has performed in the past. According to our backtest (shown below), the strategy mentioned above has produced a 29.9% annual return since 2003. The return is based on if you would have bought and held the stocks that pass the strategy then sold them as they no longer pass the strategy with a weekly rebalance. For more information on our backtest visit this link.
If you are worried that the backtest return above is mainly driving my small cap stocks, view the image below which shows the return if you would have invested in the same strategy but excluding stocks with a market cap fewer than 8 billion. The strategy still produces a heavily outperforming annual return of 27% with only 470 trades over a 10 year period.
Possible Argument
A possible argument is that Google compared to other large cap technology companies actually has an above average forward PE. The average one year forward PE of technology stocks with a market cap greater than $25 billion is around 16.5 while Google's sits at around 19.5. My response to that is the average estimated annual 5 year growth rate of those large cap technology stocks is 11.72% while Google's is 40% greater at 16.4%. With that being said I do not believe that Google should be treated like a regular mega cap stock. It shouldn't because Google's estimated annual 5 year growth rate ranks in the top 28% of the entire market.
Conclusion
Google's forward PE based on its 2014 EPS estimate is 19.4 while the average forward PE of stocks in the computer services industry with a market cap greater than 1000 and a forward PE less than 100 is 27.3. That puts Google's forward PE 29% lower than the industry average. For a stock that has such a wide and growing portfolio on globally leading products, I find this to be a mystery. In addition, Google currently passes a strategy that has significantly outperformed in the past. As a result, I think Google could and should be trading at least 15% higher than its current price.
Disclosure: I have no positions in any stocks mentioned, and no plans to initiate any positions within the next 72 hours. I wrote this article myself, and it expresses my own opinions. I am not receiving compensation for it (other than from Seeking Alpha). I have no business relationship with any company whose stock is mentioned in this article.