It is amazing how time flies. Part 1 of this article was written the 28th of August 2012. At that time, the Australian Dollar was trading around 1.04. In fairness, this trade looks great compared to today's price, but the pair spent months thrashing around until the real weakness came.
Our bearishness on the Australian Dollar at that time was partially in response to Labor's passage of the Carbon Tax, with the help of the Green Party. At that time we wrote:
"The remnants of the commodity boom may have contributed to bad policies and possibly some expensive habits. During the good times it is easy to be complacent, and forget that economic cycles do not last forever. Last year Australia, by a slender margin, passed a comprehensive carbon tax bill. The Greens may feel good about this bill but for those producing or consuming energy, the bill is a labyrinth of government policies.

The carbon tax in Australia is complicated, a tax on energy producers and consumers. The government envisioned a high price for carbon, thereby providing ample revenues for various welfare projects. With carbon prices much lower than forecast, there is a possibility that the grand spending plans may lead toward a budgetary deficit."
To alleviate the economic pain, then PM Julia Gillard's government granted some tax relief for those who were to be harmed, as well as routine income distribution by the Left. These economic party favors were disbursed prior to the collection of the carbon tax, and were based on the unrealistic assumption carbon would be trading over $20 per ton, rather than under $5.00 per ton. Now, as they say, "the chickens have come home to roost."
The Labor government has been replaced by Tony Abbott, Liberal, who has vowed his government will dump the carbon tax which is generating little revenue and partially because of Labor's economic party-favors has resulted in a deficit of $40B for the year. For a country with a population of less than 24M, this is a big number.
And we now have controversy as the deficit means the debt ceiling needs to be increased. Labor will agree to a A$100 increase to A$400M, but A$500M is too much. Does any of this sound familiar?
As we have discussed before, Australia has developed the Dutch disease. This is when a brisk demand for commodities elevates labor costs for the entire economy, resulting in segments of the economy no longer competitive. Currently, the Australian minimum wage is over A$16 per hour. Compared to the cost of $8.00 per hour in the US, or 1/2.00 in China, Australian-manufactured products are non-competitive.
An example of damage to the manufacturing sector can be found in the auto industry. There, Ford (NYSE:F) has announced it is ending production. Holden, a joint venture with General Motors (NYSE:GM), is threatening to end production should labor fail to agree to contract changes. Toyota (NYSE:TM) will continue production in Australia if it can find a way to reduce production costs by $4,000 per vehicle.
Adjustments from the commodity boom, now diminishing, are difficult to make, and are illustrative of how global markets are connected. One of the hardest hit, among the commodity segment of the Australian economy, is the coal business. The shale revolution in the US has increased the supply of natural gas and reduced the price, thereby displacing the use of coal in the US. In 2012, partially as a consequence of the increased supply of US thermal coal, US exports increased to 56 million tons of coal of which over 20% was to Asia.
The fall-out from the slowing commodity cycle continues. This week the Aussie earth moving company WesTrac announced they are shedding 630 jobs because a downtrend in mining investment has reduced their machinery sales.
During the commodity boom years, the minimum wage was increased to A$16.37 per hour. With the higher-paying jobs in short supply, there is now pressure to reduce the minimum wages for those working in retail and the service business.
What we are seeing is normal upheaval during a change in business conditions. Theoretically it makes sense, unless you are the one getting a smaller paycheck.
The Australian commodity demand has been a byproduct of the economic boom in China, and this should continue. This past week China's Third Plenum concluded. Zero Hedge observed:
"A few hours ago, the "historic" and "most important ever" (just like every payrolls report) Chinese plenum concluded. And like everything out of China, it was big on promises and scant on details."
China will remain Australia's most important trading partner, granted, but it is possible the big commodity boom is over. Yes, Australian investments to convert natural gas to liquid is the next wave of Chinese demand but this is more capital than labor intensive.
The composition of the market is quite different now, compared to August of 2012. On the 28th of August of that year, speculators were long 87,841 contracts of futures at the CME. Now the specs are short the Australian Dollar by 32,986 contracts.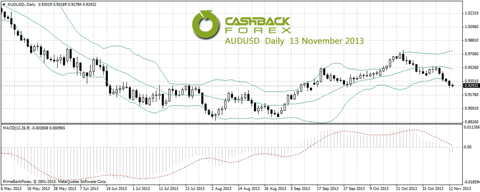 Click to enlarge
The Australian Dollar (AUDUSD, FXA, UUP, UDN) is a favorite trading vehicle of the large specs. Often they get extreme positions of 90/100,000 contracts. This year, the break in the Australian Dollar was partially caused by long liquidation. Now they are short but, should they add in big numbers, the market would head south.
Disclosure: I have no positions in any stocks mentioned, and no plans to initiate any positions within the next 72 hours. I wrote this article myself, and it expresses my own opinions. I am not receiving compensation for it. I have no business relationship with any company whose stock is mentioned in this article.