Akamai (NASDAQ:AKAM) is known for helping web sites deliver web content fast and securely to their visitors. Visitors to sites served by Akamai receive web content from by a nearby Akamai server rather than the website's own servers. The company has traditionally charged a premium over what competitors Limelight (NASDAQ:LLNW) and Level 3 (NASDAQ:LVLT) charge for content delivery. This has helped Akamai maintain higher margins and earn more profits.
Lowering Prices to Compete
Pricing in the content delivery business is typically based on the price per Gigabyte of content delivered. Akamai is now getting competitive on pricing, especially on video content, to attract more customers and the amount of content (in Gigabytes) delivered by the Akamai network. In some of its recent deals, Akamai has aggressively outbid its competitors on price which has helped the company retain and grow its customer base of media websites. (Click to enlarge)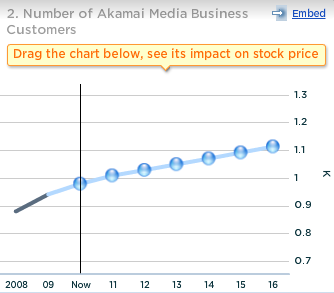 Lower pricing alone could mean that the amount of money spent by each Akamai customer could decline; however, offsetting this is the rapid growth in the amount of media content on the web and the likelihood that customers will use Akamai even more at lower prices. Thus we expect revenue per customer to experience an overall positive impact and to increase over the Trefis forecast period.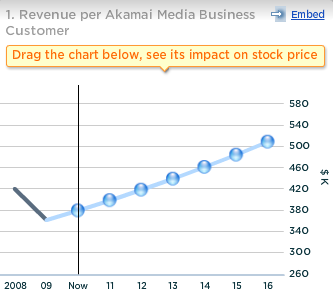 Falling Gross Margins
Lower prices result in reduced gross margins for Akamai's media content delivery business. We estimate that media content delivery constitutes about 26% of the company's stock price and has margins lower than the company's overall margins owing to higher bandwidth costs.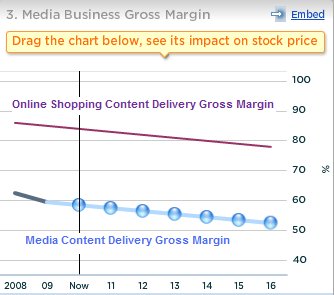 You can modify the three top forecasts for Akamai's media business to see how changes in Akamai's pricing can impact Akamai's demand and its stock price:
Disclosure: No positions