Entergy (NYSE:ETR) is a diversified energy company with regulated electric distribution and merchant power assets. Earnings and earnings growth have been a bit disappointing over the past few years and is showing up in a low relative valuation and higher dividend yield. While it may be another few years before earnings growth returns, the higher current yield may offer income investors sufficient reason to add ETR.
ETR has two general operating segments, starting with regulated electric utilities in Arkansas, Mississippi, Louisiana, and Texas. Entergy delivers electricity to 2.8 million utility customers. The regulated service area is outlined below, from the latest investor presentation (pdf). ETR also supplies 200,000 customers with natural gas service in Baton Rouge and New Orleans.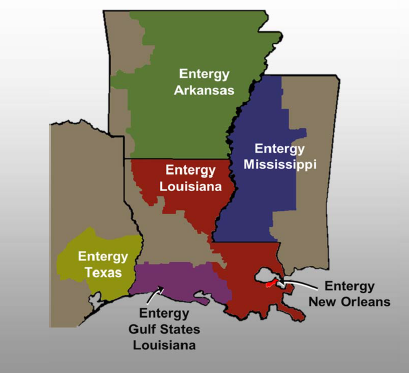 Regulatory environments as described by S&P Credit Assessment are as follows:
Arkansas: Credit Supportive
Mississippi: Credit Supportive
Louisiana: Less Credit Supportive
Texas: Less Credit Supportive
Within the rating of regulatory environments, "Credit Supportive" is considered average and "Less Credit Supportive" below average.
The other major operating segment is generating merchant power in the Northeast and Midwest fueled mainly by nuclear. ETR operates 10,000 MW of nuclear power generating facilities and is the second largest producer of nuclear power, right behind Exelon (NYSE:EXC). ETR operates a total of 30,000 MW of generating capacity.
The nuclear facilities are some of the more controversial plants in the Northeast. Due to depressingly low market prices in the hypercompetitive JPM auction markets, management announced the permanent closing of their Vermont Yankee plant by the end of 2014. The Indian Point plant outside New York City is the target of strong political pressure for its closure with the reason most given is its proximity of 24 miles from NYC. The Pilgrim Plant in Plymouth, MA is also the subject of criticism due to its proximity to Boston, but was recently re-licensed for a 20-yr extension.
ETR is expected to earn around $5.00 a share this year and $5.00 next year. Below is management's 2014 earnings guidance: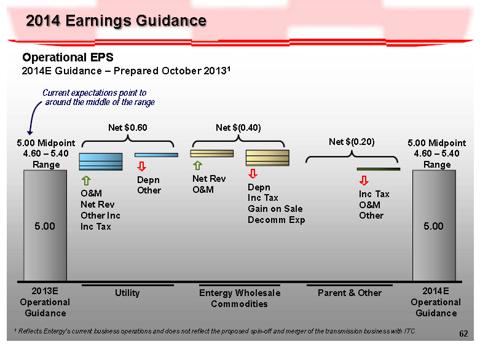 Management also provided operating estimates going out to 2016. Management expects utility operations to grow by 5% to 7% off an $820 million earnings base but for merchant power to decline in EBITDA from $600 million in 2014 to under $450 million in 2016. This represents about a 5% reduction in overall company generated EBITDA of $3.2 billion. Based on this equation of growth in regulated utilities being offset by declines in merchant power, overall earnings look to stagnate until post 2016.
Much like its merchant power competitor EXC, ETR needs to have a turnaround in electricity pricing in the Northeast to turn around earnings. For example, during the most recent quarter, earnings from the merchant power group were reported as:
Entergy Wholesale Commodities' as-reported loss was $92.8 million while operational earnings were $82.3 million for third quarter 2013. During the corresponding quarter last year, earnings on an as-reported as well as operational basis were $86.8 million. The drop was attributable to higher depreciation expense.
Earnings for the first nine months of 2013 declined by 17% from the same period in 2012. There will be more of the same going forward.
Revenues for the first nine months of 2013 gained 10%, derived from 15% growth in the regulated utility segment to $6.8 billion and a stagnant Wholesale revenue of $1.7 billion.
Dividends have remained pretty flat with an annual rate of $3.32 a share for a current yield of 5.2%. Before 2012, the payout ratio was between 45% and 49%. However, with the dip in earnings, the current payout ratio is pushing 65%. The last two dividend increases of consequence were 16% in 2008 and 7% in 2010. Without much earnings growth going out to 2016 and a payout ratio nudging 65%, dividend increases over the next few years will be slight to none. However, a current yield of 5.2% may compensate for the lack of near-term dividend growth.
Entergy has generated adequate returns on invested capital, as reported by fastgraphs.com. The 15-yr average ROIC is 5.3% and the most recent 5-yr average is 5.9%. This is slightly better than the average ROIC goal of 5.0%. However, with the decline in merchant power profitability, ROIC also declined to 4.0% in 2012. Below is a 15-yr graph of ROIC from fastgraph.com: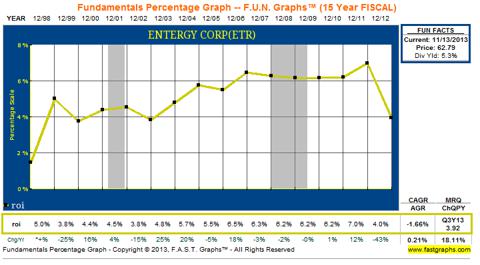 With earnings and dividends stagnating, share prices have not kept up with the valuation gains of its peers. Below is Morningstar.com's growth estimate of $10,000 in ETR vs. peers and the SPY going back to 2003: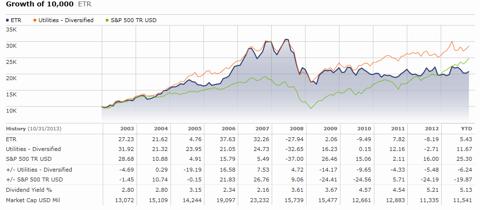 ETR has underperformed both its peers and SPY since 2008, and in many of these years by double-digit valuations.
Entergy operates a system composed of approximately 15,700 miles of interconnected transmission lines and approximately 1,300 substations across an 114,000 square mile area. ETR is in the process of selling these transmission assets to ITC Holdings (ITC). While a bit complicated in structure, ETR will receive a net $1.775 billion in cash and ETR shareholders will gain 50% interest in ITC through issuing additional ITC shares. It would seem an estimated share transaction could be 1 share of ITC for every 5 shares of ETR. A few of the interesting numbers are:
ITC market cap of $4.9 billion
ETR market cap of $11.3 billion
ETR raises $1.775 billion in debt capital that ITC assumes
ETR shareholders to get 50% of ITC in shares with a current market cap of $2.5 billion
Value of the transmission business is estimated at $4.3 billion
The merger with ITC is hung up in state regulatory approvals. Historically, ETR has chosen state regulation of its transmission assets over FERC regulatory control. ITC, on the other hand, is strictly a FERC regulated company. The separation of the transmission assets from the utility's state regulated asset base and transferring them to federal regulatory control has created some turf wars. The state's PUC do not relish control of these assets slipping out of their jurisdiction. Under the guise of consumer protectionism, the state PUCs are asking for assurances that the higher allowed FERC ROE will not cause transmission rates to increase. It seems that without heavy givebacks by ETR and ITC, the merger has about a 50% chance of being approved. The closing of the deal has already been delayed from the end of this year to most likely 2nd quarter 2014.
However, the results of a completed merger will benefit current ETR shareholders as they receive substantial equity interest in ITC.
Entergy currently has $12.2 billion in long-term debt and has embarked on a $6.8 billion capital budget plan, mainly focused on its regulated asset base. Of this budget, $1.7 billion was earmarked for transmission investments. With the sale of these assets, not only does ETR get $1.7 billion in cash, but also cuts its capital spending needs to a more manageable $5.1 billion that may be funded mainly from operating cash flow in excess of $2.3 billion annually after consideration of the spinoff. Management has been reducing debt most of this year with long-term debt declining by almost $1 billion since the end of 2012.
Investors willing to take a 5.2% cash yield and potentially receiving a sizable interest of typically higher margin transmission business in place of capital gains over the next few years may want to consider Entergy. The capital gains payoff will be post 2016 if the power markets in the Northeast and Midwest improve.
Author's Note: Please review important disclaimer in author's profile.
Disclosure: I am long EXC, ITC. I wrote this article myself, and it expresses my own opinions. I am not receiving compensation for it (other than from Seeking Alpha). I have no business relationship with any company whose stock is mentioned in this article.