eBay Inc. (NASDAQ:EBAY) has become more than just an online auction site. The company is now a full service e-commerce operation. eBay provides services to big-name retailers by improving their online retailing business. The company also provides safe, fast and convenient methods for online payment to the masses and is continuously excelling in its traditional online auction business by adding new and innovative services.
In this article I will discuss the recent developments in eBay's business and its PayPal payment services.
After the acquisition of PayPal by eBay back in 2002, PayPal made simplistic changes to its operations. First the company improved its ability to cater to the transactions of eBay customers in the US. Afterwards the company improved service for eBay's international transactions. Once it established a strong foothold in the international e-commerce market the company shifted to an off-eBay strategy. Since then, the company has been continuously increasing the volume and amount of transactions completed using the PayPal platform.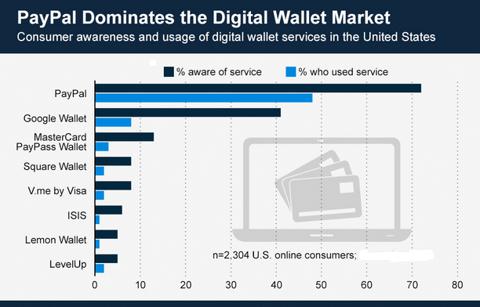 In the third quarter of fiscal year 2013 PayPal was successful in adding 5 million active registered accounts. The total number of registered accounts jumped to 137 million which is a 17% increase from what it was during the third quarter of fiscal year 2012.
During the third quarter of fiscal year 2013 the amount of payments channeled through PayPal grew at a rate of 25% to $44 billion. This growth was fueled by increased usage of PayPal's services by consumers and merchandisers in order to receive and pay for goods and services directed from both eBay market places and third-party sales.
Key Additions to PayPal's services

PayPal routes approximately 1.1% of total global payments and I think this share can easily be doubled because eBay is doing everything it can to grab and retain a bigger market share. In pursuit of its goal the company has acquired complementary business, added new innovative payment solutions, and has forged ties with many retailers to accept payment via PayPal from consumers.
The company is well aware of the increasing usage of mobile phones and has taken numerous steps to develop its capabilities in mobile phone payment services. Out of 137 million total users of PayPal 32% utilize mobile phone devices for purchases.
Recently the company signed an acquisition contract with Braintree, a global payment platform. This complementary acquisition will add to eBay's PayPal services by refining and simplifying online and mobile payment methods. Currently PayPal accepts payments in 26 currencies in 193 markets over the globe but Braintree, which currently caters to 40 countries, accepts payments in more than 130 currencies. Adding a revolutionary company like Braintree to support PayPal's business will rapidly increase the user base and will show tremendous results in the near future.
Additionally the company has enhanced PayPal's consumer app for iOS and android devices which will provide customers in the U.S. and Australia with convenient order-ahead and pay-at-table capabilities. Moreover it will offer customers the ability to check in and pay with their PayPal digital wallet at thousands of retail locations in the US, UK, Canada and Australia.
eBay has also launched a fully localized PayPal offering in Russia. The company has also entered into Latin America's biggest economy, Brazil, by launching a Brazilian version of its Moda fashion app. The app is in Portuguese and features prices in USD as well as the BRL. This app is currently available on the iOS interface and its android version will be launched soon. The spending power of Brazilian consumers has increased and along with their awareness of fashion and luxury items, I think the move made by the company to expand its operations in the developing world will further strengthen the company's position and will provide a platform for PayPal's services to increase revenues. On the negative side, there will come a time when the company will have to compete with its partner MercadoLibre, an e-commerce company already operating in Brazil. If the company builds a strong enough grip in this new market then it can probably overcome the consequences of losing ties with its partner.
PayPal's service is not limited to only online payments. The company also offers offline services to help shoppers save time and money through closed-loop offers where retailers can put vouchers directly into shopper's digital wallets.
PayPal also offers a "bill me later" option which has increased the usage of PayPal services. The company currently offers 6 months interest-free financing for purchases exceeding $99. This option offers more flexibility for consumers to pay for their purchases.
Conclusion
In my article I have tried to highlight the company's recent initiatives and what results they will produce in the coming future. I think these signs indicate that eBay's PayPal service will be its most pertinent source of revenue in the coming future.
Before investing, investors should not only consider the company's future outlook because the current price of the stock is also important. So for that matter I have calculated the fair value of eBay's stock on the basis of the multiples-based valuation method.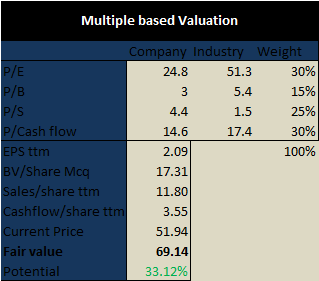 In the table above I have used the multiple-based valuation method on the basis of trailing twelve months figures, Weights are based on survey estimates. My calculations show that the stock price is currently undervalued and has an upside potential of 33.12%. So keeping in view the company's future outlook and its attractive share price I give a buy recommendation.
Disclosure: I have no positions in any stocks mentioned, and no plans to initiate any positions within the next 72 hours.
Business relationship disclosure: The article has been written by a Blackstone Equity Research research analyst. Blackstone Equity Research is not receiving compensation for it (other than from Seeking Alpha). Blackstone Equity Research has no business relationship with any company whose stock is mentioned in this article.