In my October 26th article, GLD: Sell While You Still Have A Chance, I discussed the various ways a needed correction in the US Dollar would limit the prospects for the SPDR Gold Trust ETF (NYSEARCA:GLD) and bring its valuations to new lows sub-125. Those forecasts proved highly accurate, nailing a cyclical bearish turning point above 130 as prices pushed forward to break historical support levels at 122 -- a drop of -6.7% in just over two weeks.
Despite this accuracy, the initial forecast has met with a great deal of vitriol and criticism from readers that openly admitted having active long positions in assets highly correlated with the underlying gold price. So, while I understand that these readers are concerned about the state of their open positions, it is important to remember that denying the facts and attempting to simply "will" prices higher is not a sound investment strategy. But what is most troublesome when looking at the arguments made by gold bugs is that there is a sense that investors seem to feel they are correct when prices go up -- and when prices drop. So, the question remains: When will gold bugs give in?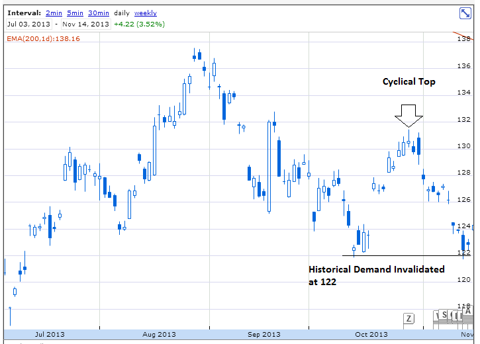 Pictured above is the expected break of historical demand at 122, which came on November 12. But the building bearish factors that have led to the latest declines in GLD have been apparent for months, and those holding positions through this period have ignored important market correlations that foreshadowed the increased potential for weakness and the need for corrective moves in a broad range of asset classes. These factors and the progressing chances for tapering in quantitative easing stimulus by the US Federal Reserve have been -- and will continue to be -- the main drivers in precious metals prices as we head into next year.
Changing Federal Reserve Stance
On October 26, I wrote that an "end to quantitative easing stimulus is inevitable, and if we see a stronger than expected performance in fourth quarter GDP in the US, markets will again be forced to position for that inevitability." The latest comments from the nominee to be the next Fed chairman (Janet Yellen) show some eerie similarities, and that Fed stimulus "will not continue indefinitely." The language in Yellen's recent statements is much more telling than recent market activity is showing, as markets have done little to price-in the underlying need for the Fed to allow the US economy to begin working on its own. Those that disagree might allude to the fact that Yellen's latest Washington testimony shows a commitment to promote a sustainable recovery and that monetary stimulus will not be reduced before the economy is ready.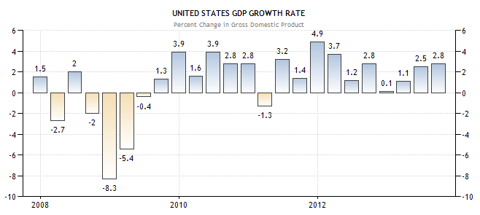 But what this argument fails to address is that it is up to the Fed to decide when the necessary requirements will be met, and that this could come as early as the release of fourth quarter GDP. In the chart above, we can see that the needed supportive trends are already in place. Last week's GDP release for the third quarter came in at 2.8%, which was well above the market's consensus estimates of 2.0%, and an improvement on the 2.5% seen in Q2. Investor's will now have to re-position for changing growth expectations. But what is more important is that the Fed now has additional evidence that the negative impact from the US government shutdown is not as bad as previously thought. This is supportive for the US Dollar, and a clear negative for those holding long positions in GLD.
Dollar Correlations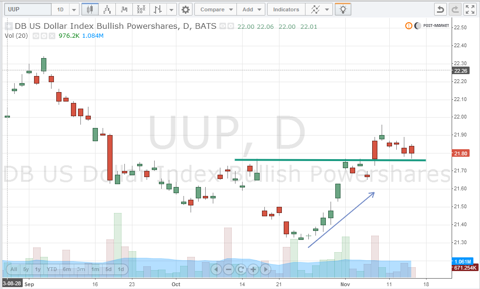 The next important area for metals traders to watch is the US Dollar itself, made more important by the relative GDP performance of the developed market counterparts to the United States. Consider next recent activity in the PowerShares DB US Dollar Index Bullish ETF (NYSEARCA:UUP), which is showing a cyclical bottom very similar to what is seen in GLD. In UUP, this bull move has been confirmed by a break of historical supply at 21.80. So while I do expect some short-term upside correction in both GLD and UUP (given the strength of the latest moves), I do expect these factors to push UUP higher and GLD lower as we head into the end of the year.
Disclosure: I have no positions in any stocks mentioned, and no plans to initiate any positions within the next 72 hours. I wrote this article myself, and it expresses my own opinions. I am not receiving compensation for it (other than from Seeking Alpha). I have no business relationship with any company whose stock is mentioned in this article.