With 456 million cell phones of all varieties sold in Q3 of 2013, we now live in a world where one person in 14 buys a new phone every quarter.
Can this last? Not likely. The world population is about 7.1 billion.
About 2 billion of these people are too young, too old or too poor to even contemplate a cell phone as I see it.
With an addressable market of 5.1 billion and penetration of this market reaching a saturation point, the world cell phone market is likely to peak at about 2 to 2.5 billion phones a year assuming 80% penetration and a phone life of 2 years. Those are pretty aggressive assumptions and likely overstate market size. A measurable portion of those sales might be used smartphones, since that market is booming. With the current run rate of new smartphone sales at close to a billion, even full conversion of all feature phones to smartphones would only double the smartphone market size and that sort of conversion could take several years.
No matter how you slice the data, the market soon will become a replacement market growing more or less with population. Moreover, the bulk of what growth is left is likely to be in lower to mid-priced phones.
In this rapidly maturing market, the market leaders are already established. Samsung, Nokia and Apple make up 45% of the market. Samsung continues to gain market share while Nokia and Apple are in decline. Other Android based suppliers are showing growth in market share including LG Electronics, Huawei, Lenovo, TCL Communications, Sony, Yulong and a host of "other" including fast growing names like Xiaomi and Micromax.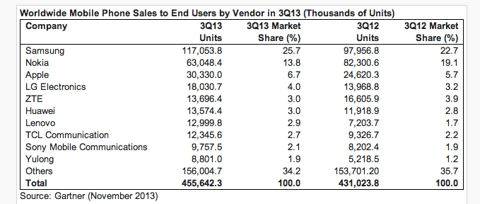 Mature markets exhibit certain characteristics that will be new to most smartphone makers. Growth slows; price competition intensifies: low cost producers tend to expand at the expense of higher cost producers; margins get compressed; and, profitability settles at about the average for mature industries of 10% to 15% return on capital employed. This is no reason to believe this market will be any different.
Growth is still occurring in smartphones as those with feature phones upgrade. Q3 data show pretty good growth in this arena with sales of 250 million units up from 172 in 2012. Samsung dominates the market with a 32.1% share while Apple (NASDAQ:AAPL) is holding on to just over 12% as it cedes market share to sustain margins focusing on the "premium" end of the market and not offering a mid-priced or low-priced product. Once again, Lenovo, LG and Huawei are taking market share along with the basket of "others" which once again includes Xiaomi and Micromax.

The smartphone war is as much a war of ecosystems as it is a war of devices. Apple has the most attractive ecosystem with a cult-like following of dedicated users willing to pay up to $800 for the latest iPhone. It also has arguably the best product offering with elegantly designed iPhones complementing a line of smart devices including iPads and MacBooks that have a similar look and feel and share some applications. Microsoft (NASDAQ:MSFT) is making a vigorous attempt to establish its own ecosystem with some initial success as it builds a rich applications library albeit dwarfed by the 1 million applications residing in both the Apple app store and Android Google Play library.
Android has a dominant share of the market by OS, with almost 82%. Apple's very user-friendly and powerful iOS has dropped to a 12.1% share not because it is less function than Android but rather owing to Apple's sustained focus on the premium market rather than the mass market. Microsoft's Windows phone OS more than doubled its user base year over year in Q3 but remains barely more than one quarter the size of Apple, but appears to be making headway in Europe and Latin America where it is approaching Apple in some markets.

For investors, the trends hold out interesting choices. Those who believe Apple's "premium" strategy coupled with its vast ecosystem will permit it to remain extraordinarily profitable and to continue to grow can hold its shares as a longer term investment offering a dividend, share buybacks and a rock solid balance sheet. Those who see risks to Apple's profit ratios arising from intensifying competition and maturing markets can buy puts or short the stock. Both strategies have merit and both carry risk.
The trend to smartphones has increased data consumption significantly. Interestingly, it is Asia Pacific subscribers who are the big data consumers using twice as much data per subscriber per month than North Americans.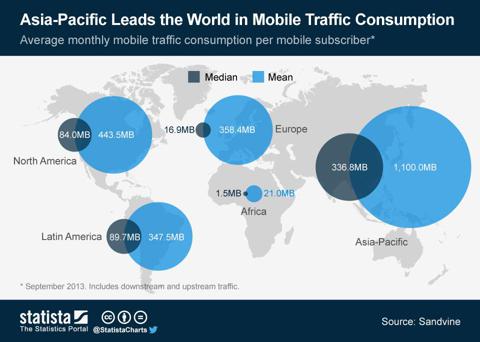 Demand for more data typically means demand for higher connection speeds and in mobile that means LTE. Qualcomm (NASDAQ:QCOM) has a commanding position in LTE enabled SoC's and Intel is in hot pursuit with its own emerging offering. ARM Holdings (NASDAQ:ARMH) should also benefit from the trends. Both Qualcomm and ARM Holdings carry high valuations and may be vulnerable to slowing growth and competition, particularly if Intel gains any traction.
The outliers from an investment perspective are really Intel (NASDAQ:INTC) and Microsoft if you are a contrarian. Both have a very limited presence in mobile but are moving aggressively to change that.
Microsoft is well diversified with a portfolio of enterprise products that are highly profitable and continue to grow providing it with a measure of downside risk that differentiates it from other investments in the space. It's thrust into mobile is only now gaining traction and remains relatively small, but has the potential to become a major source of future income if the Lumia phones and tablet of the soon-to-be acquired Nokia handset business and the upgraded Surface tablets find customers on any scale.
Intel has been suffering from declining sales of personal computers but responded with massive capital expenditures to advance its process and cost advantages and power a thrust into mobile. Initial readings suggest it is having some success in tablets and hybrids but to date not a lot of traction in smartphones. I like Intel's chances and expect as it moves towards a 14nm process and integrated LTE on its SoC's we will start to see quite a few smartphones with "Intel Inside" by late 2014 and early 2015.
Both Microsoft and Intel have rock solid balance sheets which are capable of sustaining their programs without threatening their existence.
So where do investors put their money?
My bets are unabashedly contrarian. In a nutshell I am wagering Intel and Microsoft have the most upside potential while Apple's stock price already reflects its product momentum and wide customer acceptance, at least in my opinion.
I am short puts and calls on Apple since I believe its stock will languish until there is clear evidence it can continue to grow, an outcome I think will present a challenge unless Apple introduces the next "big thing" sometime soon. This "straddle" will be profitable for me unless Apple stock rises above $563 or falls below $467 by mid January 2014.
I am long calls on Intel hedged by a short call position at a higher strike for part of the position since I am betting Intel will enjoy more success than the market is giving it credit for. If Intel can reach a $30 price before January 2015, I should net a gain well over $700,000.
I am long calls on Microsoft hedged by short calls at a higher strike. This is a residue of a much larger position already closed out at a substantial gain and is more of a trading position with limited prospects as currently configured. My strategy here is to write shorter term calls against the longer dated option closing out the shorter term calls as they approach expiry while concurrently writing new calls further out in time.
My actual positions are listed below. Columns are number of contracts, average price, cost, market price per option, and market value.
Intel

Microsoft

Apple

I don't recommend investments to readers or to anyone else. I just provide my opinions and the data I see that underlay them. You decide what works for you. I wish you all success.
Disclosure: I am long INTC, MSFT. I wrote this article myself, and it expresses my own opinions. I am not receiving compensation for it (other than from Seeking Alpha). I have no business relationship with any company whose stock is mentioned in this article.
Additional disclosure: I am short AAPL puts and calls