The Nutshell
In this recent article on precious metal mining company Allied Nevada (NYSEMKT:ANV) our fellow author Ben Kramer Miller has attempted to analyze the implications of this company's debt load. According to this article, this company's debt load is unsustainable through 2014 assuming the current gold price environment. In fact, in the comments section of this article the author states when asked for a valuation of the company:
"[A valuation] has nothing to do with the viability of ANV as an investment given its short term obligations. Why go through the trouble of calculating the value of ANV when I can decide before hand that it is not a viable investment: it doesn't matter that Hycroft may be worth $2 billion from a shareholder's perspective if it si [sic.] being handed over to the bond holders."
Some strong wording, indeed. Unfortunately based on false numbers, shonky methodology and incorrect conclusions. In his analysis, this author forgets to consider some important details that support a significantly different, and certainly more positive view of this company.
According to our modeling Allied Nevada is highly leveraged and has little room for any more errors. However, we will show that this business is sustainable at the present gold price and obligations can very well be met.
In fact, we will be pointing out some aspects that might just provide enough upside momentum to squeeze the substantial short position into submission and provide some handsome profits for risk-tolerant investors trading into this stock at current basement levels.
The Company and Its Asset
Allied Nevada is a gold mining company operating the Hycroft gold and silver mine in Nevada, one of the largest precious metals deposits in North America. The company has encountered some operational difficulties that have led to another painful drop in share price at the start of August.
Presently the company is exploiting oxide ore only. Heap leaching is used to process ore from open pit mining. A feasibility study to process the sulphide portion of the deposit is currently in progress with various options being assessed. A release of this feasibility study is scheduled by the end of Q3/2014. Financing of this sulphide expansion is still to be organized and we would expect a large portion of such financing to come from additional equity.
The company has not been very savvy in raising capital. It has avoided an equity raise at the share price high of $30+ less than a year ago and has raised cash in May at $10.75 instead. We suspect that more equity dilution will be in the cards when a decision to go ahead with the sulphide expansion will be made.
Shares are trading $3.92 at the time of writing resulting in a market capitalization of $408M. In a recent article we noted that Allied Nevada was the worst performing stock within the Market Vectors Gold Miners ETF (NYSEARCA:GDX) and the chart below illustrates this state of affairs.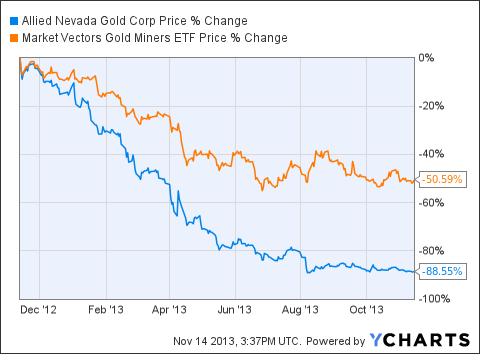 Further details of the company and this remarkable asset are readily available from the company website and the corporate presentation.
All-In Sustaining Costs
The World Gold Council has recently published guidelines to calculate so-called All-In Sustaining Costs, or AISC, for precious metals. These guidelines supersede the previously used metric of cash cost and have been embraced by mining companies and investors alike since its inception for good reason.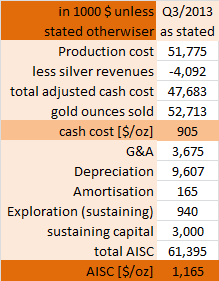 Unfortunately, Allied Nevada does not provide AISC in the company filings. However, there is enough information in the Form 10-Q and associated notes and the MD&A to calculate an estimate for this metric.
The attached table documents our AISC calculations for Allied Nevada using third quarter data. Besides data sourced from the financial filings our calculations also include one assumption, namely a $3M estimate for sustaining capital. This number is conservative since there is no stripping or leach pad construction necessary in the foreseeable future.
As listeners to the recent earnings call will know, the company has just completed construction of a new Merrill Crowe circuit. The article referenced in the first paragraph does not account for this material plant improvement. However, this new Merrill Crowe circuit has some important implications on costs going into the future.
Firstly, the new Merrill Crowe circuit will allow for much better silver recoveries lifting the silver-to-gold ratio from 3.5:1 to 6:1 for future mine output. Consequently silver by-product credits will increase and cash costs will decrease substantially.
And secondly, the increased capacity to recover precious metals from leach pad solution due to the new Merrill Crowe circuit will lead to substantial cost reductions since all solution can be processed on-site from now on, instead of paying third parties for off-site processing. In the previous quarter about 60% of production has been processed off-site leading to unusually high processing costs. These processing costs will be reduced significantly.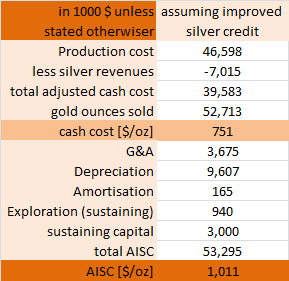 We have therefore assembled a second table calculating AISC again using the same base data but this time accounting for cost efficiencies due to the new Merrill Crowe circuit as can be expected for future quarters.
As documented in the two tables we estimate current AISC as $1,165/oz; reducing to $1,011/oz going into the future. This represents a $150/oz improvement in production costs largely owing to the new Merrill Crowe plant which will lead to substantially increased margins and consequently to substantially increased cash flow from now on.
Additionally, Allied Nevada CEO Mr. Randy Buffington appeared very confident during the last earnings call that further cost reductions will be realized in coming quarters.
Debt
The company has a current debt of $72M and long-term debt of $548.9M.
Of the current debt $18.1M are borrowed against an electric rope shuffle that the company is holding for sale. This shuffle has a fair market value of $24M and the company is expecting to sell this shuffle within the next year. We will therefore ignore this portion of current debt in our analysis of cash flows and future debt payments.
It appears that the debt component relating to the electric rope shuffle is not accounted for in the article mentioned in the first paragraph. This article therefore not only underestimates cash flow, it also overestimates the debt load by ignoring the accounting for this electric rope shuffle; a rather toxic mix of ignorance in our humble view.
The long-term debt includes $388.9M in senior notes bearing 8.375% interest (or $32.57M per annum assuming a constant exchange rate between Canadian and US Dollars), plus $160M in capital lease and term loan obligations attracting an average 5.5% interest per year.
A minimum payment of $15.2M on the capital lease is scheduled for the fourth quarter of 2013. In 2014, the company will need to make the following payments with regards to managing its debt:
Minimum capital lease and term loan obligations: $61.35M minus $18.1M for the electric rope shuffle as explained.
Interest on non-current capital lease and term loan principal: $7.6M
Interest on current capital lease: $2M (assumption)
Interest on senior notes: $32.75M
In total: $85.6M (which is substantially less than the $103M wrongly calculated in the article referenced in the first paragraph).
Cash Flow from Operations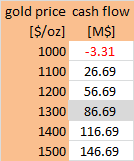 We have calculated a significant obligation to be financed from cash flow in 2014. It is therefore necessary to estimate the cash flow for next year. To this end we computed the annual cash flow from operations using AISC under the assumption of a fully operational new Merrill Crowe circuit. As our base case we assumed a gold price of $1,300 and production of 300,000 ounces per year. The attached table shows the cash flow projections for our base case and various gold price scenarios. We note that at the current gold price the company would generate enough cash flow to pay its debt and lease obligations and also sustain operations at the mine.
Considering the $154.5M in cash held by the company at the end of September, and keeping in mind that there are no capital programs planned for 2014 except finishing the updated NI 43-101 report on the sulphide expansion we conclude that we see no indication of looming bankruptcy.
Compare these findings to the scenario outlined in the article referenced in the first paragraph, which claims that Allied Nevada is only viable at a gold price of $1,500/oz or higher. What difference a little research makes...
Tangible Upside
And there is more to be uncovered if one digs a little deeper. The following two aspects are leading us to believe that the company will in fact outperform our cash flow predictions outlined above.
A substantial amount of silver has been captured in solution and not been liberated by the Carbon-in-Column circuit that is now decommissioned and replaced by the new Merrill Crowe plant. This silver has not been lost, but has been circulated back to the leach pads. As this solution passes through the new Merrill Crowe plant again in coming weeks and months the locked-in silver will be realized leading to a one-off surge in silver output. This additional silver production will provide a one-off windfall further increasing silver credits and decreasing cash costs.
The company had a major problem with its Lewis leach pad in the second quarter that caused the sell-off in early August. Ore placed on the leach pad had not been wetted by solution properly due to a multitude of technical and managerial issues leading to greatly reduced recoveries from this leach pad. The company has since started remediation measures introducing leach solution through well holes. Company estimates indicate up to 70,000 ounces of gold in dry ore that should be mostly recoverable starting early in 2014, in addition to ongoing base production and essentially at nominal cost.
Both these factors have the potential to boost company results in 2014 coming as a bonus and in addition to the cash flow modeled in our base case.
Why the Difference?
Getting back to the article quoted in the first paragraph of this article. How could this author achieve results so substantially different to ours? We found a number of critical errors and omissions in said article and have already mentioned the following:
Effects of increased silver credits due to the new Merrill Crowe plant were ignored.
Savings due to termination of off-site processing were ignored.
The debt was overestimated due to ignoring the accounting for the third wire rope shovel.
Unfortunately, there is another factor that skews results to the disadvantage of Allied Nevada. In said article the author invents a cost metric termed "effective costs." Included in these "effective costs" are various one-off items that will not re-occur in coming quarters. However, this "effective cost" is used to project future cash flows, effectively treating these one-off costs as recurring costs. For example, severance costs of more than $3M booked for the third quarter are applied again in calculations for 2014. There soon won't be anyone left working at the Hycroft mine, if this author has his way.
In any case, the "effective cost" metric invented by the author of said article is questionable at best. It represents a hodge-podge of items and we shake our head at this "methodology." The author claims to be including tax in his "effective cost" because "[...] taxes, and interest payments are very real costs." But since when does an allegedly utterly unprofitable venture pay income tax? And why should a tax benefit in the third quarter have any influence at all on cash flows in 2014 - as this article seems to suggest?
We strongly believe that there are good reasons to use accepted and standardized methods to compute production costs and cash flows. Inventing new and half-baked metrics more often than not leads to false conclusions, as proven spectacularly by the author of said article.
Valuation
It appears that this corpse is breathing after all, and despite opinions to the contrary a valuation makes sense. Here is our take.
Considering market capitalization, debt and cash we estimate a current enterprise value of $879M at the time of writing.
Allied Nevada is currently heap leaching oxide ore at the Hycroft mine. There are enough reserves to support a six-year mine plan at present. Using a discounted cash flow model and assuming a gold price of $1,300/oz our economical model yields an NPV (8%) of $460M.
Studies to build a mill to process sulphide ore are under way. A feasibility study is scheduled for the second half of 2014, which will give a better indication of the value of the sulphide ore. Until this point in time we value the sulphide 17.8M gold-equivalent reserve ounces at a conservative $50/ounce or $890M due to the refractory nature of the sulphide ore.
For the purpose of this valuation we are ignoring additional near-mine resources and resources at the company's other projects and arrive at a sum-of-parts valuation of $1.35B.
Given these numbers we conclude that the market is valuing Allied Nevada at only 65%. Keeping in mind that we have made conservative assumptions this dismissive stance by Mr. Market may well indicate a hidden buying opportunity.
So without further ado, here is our investment thesis. Needless to say, it differs somewhat from the doomsday opinion voiced in the article referenced in the first paragraph.
The Thesis
Allied Nevada's share price has severely underperformed the sector during the ongoing gold price correction. The company has just posted quite positive results for Q3/2013. One quarter does not make a trend reversal, but we are certainly watching the company's progress from here onwards very closely.
Another positive quarter or two along with positive news on the ongoing oxidation study for the sulphide ore due out early in 2014 could easily see this stock rerate much closer to its asset value. Such a move could be exacerbated by a short squeeze, considering that 18% of the outstanding shares are currently sold short. Our price target in such an event would be around the $5 mark.
This thesis is based on the assumption of a gold price remaining at least at current levels; and the assumption that no further bungles in operating the mine and the plant will occur. And this is certainly the wild card in our thesis considering patchy past performance.
The other point of concern is future need for capital once a development decision is made for the sulphide expansion, which might well include a hefty equity component when it happens. However, we would assume that such a move is at least another year away from now.
Disclosure: I have no positions in any stocks mentioned, and no plans to initiate any positions within the next 72 hours. I wrote this article myself, and it expresses my own opinions. I am not receiving compensation for it (other than from Seeking Alpha). I have no business relationship with any company whose stock is mentioned in this article.