Secular growth is hard to find as the US GDP continues to chug along, growing at least 3%. However, there is one place with an abundance of growth, and that is the US domestic energy production sector. The largest leaseholder in the Bakken, Continental Resources, looks cheap, and I believe shares have 27% as a stand-alone company, and 80% upside in the event of an acquisition.
A Quick Snapshot of Continental
Continental Resources (NYSE:CLR) is exposed to the hottest, still up-and-coming area in the US economy, though the company has been around for several decades, beginning as a wildcat driller in Oklahoma. The company acquired its first 300,000 acres in the Bakken in 2003, and in just a decade, it became the largest single leaseholder in the region with over 1 million net developable acres in burgeoning region.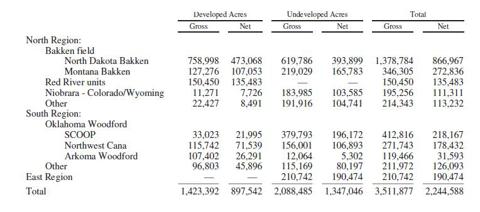 Image Source: CLR 10-K
Production is Growing Rapidly
New product continues to gush out of the Continental's wells. Production during the third quarter rose a whopping 38% year-over-year to 13.1 million Boe, or 141,900 Boe per day. More importantly, 71% of this product was oil, which carries a much more favorable profitability profile than natural gas.
Year-to-date, the company has produced 36.3 million Boe, thus I expect full-year production to total nearly 50 million Boe in 2013. Going forward, Continental Resources anticipates production growth of 26%-32% in 2014, with 70% of the mix coming in the form of crude oil. This is only year 2 of the company's five-year plan to triple production and proved reserves. In other words, Continental Resources' growth phase still has plenty of room to run.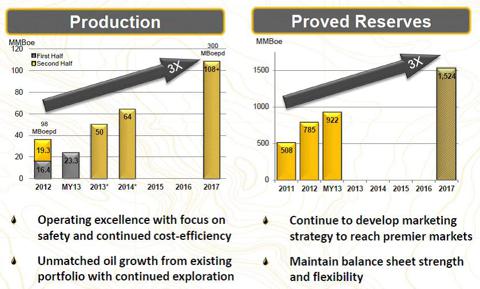 Image Source: CLR
Upon completion of its five-year plan, the firm should triple its proven reserves to 1,524 MBoe while its production jumps to 108 MBoe per day. These figures would seem overly optimistic; however, I think Continental's lease profile favors long-term production growth. Because the firm has a strong balance sheet, it will be able to increase production on the 873,782 net acres of undeveloped acreage that is set to expire within the next three years if production does not begin.
Total debt/EBITDAX (earnings before interest, taxes, depreciation, amortization, and exploration costs) stands slightly below the industry average of 2, so I think Continental will be able to easily raise more capital if it is necessary to capitalize on the undeveloped acreage.
Production Costs are Under Control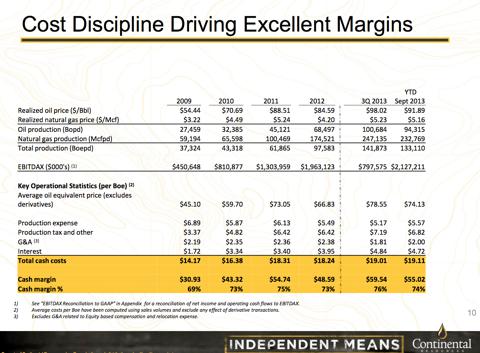 Image Source: CLR Q3 2013 Investor Presentation
In oil and most resource production, depreciation and amortization are huge components of the GAAP accounting costs, so it is more useful to look at cash costs. In this respect, Continental Resources is doing an incredible job of executing. Cash costs per Boe are $19.11 year-to-date, resulting in a cash margin of 74%. Peers like Whiting Petroleum and Hess have cash costs per Boe in the low-$20 range, so I consider Continental one of the premier operators in the region.
Even more impressive, Continental's cash costs have held steady outside of its interest expense. In other words, the actual cost of production without financing costs has remained flat to mostly flat. With production costs remaining low, all incremental production gains should lead to terrific cash flow generation, which Continental can plow back into more production.
Oil Price Risk is Possible, but Not Crippling
Continental's low production costs also provide a buffer against a decline in oil prices. Even when realized oil prices were just $54.44 per Bbl in 2009, Continental generated a cash margin of 69%. Though production costs are slightly higher today, the firm would still generate a cash margin of 65% in the event that oil prices reverted to 2009 levels-though I don't see oil prices falling that low unless there is another global financial crisis.
Whether the resource is coal, oil, or gold, the largest risk to commodity producers are exogenous price moves. With such robust margins, Continental mitigates much of the commodity price risk, thus making it a name I'm comfortable holding in any economic environment.
A Supermajor Will Want Continental Resources
It's no secret that the oil supermajors like Exxon Mobil (NYSE:XOM), ConocoPhillips (NYSE:COP), BP (NYSE:BP), and Chevron (NYSE:CVX) were late to the Bakken party. Exxon in particular is having a difficult time replenishing proven reserves. The cohort in general has a bleak outlook for future production growth.
Continental already has strong proved reserves with a high likelihood that those reserves will increase over the next several years. Continental Resources would therefore be a wonderful strategic fit for Exxon, and the company is fully capable of making an offer. Exxon has already spent $25 billion on capital investment in FY2013, and it has repurchased $12.6 billion worth of stock.
The market currently assigns Continental Resources an enterprise value of $25 billion. Year-to-date, Continental has generated $2.1 billion in EBITDAX, and I believe it is capable of achieving $2.8 billion in EBITDAX for FY2013, generating an EV/EBITDAX multiple of 9. The table below displays the range of takeover values for Continental based on different scenarios.

Image Source: Detroit Bear estimates
As we can clearly see, the range of takeover premiums could be pretty large depending on multiples and actual EBITDAX growth. I think FY2014 would be prime for a takeover while interest rates remain low and the future potential for oil price appreciation remains moderate.
Realistically, the median of my estimates would occur with 30% EBITDAX growth (possible considering management anticipates production growth of 26-32%) valuing the company at 12x EBITDAX. Less net debt of $4.3 billion, I come up with a market capitalization of $39.4 billion, yielding appreciation potential of 80% within the next 12-15 months assuming no dilution.
While it is difficult to find a comparable deal, Buffett and 3G Capital paid 14x trailing EBITDA to acquire the mature Heinz for $28 billion. A high-growth, slam-dunk investment for a supermajor should easily be able to achieve a valuation of 12x EV/EBITDAX, in my opinion.
What are the Risks to Continental Resources?
The primary risk to Continental Resources is a decline in oil prices. Not only would it hurt profitability, but it would also damage the premium an acquirer is willing to pay, since the estimated return on investment would decline considerably.
Another risk to the firm is that acreage yields lower than expected reserves. Fellow contributor Richard Zeits has noted that Continental has been conservative in its estimates, and new fracking technology makes it likely that, if anything, the firm will find greater reserves than it anticipates. Still, oil and gas projects do fail from time-to-time, so I do not believe investors should feel better-than-expected proved reserves are a slam-dunk.
An understated, but looming risk, involves the ability to transport shale out of the Bakken region. Refiners like Phillips 66 demanded and received discounts on shale product because oil and gas companies were extracting resources from the ground at a faster rate than the transportation infrastructure could handle.
However, the moving product from the Bakken will be extremely profitable, and companies like Enbridge have invested heavily in the surrounding pipeline infrastructure. Michael Fitzsimmons wrote extensively about the Bakken development, and since his article, I have noticed that the amount of advantaged (discounted) crude that refiners were receiving has not grown significantly. I am not sure how the Keystone pipeline development will play out, but if the government ever allows Phase 4 to be developed, then I believe a great deal of transportation risk disappears.
Continental Resources will Thrive even if it isn't Acquired
Although I believe the odds of an acquisition are high given the favorable financing environment that could soon be ending as well as the lack of proved reserve growth at the oil supermajors, I think shareholders will be pleased with Continental's performance even if it isn't acquired.
The company remains a low cost operator, has an enviable lease position, and has shown the ability to grow EBITDAX at a robust pace (FY12 EBITDAX was $2.1 billion; FY09 EBITDAX was $450 million).
From a valuation perspective, shares are trading at just 16x 2014 earnings compared to expected earnings per share expansion of 30%. Shares of Exxon currently sell for 12x 2014 earnings even though earnings per share growth is only expected to be 6-7%. Whiting Petroleum expects earnings to grow 2%, and shares trade at 15x 2014 earning. Continental is currently receiving only a slight premium even as its earnings per share growth and long-term prospects look far superior going forward.
In the event that Continental Resources is not acquired, my 2014 price target is $146 based on 20x FY2014 earnings, implying 27% upside from current levels. In a market that mostly looks fairly valued, I think 27% share price appreciation is fantastic. Further, I expect earnings per share to grow at least 15% for the next five years, which should lead to wonderful share appreciation. The market seems to have materially mispriced this wonderful growth story.
Disclaimer: The Detroit Bear is not a registered investment advisor, so please, perform your own due diligence before establishing any investment position.
Disclosure: I have no positions in any stocks mentioned, and no plans to initiate any positions within the next 72 hours. I wrote this article myself, and it expresses my own opinions. I am not receiving compensation for it (other than from Seeking Alpha). I have no business relationship with any company whose stock is mentioned in this article.