On Thursday Dillard's (NYSE:DDS) reported exceptional Q3 earnings of $50.9 million ($1.13 per share) which solidly beat 2012 results of $48.5 million ($1.01 per share). The street estimated $1.05 per share, however the company exceeded the highest analysts estimates of $1.10 per share. Note that the 2012 EPS of $.096 on the chart below has items excluded:
- A $0.7 million after-tax gain ($0.01 per share) related to the sale of two former retail store locations

- Approximately $1.7 million ($0.04 per share) in tax benefit due to the reversal of a valuation allowance related to a deferred tax asset consisting of a capital loss carry forward
By excluding these items, Dillard's 2012 net income would have been $46.1 million ($0.96 per share).
Earnings Est
Current Qtr.
Oct 13
Next Qtr.
Jan 14
Current Year
Jan 14
Next Year
Jan 15
Avg. Estimate
1.05
3.09
7.34
7.96
No. of Analysts
4.00
3.00
3.00
4.00
Low Estimate
1.00
2.96
7.24
7.65
High Estimate
1.10
3.21
7.40
8.20
Year Ago EPS
0.96
2.87
6.32
7.34
The company also continued its aggressive share repurchase program. The chart below shows the dramatic impact that successful buybacks can have on the share price. As of November 2, Dillard's reports the new share count is 43.9 million shares.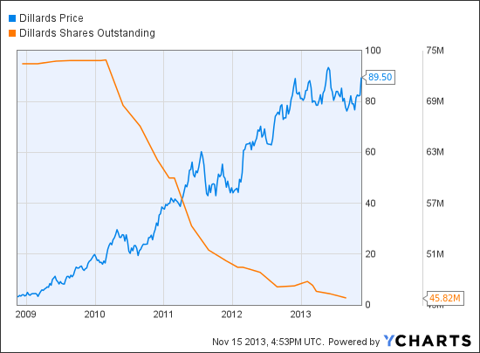 The reason that carefully structured buybacks can impact the share price is because they change the fundamentals of a company. For instance if Dillard's had twice as many shares, the earnings per share would only be $.056 which is half as much as the current $1.13. This would then make the price to earnings ratio higher. Opponents of share buybacks argue that companies use this strategy to cover up bad fundamentals. But for shareholders good results, regardless of origin, are the ultimate goal.
Dillard's still has $40.4 million that is earmarked for buying more shares. This means that the price should continue its upward trend as the total number of shares continue to drop. With the "Golden Quarter" in full swing, analysts are even more bullish on the company. Estimates released on Friday show a high earnings target of $3.21 per share for Q4, and a very healthy $8 per share for 2015.
Earnings Est
Current Qtr.
Jan 14
Next Qtr.
Apr 14
Current Year
Jan 14
Next Year
Jan 15
Avg. Estimate
3.11
N/A
7.34
7.95
No. of Analysts
4.00
N/A
3.00
4.00
Low Estimate
2.96
N/A
7.24
7.65
High Estimate
3.21
N/A
7.40
8.13
Year Ago EPS
2.87
2.41
6.32
7.34
The current Debt to Equity Ratio for Dillard's is the lowest it has ever been in the history of the company according to Y-Charts: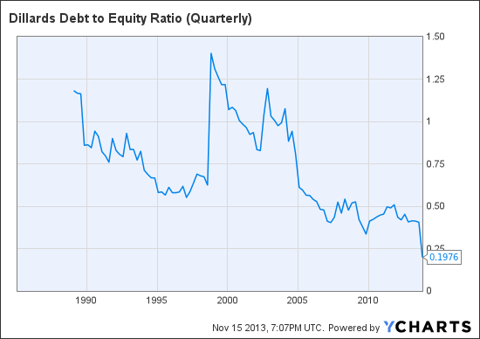 DDS Debt to Equity Ratio (Quarterly) data by YCharts
The current share price of $89 is well under the $105 high target set by analysts:
Dillard's Price Target Summary
| | |
| --- | --- |
| Mean Target: | 93.25 |
| Median Target: | 91.50 |
| High Target: | 105.00 |
| Low Target: | 85.00 |
| No. of Brokers: | 4 |
As a Dillard's shareholder, I remain very bullish on the company. Obviously retail stocks are some of the hardest hit when the economy sags. However, Dillard's has proven that it can not only weather these storms, but it can thrive in them.
Disclosure: I am long DDS. I wrote this article myself, and it expresses my own opinions. I am not receiving compensation for it (other than from Seeking Alpha). I have no business relationship with any company whose stock is mentioned in this article.