Concur Technological, Inc. (NASDAQ:CNQR), the travel and expense management company with solutions leveraged to the cloud and mobile, is a growth company with a reasonable valuation for a growth stock.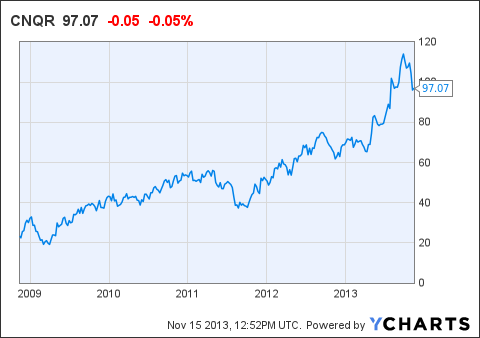 The share price of Concur declined recently on 2014 revenue guidance, which was inline with management's previous view. I am bullish on the fundamentals of the company, and I will accumulate shares below $87.50. I will risk 20% from that level.
A substantial decline in the revenue growth rate is the primary risk to my outlook, right now. In this report, I present recent developments, fundamental analysis, and multiplier model valuations.
Recent Developments
BofA/Merrill cut Concur to Underperform after issuing below-consensus FQ1 guidance. From my perspective, FQ1 guidance is inline with my expectations.
Concur invested $10.9 million in the preferred stock of Cleartrip, Inc., a leading provider of online travel services in India. This is according to the firm's 2013 10-K SEC filing.
Also according to the 2013 10-K SEC filing, Concur invested $3.4 million in the preferred stock of Yapta, a leading provider of fare-tracking services. Longer term, these investments in competitors, or potential competitors, could boost the bottom line of Concur.
Visage Mobile, Inc. received a strategic investment from Concur as the enterprise attempts to enhance its data analytics capabilities.
Fundamental Analysis
Concur's primary product offering is Concur Travel & Expense. Customers can order editions ranging from Small Business ($8 per user per month) to Premium. Most editions are primarily for developed world users located in the U.S., U.K., Canada and Australia, but the Professional and Premium versions are available worldwide.
Demand for travel and expense management solutions for businesses is reflected in the firm's reported net revenues. Fiscal 2013 net revenues of $546 million suggest Concur has carved out a strategic position for itself; this strategic position includes the cloud and mobile accessibility of the solutions.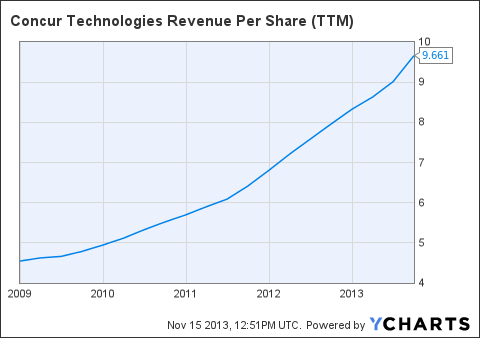 CNQR Revenue Per Share (TTM) data by YCharts
Management has stated a goal of 25% annual net revenues growth and $1 billion of 2016 net revenues. The explicit goal for fiscal 2014 is non-GAAP revenue growth of approximately 26%.
Based on management's 2014 forecast, net revenues would increase $142 million; most of that increase would probably be attributable to an increase in net revenue generated in the United States. I think of $30 million of the increase being attributable to Europe and Other, which leaves $112 million of the increase coming from the United States. Those are estimates and the actuals could vary materially.
If total revenue grows at 25% per year through fiscal 2016, total revenue would be $1.07 billion in 2016. A total revenues growth rate below management's guidance could have a materially adverse impact on the valuations of the company.
From a profitability perspective, I think we will see margin expansion but the timing is highly uncertain. The gross margin could expand to over 80%, but I expect a high level of reinvestment in operations for the foreseeable future. Consequently, the negative net profit margin could persist through 2016.
Concur is issuing debt to make strategic acquisitions. These acquisitions have increased capacity, but intangible assets represent roughly half of equity. Debt is 79% of equity. Overall, the liquidity is solid, but the solvency is borderline excellent and decent.
In conclusion, I am bullish on the aforementioned fundamentals of the business, but I think the economic moat is narrow to non-existent.
Valuations
I'm going to use the multiplier models to value the common equity shares of Concur, which is in its growth stage.
Using the twelve trailing months valuations, on an absolute basis, Concur is expensive. The price/sales ratio is 9.9 and the price/book ratio is 6.7.
Relative to its five-year average valuations, Concur is overvalued. The average sales ratio is 8.1 and the book value is 4.1.
Incorporating my revenues forecast, the intrinsic value is $97.20. At $97.07, Concur is fairly valued.
I am thinking about accumulating shares below $87.50. If the exit point is $110 that would be a 25.7% return during the next year.
Disclosure: I have no positions in any stocks mentioned, and no plans to initiate any positions within the next 72 hours. I wrote this article myself, and it expresses my own opinions. I am not receiving compensation for it (other than from Seeking Alpha). I have no business relationship with any company whose stock is mentioned in this article.