Apple (NASDAQ:AAPL) announced Quarter One results yesterday. With the AAPL share price over US$200 - 52-week range US$82.33-215.59, we decided to have a quick look.
Valuecruncher Interactive Analysts Report For Apple ($AAPL)
We have the comparator group set as Microsoft (NASDAQ:MSFT), IBM (NYSE:IBM), Google (NASDAQ:GOOG) and Hewlett-Packard (NYSE:HPQ). You can change these peer companies on the site. For example you could add:
Research In Motion ($RIM) - Interactive Analyst Report For $RIM
Palm ($PALM) - Interactive Analyst Report For $PALM
Qualcomm ($QCOM) - Interactive Analyst Report For $QCOM
So what do we think?
Discounted Cash Flow Valuation
We have completed a discounted cash flow valuation using our interactive tools (there is a "discounted cash flow analysis" link just under the company name on the company page). We have populated our model with a mixture of consensus analyst estimates and Valuecruncher estimates. Our analysis produces a valuation of US$189.23 for AAPL - 6.7% below the current share price. We see AAPL overvalued at the moment. But how about compared to a peer group?
Comparison Analysis
I changed the peer group companies to IBM, RIM, QCOM and GOOG. I am going to look at only one of the metrics we use at Valuecruncher - EV/EBITDA. Enterprise Value [EV] is simply market capitalization plus net debt [long-term borrowings less cash]. We use EV to capture the impact of debt and cash on a company's balance sheet - market capitalization doesn't capture different capital structures when comparing companies. EV/EBITDA shows how a dollar of profit (measured in as Earnings Before Interest Taxes Depreciation and Amortization) is being valued by the market against the comparator set.
On an EV/EBITDA basis AAPL is trading at 18.6x (AAPL is being valued at 18.6x last year's profit at the EBITDA line). A dollar of AAPL EBITDA is worth more a dollar of IBM (more than double), RIM, QCOM or GOOG EBITDA. This is despite AAPL making less margin at the EBITDA line than any of these competitors (AAPL made a 22.8% EBITDA margin last year compared with 23.0% at IBM and 41.6% at GOOG). There are still some steep expectations being priced into the current share price.
If we lower the AAPL EV/EBITDA multiple to 17.5x (a slight premium to QCOM) then this gives a share price of US$187.57 - 7.5% below the current share price. This valuation is in line with our DCF analysis.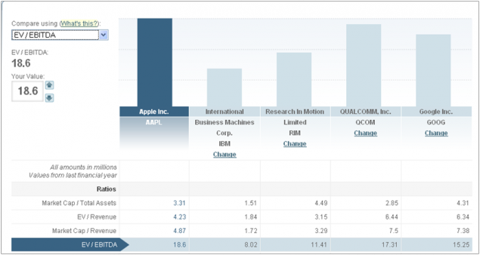 Summary
Based on our DCF valuation AAPL looks overvalued. Looking at some comparators, the market is valuing AAPL highly compared to some peers. We believe if you are investing in $AAPL at the current price - you are paying a full price and there are cheaper options available. We know that we will hear about that from the AAPL fans out there, however.