Introduction
Since Microsoft (NASDAQ:MSFT) announced it had acquired Nokia's (NYSE:NOK) Devices & Services business at a price of $7.2B (5.44B Euro), Nokia's share price has increased from around $4 to $8. While the acquisition definitely was good news for Nokia, the current level of the stock price is causing some people to question Nokia's current valuation.
While I agree that it generally is a good idea to be skeptical when the share-price doubles over a very short period, I believe the current valuation is justified when you take into account Nokia's IPR business (the patent portfolio).
In this article, I will value the IPR business, and afterwards I will calculate an adjusted P/E-ratio, which provides a better indicator of Nokia's real value.
Calculating Nokia's IPR income
Over the years, Nokia has spent a lot of money on R&D and that has resulted in a very valuable patent portfolio. However, the income it gathers from licensing the patent portfolio often goes unnoticed as Nokia doesn't clearly separate the income related to licensing and the income from its hardware business. Therefore, we have to make a little workaround in order to calculate the IPR income
If you look into Nokia's financial statements you will notice that Nokia reports revenue from its Smart Device Division and Mobile Phone Division separately. These numbers exclude IPR income. On the other hand it also reports revenue from its Devices & Services division, which includes revenue from smart devices, mobile phones and the IPR income. So by subtracting mobile and smartphone revenue from D&S revenue, we can calculate the IPR revenue. Having done that calculation for each quarter of the last 4 quarters, Nokia's IPR income has roughly totaled 605M Euro over the last twelve months.
Valuation of the patent business
We know that Nokia's US patents have an average remaining life of roughly 13 years. Let's make the valuation simple by assuming that the non-US patents have a similar remaining lifetime as the US assets. Further, I also assume that the business is worthless after year 13 (which is 2026).
Then we just need to estimate the earnings growth rate. Previously, Nokia has been a bit careful by not being too aggressive in forcing its competitors to pay royalties as it very well could backfire (with the competitors suing Nokia). But now that Nokia no longer has a smartphone business, it doesn't have to fear a counter-suit. Therefore it seems likely that it could be really aggressive going forward, which could result in a very high revenue growth rate.
Nevertheless, this business has a lot of uncertainty related to it, and therefore I will be a bit conservative with my forecast by "just" assuming that Nokia's IPR business will grow at the same rate as the smartphone industry.
IDC provides a forecast for the growth rate until 2017. Afterwards, I expect the growth rate to continue declining and eventually turn negative. With those assumptions (and using a discount rate of 12%), I value the IPR business at 7B Euro (below table).

Nokia's P/E-ratio - Is it fair?
Nokia's 3 remaining business divisions (Nokia Here, Nokia Solutions and Networks and the IPR business) had a combined after-tax non-IFRS income of 1,480 million Euro over the last twelve months. That's equal to a P/E-ratio of 19.78. However, that P/E-ratio is a bit misleading as it doesn't take into account net cash, minority interest nor the money that Nokia expects to receive from Microsoft's acquisition.
But with a few adjustments, we can calculate an adjusted P/E-ratio, which gives us a much better picture of Nokia's real value. To calculate that, we need to make the following adjustments;
Subtract the 7B valuation of the IPR business from Nokia's market value
Subtract net cash from Nokia's market value
Subtract the cash it will receive from Microsoft's acquisition
Add the value of the minority interests
Subtract the IPR income from earnings.
Calculate the new adjusted P/E-ratio based on Here and NSN income only.
As you can see in the below table, the new adjusted P/E-ratio is 13.37. That seems pretty fair to me, and whether the business then is overvalued or not, comes down to how you view the value of Here and NSN. If Nokia is successful in growing earnings with those businesses, we should expect a further increase in the share price.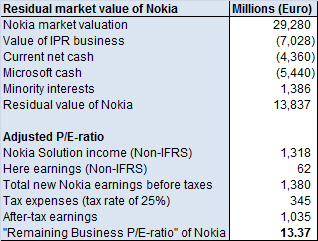 Disclosure: I have no positions in any stocks mentioned, and no plans to initiate any positions within the next 72 hours. I wrote this article myself, and it expresses my own opinions. I am not receiving compensation for it (other than from Seeking Alpha). I have no business relationship with any company whose stock is mentioned in this article.