International Game Technology (NYSE:IGT), with main offices in Reno and Las Vegas, Nevada, specializes in the design, development, manufacturing, distribution, and sales of computerized gaming equipment, software, and networking systems. Customers include casinos such as Caesars (NASDAQ:CZR) and users of popular products on Facebook (NASDAQ:FB) and Apple's (NASDAQ:AAPL) iOS operating system. The company has a market cap of nearly $5 billion, a safe dividend yield of 2.3%, and a repurchase plan in effect.
The recent sell off seems to lead to a buying opportunity, as nicely described by Seeking Alpha's Manny Backus. Some conference call highlights (with extensive talk about poker omitted), pertaining to the future, can add to, or supplement, his work:
Due to a higher percentage of lower-priced units as well as some targeted promotional activity, there was downward pressure on our average sales price in the quarter. In 2014…anticipates that gross margins will be stable.
During the past quarter, there have been delays in payment processing on Facebook and some disruptions related to the rollout of the iOS 7 platform. Despite this, mobile bookings grew 11% sequentially, and DoubleDown continued to rank as the #3 top-grossing app on Facebook during the quarter…Remains confident in DoubleDown's growth potential…and expects [the acquisition] to be GAAP accretive in 1Q 2014.
Launch in 2014 of online casino-style wagering in the United States (legal risks deserve consideration).
In 2014, expects SG&A, excluding bad debt and any unusual items, to return to a normalized range. Analysts have questions about SG&A. Answers involve advertising expenses and $0.01 in bad debt and $0.01 in foreign exchange losses that are not expected to continue. Per CFO John Vandemore "Q4 was a bit more of an aberration than anything else."
There is a new $200 million accelerated share repurchase plan in effect, which should be completed within three months. Combined with the dividend yield, it serves to mitigate downside risk. Pursuant to previous buybacks, the company's share count has decreased over time, as shown below by YCharts. The company expects 250 to 255 million weighted average shares (fully diluted) in 2014.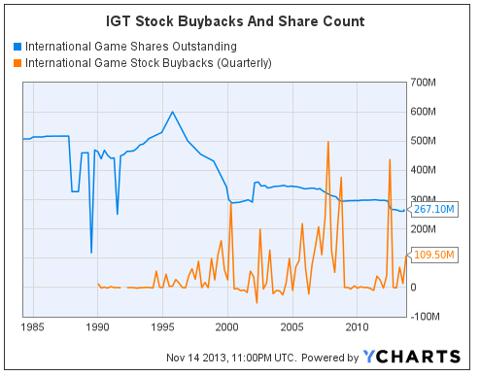 Regarding the dividend income awarded to investors, the company has an impressive history of increasing it. In fact, records show the payment in Q3 of 2012 as $0.06 per share, and it has increased by one penny per quarter since, reaching $0.10 in Q3 2013. The firm has just reported earning $0.24 per share and the payout ratio is 0.42, so the dividend appears safe. Further, the dividend is paid out of operating cash flow, which is shown up modestly year on year in the following table:

Though past payments have occurred on November 15th and November 20th in 2011 and 2012, respectively, no Q4 dividend has been declared. There is a chance of the stock rallying before it goes ex-dividend, which should probably occur in December (one source anticipates it on the 17th).
Based on 20 opinions, Yahoo! Finance shows 2015E earnings of $1.41 and a five-year growth rate of 14.50%. The stock is a bargain by these measures. Headlines about the company also include favorable content that supports estimates.
In order to attempt to take advantage of the situation, a vertical option spread can be utilized. IGT should report earnings next around January 21st and therefore options that include the date of the event should maintain their value, or even increase, because of implied volatility ("IV"). The IV constellation shows April 2014 options have inflated premiums, probably because the market anticipates earnings after the third week of January:

The following trade involves a limited amount of time, in order to buy an in the money, $17 January call option that has $0.78 of intrinsic value (at a share price of $17.78) and sell and out of the money $20 January call that has higher IV in its price. Referencing the following graphic, if the spread is purchased for $1.03 the maximum profit is $1.97. There is also the chance that the earnings event can be scheduled earlier than anticipated, rendering January options more valuable than shown. Losses occur if the stock price remains below $18.03 and can amount to the cost of the trade.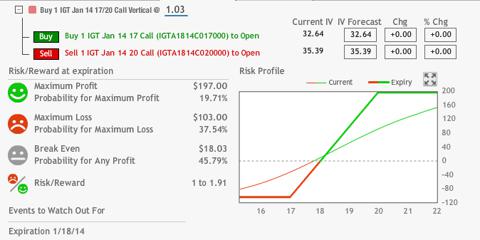 While the trade could be entered today, my preference is to wait until Monday. One thing that can happen is time decay can cheapen the cost.
International Game Technology's prospects appear favorable for many reasons. Shareholders are compensated with a decreasing share count and expect dividend payments. A vertical option spread can also make sense as the potential reward, based on a stock with mitigated downside risk, is compelling.
Disclosure: I am long AAPL. I wrote this article myself, and it expresses my own opinions. I am not receiving compensation for it (other than from Seeking Alpha). I have no business relationship with any company whose stock is mentioned in this article.
Additional disclosure: I may initiate a long position in IGT or FB over the next 72 hours.