According to Yellen's testimony before the Senate banking committee, no one has a good model on what influences gold prices, but gold is seen as a haven against financial turbulence. I wrote in previous posts that of all of the gold "scapegoats", US Treasury Real yields were the best drivers of gold.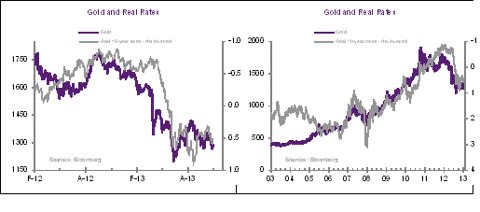 The link between gold and real yields is not permanent and some temporary divergences can be observed, but there is a strong tendency for mean reversion. Yellen may have sound dovish but she actually mimicked the thinking of Ben Bernanke.
As a result I would not change my call for an early tapering (first quarter of 2014). Given that most of the increase in US yields will come through higher real rates (see chart below), this is clearly bearish for gold.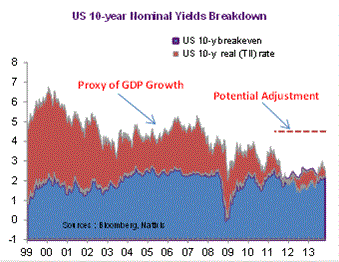 In addition, as can be seen in the chart below, the correlations between gold and real rates and gold and the US dollar have both remained and become strongly negative this year. Furthermore, after a post-tapering-fear switch earlier this year, the dollar is now strongly and positively linked to US real yields. Based on my positive expectations for the 2014 pickup in the US economic recovery, the taper occurring over the course of next year, and the strengthening of the dollar, the prospects for gold remain rather dim.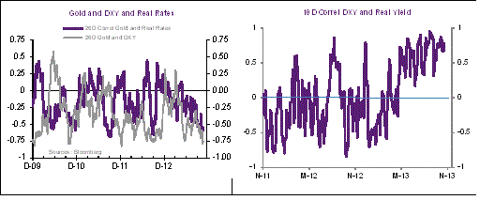 2013 was the year that will be known as the end of a decade-long bull run in the gold market. Looking ahead at 2014, central banks demand for gold may continue to underpin gold prices (though purchases will likely slow down). However, the improvement in the US economic recovery (and the UK and even Europe to some extent) will likely continue to negatively impact gold prices.
Bottom line: we have seen that
i. Gold and real rates are negatively correlated
ii. Gold and USD are negatively correlated
iii. USD and real rates are positively correlated (the novelty here, which is due to last. See here for instance)
Yellen may not have the model, but she will soon hold the key to gold prices: real interest rates. Stay short on gold even if the next chairman may sound more dovish than Ben Bernanke.
Disclosure: I have no positions in any stocks mentioned, and no plans to initiate any positions within the next 72 hours. I wrote this article myself, and it expresses my own opinions. I am not receiving compensation for it (other than from Seeking Alpha). I have no business relationship with any company whose stock is mentioned in this article.