Jefferson County, Alabama is exiting Chapter 9, in one of the more spectacular municipal financial disasters in recent history. As a part of the settlement, the county is issuing approximately $1.8 billion of new sewer revenue bonds (referred to as "warrants", but essentially bonds) to refund outstanding (defaulted) bonds and pay other claims in the bankruptcy. The issue includes:
senior and subordinated bonds,
some insured by Assured Guaranty and some uninsured,
current coupon bonds, zero coupon bonds and capital appreciation bonds that convert to current coupons,
with maturities ranging from 2015 to 2053.
Something for everyone.
The order period started Friday, November 15, with a "retail order period" giving priority to individual investors. The retail order period will continue Monday with institutional pricing and final sale expected to follow on Tuesday, November 19. Initial pricing indications are for yields ranging from 2.75% for bonds due in 2015 to 7.75% for uninsured subordinated bonds due in 2050.
The Plan of Adjustment resolving the bankruptcy provides for certain water and sewer rate increases over the next several years. Specifically, the Plan calls for 7.89% annual rate increases in each of the next 4 years and 3.49% annual increases over the remaining term of the new bonds (through 2053).
Galardi Rothstein Group ("GRG")--a "full-service, nationally recognized consulting firm with a long history of delivering innovative, economical solutions to environmental and engineering challenges"--prepared the Municipal Advisor's Feasibility Report intended to support the conclusion that the bonds will be repaid.
GRG's Feasibility Report includes financial projections through fiscal year 2023. These projections are based on the rate increases included in the Plan of Adjustment, certain other economic assumptions regarding system demand and expenses and the structure of the bond issue. Over the time period covered by this Feasibility Report (through 2023), forecasted annual revenues available for debt service are expected to range from 1.60 times to 2.24 times total annual debt service on the bonds.
Through 2023, debt service increases are relatively modest at about 6% per year. Then in 2024, the year after the Feasibility Consultant's projections end, debt service jumps by about 67% from $84 million in FY 2023 to $141 million in 2024. Debt service generally continues to climb, thereafter, reaching $254 million in 2053. Below is a graph of debt service through 2041 compared to revenues available for debt service as projected by GRG through 2023.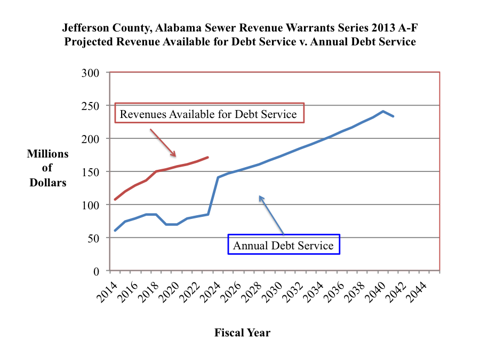 To get a more complete picture of the credit through 2053, we need to make some assumptions on revenues and operating expenses beyond 2023. One set of assumptions we could make is that gross revenues increase by 3.49% each year (the rate increases in the Plan) and that operating expenses grow by the same amount. Under those circumstances, revenues available for debt service compared to debt service looks like this: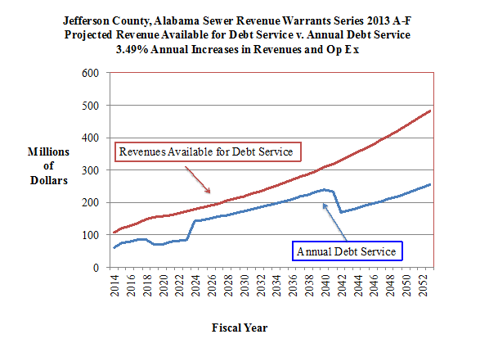 The lowest total debt service coverage ratio drops to 1.24 times compared to the 1.60 times shown as the lowest debt service coverage during the term covered by the Feasibility Consultant's report. However, projections over long time periods like this are very sensitive to the growth assumptions. Assuming growth of revenues and expenses at the same rate, causes much faster growth in assumed net revenues, because the revenue number starts off with a higher base than the initial expense number.
The graph below shows what happens to the projections if expenses grow at 3% (for example, if 3.49% rate increases reduce usage) and expenses grow by 5.25%.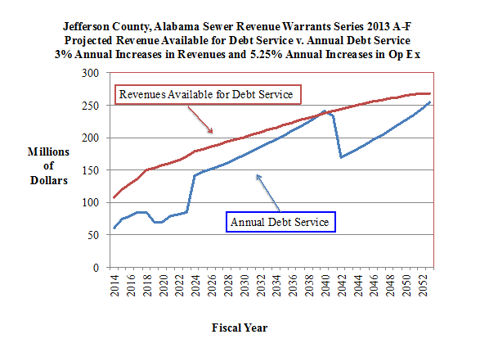 In this hypothetical, debt service coverage (revenues available for debt service divided by debt service) falls below 1 time.
Note that these scenarios do not take into account any future debt issuance.
As protection against severe decreases in net revenues available for debt service, bondholders rely on a"rate covenant" under which the County promises to raise sewer rates to maintain a certain levels of debt service coverage on senior, subordinated and total debt service each year. While this kind of covenant used to be viewed as sacrosanct, in Chapter 9 bankruptcy, the bondholders do not have the power to enforce this promise. Chapter 9 does honor a security interest in a pledged revenue stream, but it does not compel the creditor to increase the rates that produce the pledged revenues.
Jefferson County has agreed to abide by the Plan of Adjustment and to submit to the jurisdiction of the bankruptcy court. Buyers of the new bonds presumably believe (hope?) that the bankruptcy court would require the County to raise rates by the 3.49% annual increases in the Plan and perhaps even by more than this amount if inflation in operating expenses or decline in usage required more revenues.
However, in a new Chapter 9 filing, the County would presumably argue that these rate increases are draconian and that it needed relief from thecourt. Under the planned rate increases, a user who pays $900 per year today in sewer charges could expect to be paying over $4,000 in 2053. As long as inflation continues, that may not be a problem. But this points to the inconsistency of buying long term fixed rate bonds whose credit is based on assumptions of persistent inflation. High inflation is good for the credit quality of the bond, but very bad for the real return to the bondholder.
It may be that many buyers of the new issue already hold the defaulted bonds being refunded. For these investors, the refinancing offers the advantages of clearer security provisions and a performing asset in exchange for their currently impaired holdings. Also, buyers of bonds maturing through 2023 have strong debt service coverage and have little to worry about. Depending on your view of bond insurance over the near and long term, buyers of insured bonds may also be comfortable with the bonds insured by Assured Guaranty.
But if, as an investor, you are buying uninsured, subordinated zero coupon bonds due in 2050 at a yield of 7.75%, you are probably betting against yourself: the inflationary assumptions you are relying on for the eventual payment of principal and interest would be the strongest arguments not to buy long term fixed rate bonds. If you are buying these bonds as a speculator, it might not be unreasonable to assume a "greater fool" will take you out before either deflation erodes the credit or inflation erodes the real value of the bond.
Disclosure: I have no positions in any stocks mentioned, and no plans to initiate any positions within the next 72 hours. I wrote this article myself, and it expresses my own opinions. I am not receiving compensation for it (other than from Seeking Alpha). I have no business relationship with any company whose stock is mentioned in this article.