In the bare knuckle battle for networking market share, none are bigger than Cisco (NASDAQ:CSCO), EMC (EMC) and IBM (NYSE:IBM). The dynamic shift from hardware to software to unified systems for securing, transmitting and capturing big data has presented opportunities and challenges for each. With the networking industry in the middle of an identity crisis, is one of these a better buy than the other?
Debating earnings
When it comes to big companies, the ability to translate revenue into earnings can have a big impact on investors' enthusiasm. After all, the ability to return money to shareholders is inherently tied to the ability for companies to grow net income. One way to see whether one company is more likely to translate sales opportunity into earnings is to analyze how operating margins compare to both the company's historical levels and competitors.
In the case of these three, Cisco continues to have higher operating margins than EMC. Restructuring, cost cuts and a focus on higher margin products and services have helped all three expand margin over the past few years. But, despite having margin improve from 2011 lows, Cisco's haven't gained any ground over the past five years. EMC and IBM have both done a better job, with operating margins at each moving higher over the period.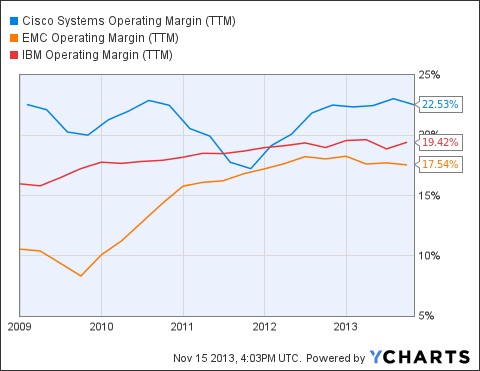 CSCO Operating Margin (TTM) data by YCharts
As a result, net income for the three companies has also improved over the past decade.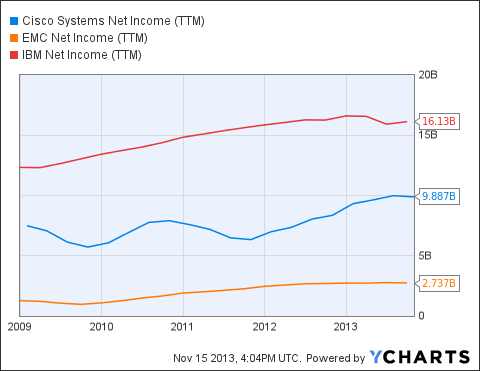 CSCO Net Income (TTM) data by YCharts
But, those historical views don't tell us much about the future. So, considering their earnings trends relative to expectations and analysts trends in forward earnings estimates can offer additional insight. Over the past four quarters, Cisco has beaten Street estimates four times. IBM also offers a solid history of under promising, beating three times. EMC has only come in ahead of estimates once.
| | | | | |
| --- | --- | --- | --- | --- |
| Surprise % | 12-Dec | 13-Mar | 13-Jun | 13-Sep |
| CSCO | 6.30% | 4.10% | 2.00% | 3.90% |
| EMC | 3.80% | -2.50% | 0.00% | -11.10% |
| IBM | 2.70% | -1.60% | 3.70% | 0.80% |
Source: Yahoo! Finance
During the past three months, analysts have cut their forward earnings outlook for all three companies. The biggest drop has been for EMC, where the forward estimate has declined to $2.05 from $2.12, or 3.3%. Cisco's have fallen the least; however, those estimates should be watched closely over the coming weeks as Q3 earnings are digested.
CSCO

EMC

IBM

EPS Trends

Next Year

Next Year

Next Year

15-Jul

14-Dec

14-Dec

Current Estimate

$2.26

$2.05

$18.03

7 Days Ago

2.26

2.05

18.03

30 Days Ago

2.26

2.11

18.27

60 Days Ago

2.29

2.12

18.35

90 Days Ago

2.28

2.12

18.35

% Change Past 90 Days

-0.88%

-3.30%

-1.74%
Source: Yahoo! Finance and E.B. Capital Markets, LLC
Only EMC's expected forward earnings growth outpaces estimates for the broader technology sector and its narrower industry average.

Source: E. B. Capital Markets, LLC
Debating Valuation
Switching gears to valuation and we see investors have become increasingly less willing to pay for revenue at all three companies. Enthusiasm has been tepid amid worries over hardware sales. As a result, the price to sales for each company is below prior peaks. Comparing the three to each other and investors are paying the least for IBM's revenue and the most for Cisco's.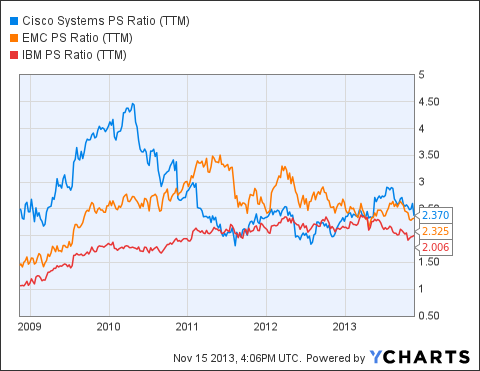 CSCO PS Ratio (TTM) data by YCharts
Investors are similarly not paying as much for each dollar of earnings as they have in the past. Trailing twelve month P/E's suggest investors aren't frothy in any of these three companies, at least relative to where they were in the past. When stacked against each other, shareholders are paying the least for Cisco's earnings and the most for EMC's.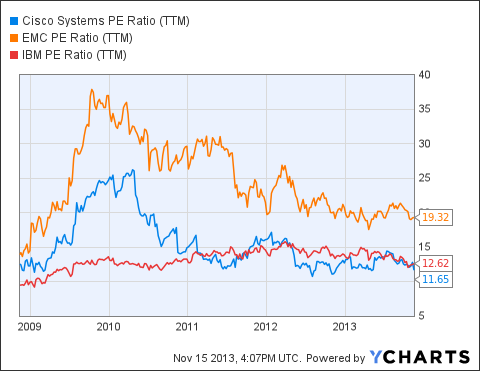 CSCO PE Ratio (TTM) data by YCharts
Taking that a bit further to get some back-of-napkin price targets and EMC looks like it may offer the best value of the three. Assuming that each company trades at the average of its trailing and forward P/E at some point, EMC could see upside of 31%. All three could see shares trend higher, based on these assumptions, with Cisco generating the lowest return.
| | | | |
| --- | --- | --- | --- |
| | Cisco | EMC | IBM |
| Trailing P/E | 11.56 | 19.12 | 12.57 |
| Forward P/E | 9.51 | 11.72 | 10.07 |
| Current Share Price | $21.46 | $24.07 | $181.69 |
| Forward EPS Estimate | $2.26 | $2.05 | $18.03 |
| Target P/E | 10.5 | 15.4 | 11.3 |
| Target Price Forward EPS * Target P/E | $23.73 | $31.57 | $203.74 |
| Potential Return | 10.58% | 31.16% | 12.14% |
Source: Yahoo! Finance and E.B. Capital Markets, LLC
Some final thoughts
Over the past fifteen years on the sell-side, I've found it valuable to quantify different company characteristics to narrow thousands of ideas to an actionable few. As a result, my team at E.B. Capital Markets, LLC screens nearly 2,000 of the most widely traded equities every week, giving each a score based on the company's earnings beats, earnings growth, insider buying, money flow, short interest, valuation and seasonality. This approach is designed to find the best ideas to own for the coming year and currently the system favors IBM, giving it a score of 80. This suggests IBM may offer investors the best balance of earnings and valuation of these three companies.
Source: E.B. Capital Markets, LLC

Disclosure: I have no positions in any stocks mentioned, and no plans to initiate any positions within the next 72 hours. I wrote this article myself, and it expresses my own opinions. I am not receiving compensation for it (other than from Seeking Alpha). I have no business relationship with any company whose stock is mentioned in this article.