This article supplements my preliminary review of 3Q13 results and trailing twelve months ("TTM") results recently reported by Kinder Morgan Energy Partners LP (NYSE:KMP). I now evaluate the sustainability of KMP's Distributable Cash Flow ("DCF") and assess whether KMP is financing its distributions via issuance of new units or debt. The task is not easy because the definitions of DCF and "Adjusted EBITDA", the primary measures typically used by master limited partnerships ("MLPs") to evaluate their operating results, are complex and differ from one MLP to another. But it is an exercise that must be undertaken, in conjunction with evaluating an MLP's growth prospects, because sustainable distributions coverage provides some protection in a downside scenario. When faced with such a scenario, MLPs that cannot maintain their distributions, or are totally reliant on debt and equity to finance growth capital, are likely to suffer significantly greater price deterioration.
KMP's term for earnings before depreciation and amortization ("EBDA") is "Segment earnings before DD&A and certain items". EBDA and DCF reported by KMP for the periods under review are summarized in Table 1 below:

Table 1: Figures in $ Millions, except per unit amounts
As always, I attempt to assess how the reported DCF figures compare with what I call sustainable DCF for these periods and whether distributions were funded by additional debt or issuing additional units. Given quarterly fluctuations in revenues, working capital needs and other items, it makes sense to review TTM numbers rather than just the quarterly numbers for the purpose of analyzing changes in reported and sustainable distributable cash flows.
In an article titled "Distributable Cash Flow" I present KMP's definition of DCF and also provide definitions used by other MLPs. Based on this definition, KMP's DCF per unit for the TTM ending 9/30/13 was $5.29, up from $4.99 in the prior year period. In 3Q13 DCF per unit was flat vs. the prior year period. The generic reasons why DCF as reported by an MLP may differ from what I call sustainable DCF are reviewed in an article titled "Estimating sustainable DCF-why and how". Applying the method described there to KMP' results generates the comparison between reported and sustainable DCF presented in Table 2 below: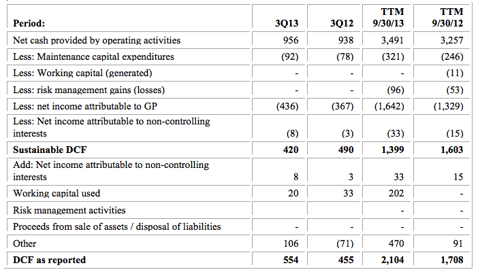 Table 2: Figures in $ Millions
The principal differences of between sustainable and reported DCF numbers in Table 2 are attributable to working capital and to a host of items grouped under "Other".
Reported DCF for the TTM ending 9/30/13 includes $202 million of cash consumed by working capital. Under KMP's definition, reported DCF always excludes working capital changes, whether positive or negative. In contrast, as detailed in my prior articles, I generally do not include working capital generated in the definition of sustainable DCF but I do deduct working capital invested. Despite appearing to be inconsistent, this makes sense because, on the one hand, in order to meet my definition of sustainability the master limited partnerships should generate enough capital to cover normal working capital needs. On the other hand, cash generated from working capital is not a sustainable source and I therefore ignore it. Over reasonably lengthy measurement periods, working capital generated tends to be offset by needs to invest in working capital. I therefore do not add working capital consumed to net cash provided by operating activities in deriving sustainable DCF.
The "Other" items of difference between reported and sustainable DCF are detailed in Table 3 below: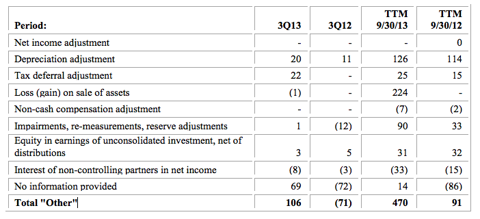 Table 3: Figures in $ Millions
The adjustments in Table 3 illustrate the complexity and subjectivity surrounding DCF calculations and highlight the difficulty of comparing MLPs based on their reported DCF numbers. An example is a $224 million gain on sale incorporated into the reported DCF number. This pre-tax gain stems from the March 14, 2013 sale by KMP of its one-third equity ownership interest in the Express pipeline system. I exclude this from my definition of sustainable DCF. Another example is depreciation. In deriving sustainable DCF, I use the depreciation number appearing on the cash flow statement. KMP on the other hand reports a DCF number that is derived using a larger depreciation factor. KMP adds back its proportionate share of the joint ventures' depreciation, depletion and amortization expenses and subtracts its proportionate share of the joint ventures' sustaining capital expenditures.
Coverage ratios based on KMP's methodology are lower vs. the comparable prior year periods, as shown in Table 4 below:

Table 4: $ per unit, except ratios
In deriving DCF, KMP deducts the general partner's portion of net income; this can be seen in Table 2. By doing so, KMP defines DCF narrowly, including only that portion of DCF that is attributable to limited partners. In addition to adjusting for non-sustainable items, I prefer a broader definition of coverage, one whose numerator is total DCF generated and whose denominator is the total of all distributions made to all the stakeholders, including to Kinder Morgan, Inc. (NYSE:KMI), KMP's general partner. In addition, the DCF coverage analysis is not complete without adjusting for the capital structure of the Kinder Morgan entities.
Kinder Morgan Management, LLC (NYSE:KMR) owns approximately 27.9% of KMP in the form of i-units that receive distributions in kind, not in cash (i.e., i-unit holders receive additional KMP units in lieu of cash). In my opinion, in order to make KMP's coverage ratios comparable to other MLPs that do not have the equivalent of i-units, an adjustment is required so that i-units are deemed to have received the same distributions as common units.
Sustainable DCF coverage using the broad definition and adjusting for the i-units is shown in Table 5 below:

Table 5: Figures in $ Millions, except coverage ratios
Table 6 presents a simplified cash flow statement that nets certain items (e.g., acquisitions against dispositions, debt incurred vs. repaid) and separates cash generation from cash consumption in order to get a clear picture of how distributions have been funded:
Simplified Sources and Uses of Funds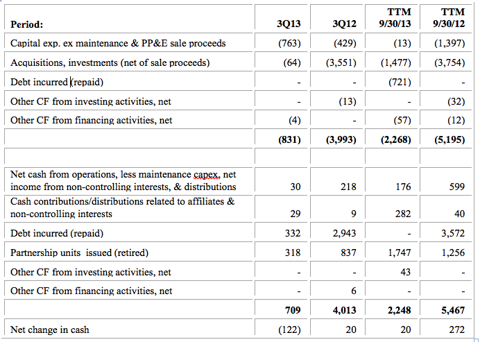 Table 6: Figures in $ Millions
Net cash from operations, less maintenance capital expenditures, less cash related to net income attributable to non-partners exceeded distributions by $176 million in the TTM ended 9/30/13 and by $599 million in corresponding prior year period. Such excesses may be puzzling in light of the below 1.0 coverage ratios, but the discussion regarding i-units following Table 4 explains how this can happen. While in the periods reviewed KMP did not fund distributions by issuing units or debt, this would not have been achieved but for the impact of the i-units.
Table 7 shows KMP offers an attractive yield compared to other top-tier MLPs such as MMP, EPD, and PAA:
| | | | |
| --- | --- | --- | --- |
| As of 11/14/13: | Price | Quarterly Distribution | Yield |
| Magellan Midstream Partners (NYSE:MMP) | $60.05 | $0.55750 | 3.71% |
| Enterprise Products Partners (NYSE:EPD) | $61.49 | $0.69000 | 4.49% |
| Plains All American Pipeline (NYSE:PAA) | $51.59 | $0.60000 | 4.65% |
| Targa Resources Partners (NYSE:NGLS) | $50.72 | $0.73250 | 5.78% |
| El Paso Pipeline Partners (NYSE:EPB) | $40.87 | $0.65000 | 6.36% |
| Buckeye Partners (NYSE:BPL) | $66.10 | $1.07500 | 6.51% |
| Kinder Morgan Energy Partners | $81.34 | $1.35000 | 6.64% |
| Energy Transfer Partners (NYSE:ETP) | $52.78 | $0.90500 | 6.86% |
| Williams Partners (NYSE:WPZ) | $50.14 | $0.87750 | 7.00% |
| Boardwalk Pipeline Partners (NYSE:BWP) | $28.01 | $0.53250 | 7.60% |
| Suburban Propane Partners (NYSE:SPH) | $45.92 | $0.87500 | 7.62% |
| Regency Energy Partners (NYSE:RGP) | $24.36 | $0.47000 | 7.72% |
Table 7
However, I believe KMP's distribution coverage is overstated because of differences between reported and sustainable DCF and because the amounts being distributed are understated given that KMR holders receive units in lieu of cash.
KMP increased its quarterly distribution to $1.35 per unit (from $1.32 in 2Q13 and up 7% from $1.26 in 3Q12). Distributions for the TTM ending 9/30/13 are up ~8.4%. Management projects distributions in 2013 will total $5.33 per unit, up 7% from the $4.98 per unit in 2012. The long-term debt to LTM EBITDA as of 9/30/13, as calculated by management, was a manageable 3.9x. Investors seeking more rapid distribution growth and/or concerned with KMP's distribution coverage for reasons detailed in this report should look at KMI which yields ~4.7% but has increased its 2013 projection of distribution growth to 14% over 2012.
Disclosure: I am long EPB, EPD, ETP, PAA, SPH, WPZ. I wrote this article myself, and it expresses my own opinions. I am not receiving compensation for it (other than from Seeking Alpha). I have no business relationship with any company whose stock is mentioned in this article.