There is one question that I am asked more than any other when it comes to the mortgage real estate investment trusts (mREITs). It is not "what happened?" We know the answer to that by now. At least you should if you have been following my work and that of my fellow contributors here at Seeking Alpha. For those new readers, it basically comes down to much of the selloff was in response to three key concerns. First was the fact that the Federal Reserve may slow or cease its mortgage asset purchases sometime this year. Second was the subsequent fear that sent bond prices down and caused interest rates to rise rapidly over a four-month period, which really hurt portfolio holdings of the mREITs. Finally, as portfolio holdings lost value (namely the mortgage backed securities (MBS)), revenues and earnings suffered, leading to poor quarterly performances and dividend cuts. Please see my articles covering each of the topics in depth. Back to the issue at hand. The question I am asked more than any other is: "which mREIT is 'better,' Annaly Capital (NYSE:NLY) or American Capital Agency (NASDAQ:AGNC)?" In this article, I will provide new insight into this question as I most recently addressed it in this controversial article after the Q2 earnings report. Thus, in this article, I will discuss and compare the most recent quarter of these companies. Further I will suggest which of the two stocks I think represent a better value at this juncture.
Key Takeaways
Some of you are very technical in nature. I'm going to be honest; the charts are dismal. Both AGNC and NLY are struggling to find a bottom, but for the long term, it's about the overall fundamentals. Some will argue that fundamentals are weak, and yes, compared to two years ago, things are bad. But, for those in it for the long haul, one cannot help but think these share prices are offering fantastic entry points. When trading I look to the charts, but when investing for the long term, it's all about performance and fundamentals. So, AGNC or NLY? In order to address this question, I'd like to go over the key takeaways from the most recent quarter that investors should focus on when deciding for themselves which is the better buy.
AGNC's Headline Earnings:
On October 28, 2013, AGNC reported third quarter earnings, and overall it presented mixed results. On a positive note, it was an improvement from Q2, but was still historically weak. If we go back to the Q2 numbers, we see that AGNC reported a $2.37 comprehensive loss per common share, comprised of $4.61 in net income per common share and $6.98 in other comprehensive loss per common share. After crunching the numbers, when it is all said and done, this translates to an overall loss of $936 million for the quarter. It wasn't even close to a turnaround quarter, but in Q3, AGNC reported a $0.45 comprehensive income per common share, comprised of $1.80 in net losses per common share as well as a $2.25 other comprehensive income per common share. This translated to overall income of $179 million for the quarter. Estimated taxable income was $0.29 per share, which is below the dividend that was paid out of $0.80 per share. I have stated before that funds from operations are often a valuable metric to compare REITs. In the June quarter, for which data is available, AGNC's funds from operations were approximately $514,000,000, but have declined for four straight quarters, which is a negative. Let's take a closer look at NLY's earnings.
NLY's Headline Earnings:
One of the annoying things about NLY is that management often chooses not to release its estimate of taxable income upon quarterly releases. I have repeatedly stated that I would love to see management provide quarterly estimates of taxable income as this is really key to profitability and more importantly what they have to or can afford to pay in dividends. AGNC, however, does this and is helpful to know for dividend purposes. In any case, NLY reported a Q3 GAAP net income of $192.5 billion, or $0.18 per common share, which was far below the prior quarter's $1.6 billion in GAAP income or $1.71 per common share. To make matters worse, the Q3 earnings were also down from the year-ago quarter, which saw GAAP net income of $224.8 million or $0.22 per average common share. It is tough to make a fair comparison here between AGNC and NLY with these numbers as it's not even apples to oranges, but more like apples to an orange tree. Having the taxable income would make comparing mREITs' performance much easier. GAAP earnings aren't all the helpful because taxable earnings and GAAP net income will always differ. What we do know is that earnings are down and trending lower. How about most recent funds from operations? NLY's most recent funds from operations were approximately -$3,900,000,000, but rebounded to roughly $826,000,000 in the most recent quarter, snapping three straight quarters of decline and losses. In terms of funds from operations, I would have to give the winning mark to NLY absent a taxable income estimate.
Now, we know that earnings only tell a part of the story. To get an idea of what kind of deal we are getting on our purchases of shares, we should look to book value.
Reported Book Value
Book value is one of the largest drivers of share price. Momentum in a sector and news-driven events can catalyze a stock's price to move up or down, but book value gives a strong indication of the health of the shares and shareholders' equity. We know that in 2013 it's been ugly. But, given the moves in the 10-year rate in October (Figure 1), it is likely that book values of AGNC and NLY are now higher than they were as of September 30, 2013.
Figure 1. Interest Rate On The Ten Year Treasury First Month Of Fourth Quarter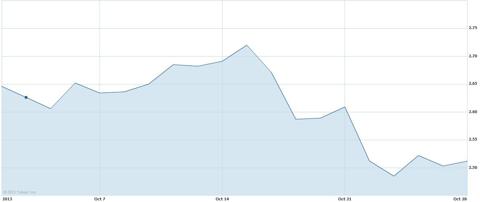 Book Value For AGNC:
At the end of Q2 book value was $25.51, down significantly from the first quarter. On September 30th, the end of Q3, the stock was trading around $22.70. For the third quarter, book value was reported to be $25.27. This is really a negligible $0.24 drop from the end of Q2, or a decline of less than one percent. This means that the stock was trading over 10% below book value at the time.
Book Value For NLY:
For NLY, at the end of Q2, book value was $13.03, down significantly from $15.19 in the first quarter. For the third quarter, NLY reported a small decline in book value of 2.5%, down to $12.70 per share. On September 30, 2013, NLY was trading around $11.64 a share. This represents an approximate trading discount of 8.3%.
AGNC Vs. NLY For Book Value:
Overall I would have to argue that AGNC is winning in the book value aspect. Not because it is higher than NLY's; that is silly. The reason I am of this opinion is that AGNC was trading at a larger discount to book. Some may argue this means the street has little faith in the company so it's at a discount. I disagree. To me, barring news-driven events, the street often prices a stock where it believes book value will be at the time of the report, within 3%-5%. Both AGNC and NLY were on sale relative to book. What sets AGNC apart here is that it lost less than one percent, whereas NYL suffered another 2.5% decline. Both declines were small, but AGNC's was far less.
Looking Again To The All Important Spread on Interest Rates
AGNC's Spread:
Considering what happened with interest rates, specifically the ten year, from July to September (Figure 2), it was a positive that AGNC's interest rate spread rose a touch quarter over quarter. The building blocks of the spread were a bit different and there were some disappointments. Overall, AGNC reported a net interest rate spread of 1.37%, which was an increase over the 1.24% reported in Q2. Sadly, AGNC's average net interest rate spread for the third quarter was 1.20%, a decrease of 29 basis points from Q2 of 1.49%. Even worse, including estimated TBA dollar roll income/loss, AGNC's average net interest rate spread for the third quarter was 1.14%, a decrease of 72 basis points from 1.86% during the second quarter. One the positive side, AGNC's average net spread income for the third quarter includes -6 basis points of premium amortization cost due to changes in projected constant prepayment risk estimates, compared to 29 basis points of premium amortization benefit during the second quarter. The annualized weighted average yield on the agency security portfolio was 2.64% for the current quarter, compared to 2.63% for the prior quarter. Furthermore, AGNC's average cost of funds decreased 4 basis points to 1.39% for the second quarter, from 1.43% for the first quarter, due to lower average swap costs as a result of a smaller hedge position. Overall, AGNC's average asset yield reported as of September 30, 2013 was 2.70%, a single basis point decrease from 2.71% as of June 30, 2013. So, the cost of funds declined, while the average yield held steady. Finally, the end of the quarter numbers were much stronger than the average for the quarter indicating improvement.
Figure 2. Yield on The Ten Year Treasury In The Third Quarter 2013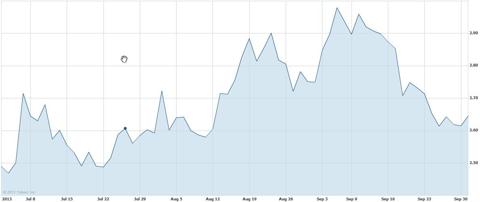 NLY's Spread:
Well what about NLY? Considering the climate in the first two months of the quarter, there was slight improvement. We saw a rise in yield on assets, which helped. The annualized yield on average interest-earning assets was 2.82%, a rise of 31 basis points over the Q2 annualized yield on average interest-earning assets of 2.51%. One disappointment was the cost of funds. Recall AGNC's slightly declined. For NLY, the annualized cost of funds on average interest-bearing liabilities, including the net interest payments on interest rate swaps, was 1.81%, a rise of 28 basis points from the Q2 annualized cost of funds on average interest-bearing liabilities, including the net interest payments on interest rate swaps of 1.53%. So what about the overall spread? After all, this is one of the key drivers of profits. AGNC's was 1.37%. All in all, this resulted in an average interest rate spread of 1.01% for the quarter, which was stronger than Q2. Overall this was a 3 basis point increase from the 0.98% average interest rate spread in Q2. Comparing the two, AGNC is doing better in this regard.
Leverage
Both companies have been de-leveraging. AGNC reported a 7.2X "at-risk" leverage at the end of Q3, and 7.9X leverage if we back out net short TBA mortgage positions. This was a decrease of 1.3X from the end of Q2 which was reported to be 8.5X. Overall, there was a 7.8X at-risk leverage during Q3. NLY has been consistently de-leveraging and is taking on less risk. NLY's leverage, which includes non-recourse loan participations and mortgages payable, at the end of Q3 2013, Q2 2013, and Q3 2012, was 5.4X, 6.2X and 6.0X, respectively. In this regard, NLY is less exposed to market risk compared to NLY. I expect leverage to trend lower into 2014.
Who Is Winning on Yield?
AGNC currently yields 14.9% and NLY is yielding 12.0%. Thus, AGNC is winning in this regard, though we have to question whether the dividend is safe.
Are Future Dividend Cuts Coming?
A complete dividend sustainability analysis is beyond the scope of this article. For those looking for an in-depth approach to analyzing dividend sustainability, I encourage you to visit the most recent elegant piece analyzing AGNC's dividend by fellow contributor Scott Kennedy, as well as his past works. From my elementary viewpoint, absent running similar simulations, I am of the opinion that both AGNC and NLY could see a dividend cut. Recall that most recently AGNC cut its dividend to $0.80 and NLY cut its to $0.35. Looking at the recent quarterly performance, I am most concerned with AGNC's when I look at taxable income and projecting out to Q4. I expect a further cut to $0.60 to $0.70. NLY is a bit trickier. Recall that it does not report taxable income so it is tough to say with accuracy. Given its conservative approach and steady cuts, I believe there is a chance the dividend could hold at $0.35 if the ten year stays under 2.85 for most of the quarter. If there is a cut, I would expect it to be to $0.30. Based on my estimations, and they are simply educated guesses at this point, I would say that NLY's dividend is 'safer' at this point.
Stock Statistics
This is mostly for informational purposes, but some info can be gleaned from the multiples. AGNC currently trades at $21.50 and has a 52-week range of $20.20 to $33.31. On average, 7,100,000 shares exchange hands daily. The stock trades at a 3.7 multiple and has a market cap of $8.2 billion. In contrast, NLY currently trades at $10.75 and has a 52 week range of $10.30 to $16.18. On average, 13.8 million shares exchange hands daily. The stock has a market cap of $10.16 billion and trades at a 3.1 multiple. So, the takeaway here is that currently, NLY trades a slight discount to AGNC on a P/E basis.
Insider Activity
NLY and AGNC have had some insider purchases lately, which is a slight vote of confidence in the stocks by management. On November 8th, CEO Wellington Denahan purchased 93,000 shares. On November 11, James Fortescue, the COO, purchased 25,000 shares. On November 12th, Kevin Keyes, President, purchased 100,000 shares. In contrast, AGNC has seen insider buying on the open market recently, but less intense than NLY's. On October 30th, Peter Federico, Christopher Kuehl and CEO Gary Kain purchased 2,500, 2,000 and 20,000 shares, respectively. On November 12th, Director Larry Harvey added 2,000 shares as well. Overall, NLY is winning the insider buying battle, but both have had buying, which is a positive.
Conclusion
The quarter was a significant improvement over the second quarter 2013 for AGNC more than for NLY. But earnings alone cannot dictate the decision, as NLY's funds from operations are now in the positive territory while AGNC's was still negative. But we don't get a good comparison without NLY's taxable earnings. Thus investors should focus on other key takeaways. First is the interest rate spread. It rose for both companies, though AGNC's was better overall. This is a crucial positive for both companies as it suggests both are stabilizing. What about book value? This measure should properly determine the share price of your mREIT and be used as a basis for deciding whether to buy or sell. Book value for both companies was above the stock price at the end of the quarter. However, it declined more significantly for NLY during this time, and held steady for AGNC. AGNC was also trading at a better discount. Finally, there is the dividend. AGNC pays a higher yield, but the dividend itself is deteriorating faster than NLY's. NLY has been more conservative than AGNC and has de-levered more than AGNC. While I like both companies, and hold a substantial position in both, I believe NLY's dividend is a bit safer right now compared to AGNC's. On a statistics basis, NLY is also trading at a lower multiple. NLY has also seen some heavy insider buying, though AGNC insider buying is also a positive. All things considered, it is a tough decision. I am however, going to recommend NLY over AGNC at this time. I am perfectly aware that others may read this article and come to a different conclusion. Some others may avoid both at all costs. At this time, I am more comfortable adding to my NLY position than to my AGNC position. After the next quarter, I will reassess.
Disclosure: I am long AGNC, NLY. I wrote this article myself, and it expresses my own opinions. I am not receiving compensation for it (other than from Seeking Alpha). I have no business relationship with any company whose stock is mentioned in this article.