During its earnings conference call, Cisco (NASDAQ:CSCO) could not be more clear about the negative impact that emerging economies, including China, had on its business (all quotes from Seeking Alpha transcripts)…
"China continued to decline as we and our peers worked through the challenging political dynamics in that country…

Across every geography, the impact of emerging market weakness was pronounced and accelerated to the backend of the quarter. Our top five emerging markets declined 21% with Brazil down 25%, Mexico down 18%, India down 18%, China down 18% and Russia down 30%…

I do think we are seeing a slowdown in these emerging markets both in the decision making and their economies…

What we saw in emerging was very consistent across the board. Every one of our top 10 emerging countries missed their forecast and was off by a fair amount. So it wasn't just that it was down, the last couple of weeks, they kept dropping and dropping…

You look around the world, the emerging markets, I have never seen that fast a move in emerging markets and that is something that when I talk with our industry peers, while there are exceptions, most of my CEO counterparts can almost finish my sentence in terms of what's occurring."
Analysts on the call were clearly struggling to make sense of the dramatic downshift in Cisco's business. They also wrestled to determine whether Cisco is really facing general macro-economic headwinds or company-specific issues. Ben Reitzes from Barclays noted that "…we're all floored by your guidance here" and asked whether all the news about espionage by America's National Security Agency (NYSE:NSA) had an impact on the U.S. brand in general:
"…there's been a lot of concern out there about the NSA snooping and the impact that's had on global IT and global IT brands like yourself? And you maybe alluded to this with regard to your comments on China and the political situation? But I noticed Russia was perhaps down even more than China and what not?

…But is there something a little more to this that with customers outside of the U.S. thinking a little bit more about U.S. IT brands and is that impacting your business and if so or if not, then what do you do in the future?"
CEO John Chambers responded that the political backlash is definitely part of the story in the slowdown in business in China. but the overall weakness in emerging markets went beyond the political drama. Chambers even cited International Business Machines (NYSE:IBM) as evidence that the headwinds in emerging markets are blowing across the industry.
And then came Juniper Networks (NYSE:JNPR).
In a Reuters article, JNPR Chief Marketing Officer Brad Brooks debunked the notion that China has become wary of U.S. networking companies or even that the Asia-Pacific region is experiencing macro-economic headwinds:
"The Snowden effect is not real…Our business continues to grow in Asia Pac as well as China. As we look at that business there we've not seen those types of conversations from our customers…The outlook we talked about in our Q3 earnings (NASDAQ:CALL), there's no change as to how we'd characterize that outlook today."
This strong retort brought back to mind the Cisco-Juniper pairs trade. I last mentioned the pairs trade in "Time For Yet Another Pairs Trade As Juniper Networks and Cisco Systems Plunge" on May 26, 2012. I think it is time again to tee up this trade. If JNPR is correct, its stock should outperform CSCO for the coming weeks and likely months. If CSCO is correct, either JNPR will "catch up" to CSCO and/or CSCO's sell-off should resume in due time. I am taking the side of long JNPR and short CSCO.
First, it is interesting to note that two weeks ahead of earnings, the open interest put/call ratio on CSCO reached close to a 52-week high. This ratio pulled back after that, going from 0.76 to 0.70. On the other side of the fence, JNPR's open interest put/call ratio spiked at the same time CSCO's did although it only reached the 53% rank for the past year. By the time of CSCO's earnings, this ratio went from 0.70 to 0.60. In other words, nervousness was high in general, traders and investors relaxed a bit, and now CSCO's results should heighten that nervousness. In the coming months, this tension should either be resolved in the form of a larger sell-off hitting CSCO the hardest or a large relief rally, perhaps benefiting players like JNPR the best. These scenarios setup a good pairs trade potential going long JNPR and short CSCO.
I was already long JNPR calls going into CSCO earnings. I bought these following the negative reaction to JNPR's earnings several weeks ago. I had a hedged earnings trade for CSCO that worked out surprisingly well given the large post-earnings sell-off. I am now waiting out the current bounce in CSCO off the post-earnings low before pairing up my JNPR calls with CSCO puts. I am cognizant that bottom-fishers and bargain hunters may find solace in CSCO's expansion of its buyback plans, its claim that margins will remain intact, and the notion that CSCO's hiccup from product transitions will prove transitory.
The post-earnings sell-off in CSCO was made more dramatic by the rally going into earnings. In the daily chart below, I show the downtrend in place before CSCO broke out on Nov 5th. If traders has stuck with that downward momentum, the post-earnings selling would have been "only" a 7% drop or so at the lows instead of a 15% one. Note also how CSCO has filled in its post-earnings gap UP from May of this year. A tag of the previous downtrend line could mark an ideal spot to get back into CSCO puts.
A six-month roundtrip for CSCO
In this next chart, I took due note of how the market in the form of the tech-laden NASDAQ has left CSCO behind since 2010. With the NASDAQ hitting multi-year highs on Friday, this on-going divergence has become ever more dramatic. It is also helpful to remember that just a little over two years ago, CSCO retested its 2009 lows. JNPR almost pulled off a similar stunt last year.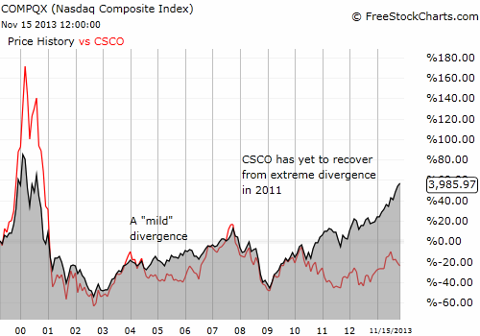 The NASDAQ is no longer correlated with the fortunes of CSCO
Source for charts: FreeStockCharts.com
Finally, CSCO has traded better than JNPR since early 2011. I think a reversal is long overdue. I cannot hazard a guess on where a "reversion" would take the CSCO/JNPR ratio; I am only assuming that some pullback here is long overdue.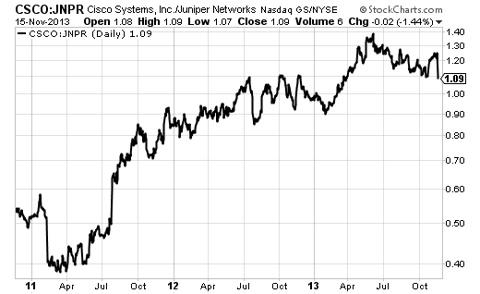 CSCO has traded better than JNPR for over two years
Source: StockCharts.com
Be careful out there!
Disclosure: I am long JNPR. I wrote this article myself, and it expresses my own opinions. I am not receiving compensation for it (other than from Seeking Alpha). I have no business relationship with any company whose stock is mentioned in this article.
Additional disclosure: I am long JNPR through call options. I may buy puts in CSCO at anytime.