On Friday, November 15, Seadrill (NYSE:SDRL) announced that it had agreed to acquire Prospector Offshore, owner of the yard construction contract for the new-build, high-specification jack-up rig Prospector 3. In the wake of Friday's announcement, I not only wanted to highlight the transaction but also note several reasons why I remain bullish on shares of Seadrill.
Overview of the Acquisition
According to a Market Current featured on Seeking Alpha, "Seadrill will pay $235M for the business, which includes drilling and handling tools, spares and operations penetrations that will bring the total cost for the rig, ready to drill, to around $250M. The company says the lack of premium jack-up new-build activity over the past decade is beginning to be felt and demand currently exceeds supply, with the tightness in the market leading many operators to contract the units for increasingly longer terms".
The acquisition, in my opinion, will play a key role in bridging the supply and demand gap which currently exists and as well as number of jack-up rigs that company has within its fleet.
For example, Seadrill estimates that its current fleet will exceed 50 units, as well as five jack-ups and the potential for a number of additional rigs that include West Dorado, West Draco, West Libra, West Aquila, West Rigel, could be bring the total amount of the company's rigs to 61 by the year 2015.
If the company can continue to make key acquisitions, similar to the Prospector Offshore transaction, I see no reason why the company can't reach and/or exceed its goal of 61 rigs.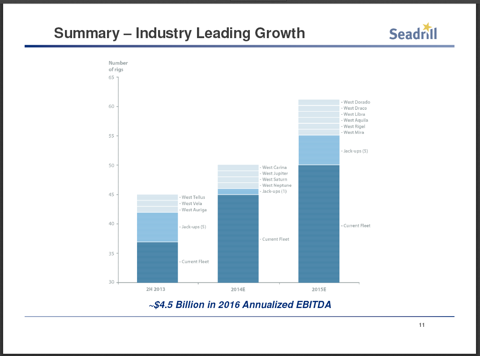 (Source: Company Presentation 09/04/2013)
Earnings & Revenue Impact
Since the Prospector-3 rig isn't expected to be delivered until Q1 2014, I don't see the transaction positively impacting earnings until Q3 or Q4 2014. That being said, there is a very good chance Seadrill will note the costs associated with the transaction during its next earnings announcement and as a result both quarterly earnings and revenues could be offset by the acquisition.
Q3 Earnings Could Be Impacted By Downtime At The West Aquarius Rig
On November 25, 2013, Seadrill is expected to announce its results for Q3 2013 and although a number of analysts are expecting Seadrill to earn $0.68/share on revenue of $1.26 billion, I think the company may report lower-than-expected results due to the rig settlement that resulted in the non-payment for the 37 days the company took to modify and repair the West Aquarius rig, in an effort to meet Canadian Regulatory requirements.
What type of impact do I expect this announcement to have on Q3 results? From an EPS and revenue standpoint, I expect the impact to have a limited near-term impact on the quarterly performance of shares and as a result the company could miss EPS estimates by a margin of no more than $0.06/share and revenue estimates by a margin of no more than $150 million for the quarter. With that said, I wouldn't worry too much, and actually consider any near-term sell-off a potential buying opportunity.
Recent Performance and Trend Behavior
On Friday, shares of SDRL, which currently possess a market cap of $21.49 billion, a P/E ratio of 9.67, a forward P/E ratio of 12.48, and a current dividend yield of 7.94% ($3.64), settled at a price of $45.83/share. Based on their closing price of $45.83/share, shares of SDRL are trading 1.02% below their 20-day simple moving average, 0.97% below their 50-day simple moving average, and 13.10% above their 200-day simple moving average. These numbers indicate a short-term and mid-term downtrend and a long-term uptrend for the stock which generally translates into a moderate selling mode for most near-term traders and a buying mode for longer-term investors.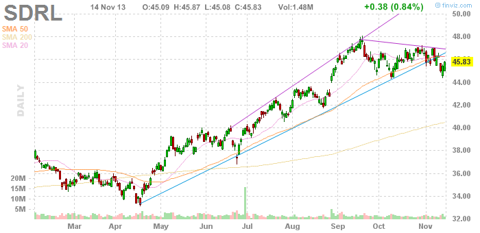 24-Month Dividend Behavior
Since September 6, 2011 the company has actually engaged in some very interesting dividend behavior, which has resulted in a $0.16/share or 21.33% increase in its quarterly dividend over the last 24 months (even though the quarterly payouts have not demonstrated a consistent uptrend over that period). The company's forward annualized yield of 7.94% ($3.64) still makes this particular oil & gas drilling play a highly considerable option, especially for those who may be in the market for a higher-yielding stream of quarterly income.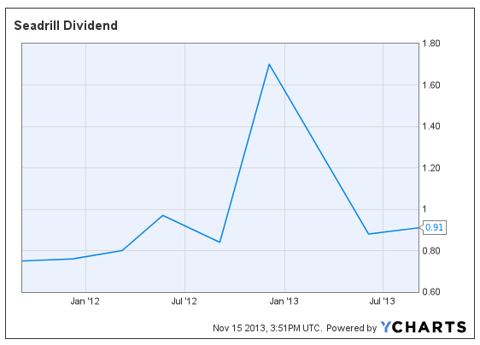 Risk Factors
According to Seadrill's most recent 20-F, there are a number of risk factors all investors should consider. These factors include but are not limited to the fact that the company's business in the offshore drilling sector depends on the level of activity in the offshore oil and gas industry, which is significantly affected by, among other things, volatile oil and gas prices, and may be materially and adversely affected by a decline in the offshore oil and gas industry, and the fact that an over-supply of offshore drilling units may lead to a reduction in daily rates and therefore may materially impact our revenues and profitability.
Conclusion
For those of you who may be considering a position in Seadrill, I'd keep a watchful eye on a number of catalysts over the next 12-24 months as each could play a role in the company's long-term growth. For example, near-term investors should focus on the company's recent trend behavior, while long-term investors should pay close attention to any growth that may be related to the company's recent acquisition of Prospector Offshore.
Disclosure: I have no positions in any stocks mentioned, but may initiate a long position in SDRL over the next 72 hours. I wrote this article myself, and it expresses my own opinions. I am not receiving compensation for it (other than from Seeking Alpha). I have no business relationship with any company whose stock is mentioned in this article.