Bill Ackman took about a $400 million loss on J.C. Penney (NYSE:JCP), a retail investment that didn't quite work out for him as intended. His hedge fund has given up on bringing change to the board and the company buy selling its stake to Citigroup for $500 million. Ackman's J.C. Penney investment partner, Vornado Realty Trust (NYSE:VNO), also threw in the towel. And so did Perry Capital which sold its shares in September. The market has reacted quite hysterically to the announcement that Ackman is abandoning its J.C. Penney investment and his willingness to take a substantial loss on his position did not help in creating confidence in J.C. Penney's prospects. Further, much publicized sales from hedge funds contributed to the decline in share price. Eventually, J.C. Penney announced a secondary offering amounting to nearly $800 million. Accordingly, shares were being sold off.
Just after J.C. Penney's capital increase, I have aggressively recommended J.C. Penney at $7 per share and bought heavily against the crowd. Since then shares are up 29%. Not too bad a return for one month but I expect multiples of this return to materialize over the next year as the turnaround concept gathers traction and, most importantly, negative sentiment towards P.C. Penney changes.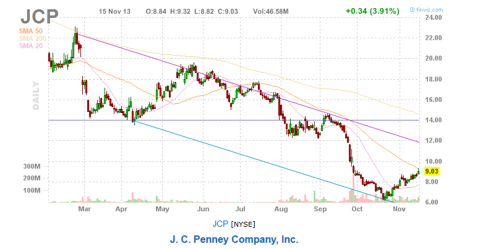 Distressed security
J.C. Penney can be characterized as a distressed security. The company made some very negative headlines over the last year with consecutive, quarterly revenue declines which many investors used to question J.C. Penney's business proposition altogether. Of course, I acknowledge that there have been substantial problems mainly because of margin-eroding promotions and the implementation of a retail concept that alienated customers. It's financials have reflected the operational challenges with net income declining substantially over the years. For the year ending January 29, 2011 J.C. Penney achieved net income of $389 million vs. ($152) million in 2012. Things worsened during much of 2012 and J.C. Penney reported a massive net loss of $985 million for the year ending February 2, 2013.
Ultimately, it all comes down to whether investors believe that a turnaround can be achieved. Recent updates on the progress of J.C. Penney's turnaround indicate that the company is on a good path: Same store sales increased 0.9% in October and sales through its jcp.com website increased 37.6% y-o-y.
Behavioral investing
As usual, Mr. Market bathes in negativity when a company goes through change. This is not surprising because the human condition is more receptive to negative rather than positive thinking. As a contrarian I always think it is a good time to buy when the overwhelming majority of investors agree on just how bad an investment is. I also argue that Ackman's sale of J.C. Penney stock should not be seen as a negative vote on J.C. Penney's value and future earnings prospects or the viability of a sustainable turnaround. His share sale was likely precipitated by the fact that his influence on the board and his capacity to enact change was greatly reduced. My experience with restructurings and post-reorganization equities shows, that a company oftentimes turns around just when the majority of investors have given up. A capital raise also shows that a decent-sized group of investors still have trust in the business model and the management team. After all, J.C. Penney holds substantial amounts of valuable real estate in A-rated locations.
Conclusion
Wall Street's obsession with quarterly results and its inherent impatience is about as off-putting and boring as it gets. Turnaround scenarios need time. Steering a ship in a different direction is not done overnight. The company is doing the right steps with a capital increase to bolster up the balance sheet, create financial flexibility and implement change. Impatient investors who seek uncontroversial investments probably should not buy J.C. Penney. Contrarian investors who believe that the market often errs in its assessment about the prospects of a turnaround investment, however, should take a close look at J.C. Penney and research for themselves how restructurings/capital increases have worked out for other companies. I am convinced that over the next year or two J.C. Penney will be a textbook turnaround case. Just like Barrick Gold (NYSE:ABX) and Alcatel-Lucent (ALU), J.C. Penney holds huge (real estate) value and cash on its balance sheet. Sentiment for all these stocks is extremely negative and their shares are in bargain territory. This is exactly what makes them excellent contrarian BUYs.
Disclosure: I am long JCP, ALU, ABX. I wrote this article myself, and it expresses my own opinions. I am not receiving compensation for it (other than from Seeking Alpha). I have no business relationship with any company whose stock is mentioned in this article.