One can tell from my posts over the last few months that I have become more bullish on the economy. Are things great? NO!
The year 2013 has been dogged by consumer expenditures (blue line in graphs below) outrunning consumer income (red line in graphs below). This balance has been restored.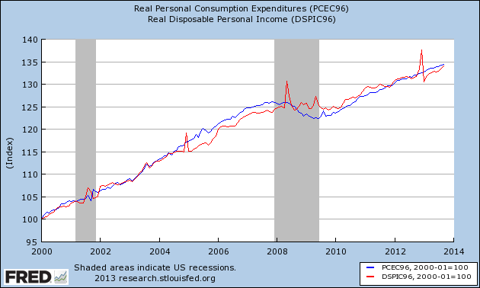 Click to enlarge
The above graph has indexed expenditures and income to January 2000. To have another perspective - the graph below uses the same data set to show year-over-year change.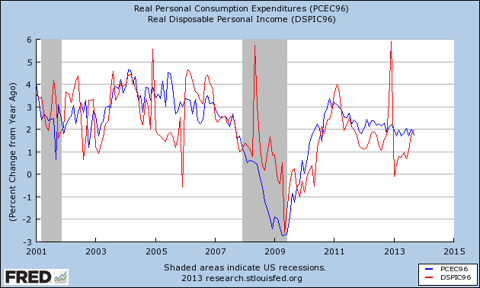 Click to enlarge
And the following graph provides a close-up on the year-over-year change for 2013. From this graph, one gets the feel why the USA consumer based economy has felt so sluggish this year - as income growth has lagged expenditures.
Click to enlarge
What you may be thinking is that the 0.1% causing this distortion. But listen to the message from Gordon Green of Sentier Research:
Since August 2011, the low-point in our household income series, we have seen some improvement in the level of real median annual household income. While the trend in household income since August 2011 has been uneven, on balance we have seen an upward movement: by 1.0 percent since September 2012 and by 3.1 percent since August 2011. We still have a significant amount of ground to make up to get back to where we were before, but at least we now appear to be heading in the right direction.
And here is the chart to back up this statement (red line in graph below):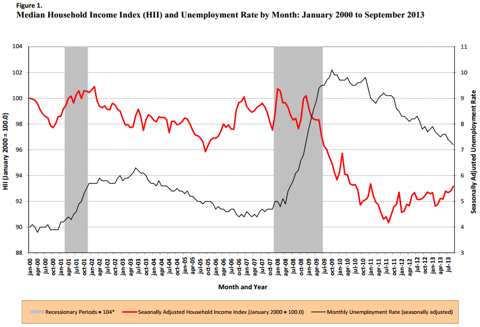 Click to enlarge
Being real here, median household income is far from its pre-recession peak. All economic analysis is a process of looking at a glass half-full, and trying to extricate the elements which are the drivers. Many make a mistake to believe that drivers are static - I believe in a very dynamic set of economic forces driving a consumer based economy. For now, the good forces are marginally winning. My concern is the forces of evil (aka Obamacare unintended consequences and a housing recovery failure) could drag imagined wealth and suck disposable income from the economy.
For now, income is the important driver as it sets the stage for expenditures (and the USA economy is measured by spending). The economy will not turn a new page overnight but the trends are in the right direction.
My usual weekly economic review is in my instablog.
Disclosure: I have no positions in any stocks mentioned, and no plans to initiate any positions within the next 72 hours.