By Robin Wauters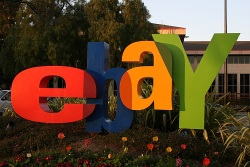 eBay (NASDAQ:EBAY) Tuesday morning announced that it will introduce free auction listings and reduced listing fees for fixed-priced items in the U.S., starting March 30.
The e-commerce giant says the 'success-based' pricing is similar to changes implemented by eBay in Europe, changes that have self-reportedly driven strong growth for sellers in markets such as the U.K. and Germany.
Beginning March 30, eBay will offer two pricing packages in the United States:
"eBay Everyday" rates
Auction-style listings with a start price of 99 cents or less will be free (with no insertion fees for up to 100 listings per month).
When an item sells, the seller will pay a flat final value fee of 9 percent of the sale price – and never more than $50. If an item doesn't sell, the seller pays nothing. eBay says these listings are typically are the ideal format for people who sell on the site occasionally.
"eBay Stores" subscription rates
For large volume sellers, eBay is to introduce insertion fees as low as 3 cents per listing for 30 days—a 90 percent reduction over current rates according to the company.
Subscription rates offer various pricing options, depending on the size of a seller's business. With the new pricing, a seller with 250 listings per month would save $80 or $960 a year in insertion fees, eBay says. With these changes, eBay's current store inventory format will be discontinued and will no longer have separate search functionality from core fixed-price listings. With the new eBay Stores rate package, all fixed priced inventory on eBay will have exposure through eBay's main search functionality.
Sellers who want to determine which pricing option will work best for their listings when the changes take place in March can use eBay's Fee Illustrator:
Along with the pricing changes, eBay announced that, effective today, it is expanding to all buyers its eBay Buyer Protection, which the company has been piloting over the past year. The program was first introduced in October 2009 and helps buyers identify sellers who consistently provide great service (as rated by other buyers).
Through the program, buyers will have access to customer support specialists seven days a week, as well as a money-back offer for most purchases should a problem arise and the seller is unable to resolve the issue. eBay Buyer Protection covers items paid with PayPal or any other approved payment method.