Background
I'm sure that I am not the first person to say that investing in a utility is akin to watching paint dry. This plays out on the first page of the company's recent investor presentation where they lay out the following four simple rules:
Keep the lights on.
Make it affordable.
Give great service.
Be a positive force.
As far as corporate goals go, those are about as generic and yawn inducing as any. At the same time, as a potential investor in a utility company, that is pretty much what I'm looking for. With investors of all shapes and sizes seeking yield however, value has been hard to nail down in this sector. Yet that's where I am today, kicking the tires of one of the great US utility companies in search of value.
From the Southern Company (NYSE:SO) Website:
With 4.4 million customers and nearly 46,000 megawatts of generating capacity, Atlanta-based Southern Company (NYSE: SO) is the premier energy company serving the Southeast through its subsidiaries.

A leading U.S. producer of clean, safe, reliable and affordable electricity, Southern Company owns electric utilities in four states - Alabama Power, Georgia Power, Gulf Power, and Mississippi Power - and a growing competitive generation company - Southern Power -- as well as a licensed operator of three nuclear generating plants - Southern Nuclear - and fiber optics and wireless communications - Southern Telecom and SouthernLINC Wireless, respectively. Southern Company brands are known for energy innovation, excellent customer service, high reliability and retail electric prices that are below the national average.

Southern Company and its subsidiaries are leading the nation's nuclear renaissance through the construction of the first new nuclear units to be built in a generation of Americans and are demonstrating their commitment to energy innovation through the development of a state-of-the-art coal gasification plant.

Southern Company has been recognized by the U.S. Department of Defense and G.I. Jobs magazine as a top military employer and listed by DiversityInc as a top company for Blacks. The company received the 2012 Edison Award from the Edison Electric Institute for its leadership in new nuclear development, was named Platts' 2011 Power Company of the Year and is continually ranked among the top utilities in Fortune's annual World's Most Admired Electric and Gas Utility rankings.
The facts:
| | |
| --- | --- |
| | SO |
| Current Price | $41.94 |
| Market Cap | $36.7B |
| Yield | 4.9% |
| P/E | 22.9 |
| Consecutive Years of Growing Dividends | 12 |
Data Source: Yahoo! Finance, David Fish's Excellent List of Dividend Champions
Peer Comparison
| | | | | | |
| --- | --- | --- | --- | --- | --- |
| | | Profitability | Earnings Growth | Leverage | Overall |
| PPL Co. | | 4 | 2 | 5 | 4 |
| Duke Energy Corporation | | 6 | 5 | 1 | 6 |
| NextEra Energy Inc | | 4 | 4 | 3 | 5 |
| Southern Co | SO | 2 | 2 | 2 | 1 |
| Exelon Corp | | 1 | 6 | 3 | 3 |
| SSE PLC ADR | | 3 | 1 | 6 | 2 |
In full disclosure, this journey started as a review of PPL which I first looked at in this article a while back. I still like PPL and believe there could be value with the company but my relatively new focus on completing a peer comparison prior to valuation led me along a different path. Seeing Southern Co. near the top of the list in all categories reminded me of another article I recently read which made some positive points regarding the utility. Compared with the other major utilities on this list, Southern stands well above the others in terms of the combination of profitability, earnings growth, and relatively low leverage (low leverage compared to its peers, not on an absolute basis) that I am seeking.
Making a Profit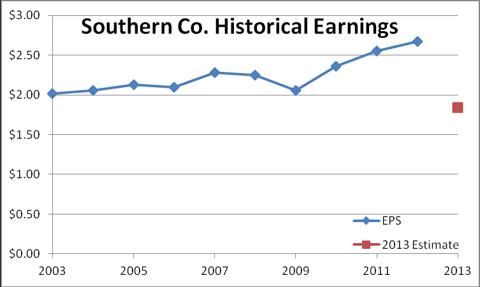 Data Source: Morningstar , Southern Co. Q3 Earnings Report
That 2013 estimate is low! What happened? Essentially the company is coming to grips with "increased cost estimates for the construction of Mississippi Power's Kemper County project." On a running basis, this has shown up hitting the bottom line during each quarter this year:
| | |
| --- | --- |
| Quarter | Earnings Impact |
| Q1 13 | $0.38 |
| Q2 13 | $0.32 |
| Q3 13 | $0.11 |
| Q4 13 | ??? |
Data Source: Southern Co. Q1, Q2, and Q3 earnings reports
I'm not going to advise adding back in the earnings impact above, but the short end of the story is that earnings would be basically flat in 2013 without the cost overrun. This is notable since in their Q3 earnings report, Southern announced that "For the year to date, retail sales decreased 0.9 percent compared with the same period in 2012" while "Year-to-date 2013 revenues were $13.16 billion, compared with $12.83 billion for the same period in 2012, a 2.5 percent increase." To me this means that pricing (essentially the regulated rates) was able to turn a hole in the top line of 0.9% into a 2.5% gain. Sure it seems like we are splitting nickels here but I believe the underlying story is that operationally the business is performing acceptably.
Cash Flow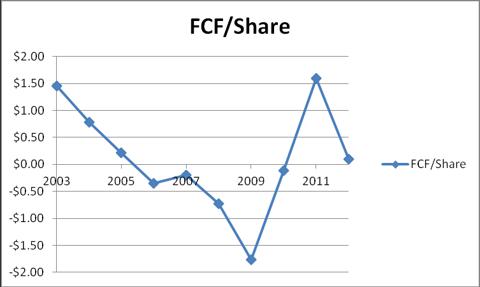 Data Source: Morningstar
To be honest, my approach to reviewing free cash flow per share is still evolving. When I look at a chart like this, it is hard to take a positive point of view. Due to the capital heavy nature of the utility industry combined with caps on rates, I'm not surprised that any utility would find maintaining positive FCF difficult. The key question is whether or not capital is being employed in an effective manner. To analyze this point further I took a look at Southern's return on capital employed (ROCE) over the last 5 years.
| | |
| --- | --- |
| Year | ROCE |
| 2008 | 4.8% |
| 2009 | 8.2% |
| 2010 | 8.8% |
| 2011 | 8.9% |
| 2012 | 8.2% |
Data Source: Morningstar
While I am not going to take the time to determine an absolute cost of capital for the company, I believe it is likely 6% or less. Therefore with the exception of 2008, the company has likely created value for shareholders with the capital they have used despite what is likely to be long depreciation periods for the capital. These numbers will drop in 2013 due to the decreases in earnings from capital overruns. It is my belief that this should be viewed as a temporary setback. At the same time however, it is worth noting that the company is not planning on scaling back investment. A quick peek at the company's CapEx forecast shows total numbers decreasing year over year but staying at historically high levels.
Future Growth Prospects
Clearly with all the talk of capital projects, the company does expect to grow in the future. According to Yahoo! analysts on average expect between 3% and 4% growth moving forward. This is likely a very reasonable expectation moving forward. For its part, the company has confirmed that it will revisit its 2014 earnings estimate and long-term growth rate during the fourth quarter earnings call in January. This will be a key data point in evaluating earnings going forward.
Conclusion
So how is it that a company with an apparent PE of 22+ can show up on my radar? Well with a forward PE of more like 15, a well covered dividend, along with a stable market I am convinced that there is a hint of value here. Using a dividend discount model for valuation, I arrive at a fair value between $49 and $50. For a company with 12 straight years of dividend growth, I look for a 23% factor of safety. This gives me an entry point around $38. At today's prices, we're a bit above that but I will keep this one on my watch list and look to enter if we see any market weakness.
What are your thoughts on Southern Co.? Do the short term cost overruns worry you for the long term? Do you see any hints of value here?
Disclosure: I have no positions in any stocks mentioned, but may initiate a long position in SO over the next 72 hours. I wrote this article myself, and it expresses my own opinions. I am not receiving compensation for it (other than from Seeking Alpha). I have no business relationship with any company whose stock is mentioned in this article.
Additional disclosure: I am not a professional investment advisor nor a financial analyst; I am writing this article because I feel that investing is not a zero sum game for the individual investor and because I believe that the process of writing and receiving feedback improves my own performance.