The recent earnings reports from Toll Brothers (NYSE:TOL), KB Home KBH), Standard-Pacific (SPF), Brookfield Residential (NYSE:BRP), and Tri-Pointe (NYSE:TPH) continue to show solid growth amidst rising prices, widespread interest-rate rises, and plummeting share prices.
The secret of the builders' Q3 profits? Building new-home communities in specific geographies where inventory is low, demand is high, and job growth is strengthening.
The purpose of this article is discuss why this is happening; and then add some recent comments from a Federal Reserve president, vis a vis the Fed's desire to get Main Street back in the game. The U.S. government shutdown (and previously, the Fed's tapering commentary) have cast a chilling pall over the housing recovery in 2H2013.
Investors bearishly selling these stocks in November fail to understand the post-crisis model the home builders are following. They are carefully cherry-picking locations, metering-out their home construction and sales, and catering to more-affluent buyers. The mantra Location, Location, Location has never been better applied. If investors want to assess the builders' future profitability, gauging their prospects by extrapolating national statistics on the housing recovery is only part of the story.
The builders' actual business continues to be solidly profitable - bullishly so. As soon as a metro area begins to "heat up" with job growth, they move in - either by starting a new home community; or by acquiring a local private builder with a stash of lots and land that is either for or under development (entitlement, roads, sewer, utilities hook-ups, etc).
Acquiring affordable land in a desirable locale - and then building a home on it that a builder can later pencil in for a profit - is becoming increasingly complex in supply-constrained geographies like CA.
The potential profit margins of selling a home in CA (once you have the land) are great (22-26%), but you have to get the land first. "No land available" has become the number 1 complaint of builders in the state. Land costs in CA have quickly risen to previous cycle highs (2005). This explains Toll's expensive acquisition of Shapell's developed lots in coastal CA and specifically, Carlsbad, CA.
The costs of permits and entitlement in Carlsbad, CA (a beach town) equal the construction costs in San Antonio, TX. California is so supply-constrained that the quantity of all homes built in the state in the last year is the same as Houston, TX. (see John Burns Real Estate Consulting blog for his online video comments, November 6, 2013).
Based on my previous comments concerning land costs, several builders mentioned in their recent conference calls an unwillingness to burn through valuable lots now if they will not able to replace them in the future. In land-constrained geographies, once the land is gone it's gone.
That is why I find the recent sell-off (-13%) in Brookfield Residential Properties so puzzling. Brookfield is a premier land developer in North America. 80% of its business is bringing raw land to market through the entitlement and development process, and then selling that land to builders (See: Brookfield 3Q2013 Profile, Page 9). They only build on 20% of their land holdings. Their margins on land held for 2 years is 29%, on land held for 7 years it's 49% (ibid, Page 12). Cash flow projections for their "Land for development" (net of all costs to develop it) is $5BL over the next decade (pg 19). As of this writing, Brookfield owns or options 110,000 lots in CA, CO, AZ, TX, DC; and Canada.
Possibly investors are disappointed Brookfield refused to overpay for either Weyerhaueser [bought by Tri-Pointe, or Shapell [bought by Toll Brothers], but those two acquisitions reveal the builders' anxiety regarding available lot supply, not Brookfield's business prospects.
An issue brought up by the bears is the builders' community count. It has leveled off, and in some cases is receding. The builders may not be selling as many homes next year in certain locales. The profit margins may not be rising as fast as in the 2012-2013 boom years. But the demographics of supply-constraint and lack of inventory will keep margins strong.
Lastly, the financial structure of the builders has changed dramatically in just 2 years. Their carrying costs for LT debt have retreated from the 7%-9% level down to 5%-6%. Because we are in a low-yield environment, bond funds are hungry for yield wherever they can find it, and 5% yields on an appreciating business model is a good bet.
The builders now have extraordinary access to cheap capital and they are taking advantage of it. After being financial pariahs throughout the housing crisis, this kind of availability is new for them, and it's taken their survivalist mentality off the table. They are not "going away". They are flush with cash and liquidity. Very little LT debt is coming due before 2017, having pushed their maturities out 5-7 years into the future with newer debt offerings.
For example:
MDC / Richmond American's $250 million, 30 year unrestricted loan at 5.75%. If amortized over the life of the loan, that is $4.38ML per quarter, or the retail value of 16 completed homes for a company that builds thousands of home per quarter.
This is an opportunity for long-term investors to pick up home builder shares on the cheap. The extremely pessimistic mind set of investors - as discussed in the article A Time of Testing, by Narayana Kocherlakota, President, Federal Reserve Bank of Minneapolis November 12, 2013 - also figures in the recent rate spikes in the bond market. The worst is always assumed. (More on this later)
First, as described in a previous article, What A Banana Republic and Monetary Policy Can Teach Us About the Future of U.S. Housing, a parting of the ways has occurred among home buyers. It is estimated that 56% of home purchase dollars in 2012-13 were paid by cash buyers. Of the remaining 44% purchased through a mortgage, 16% were traditional 20% down payments; so it's possible that only a third of the estimated 2012-13 home sales were facilitated by a mortgage to less-affluent buyers.
And as soon as rates climbed to 4.5% in Summer, 2013; foot traffic began to fall to 2011 lows and mortgage applications were cut in half. Clearly, affordable mortgages were for those on the margin, and as that margin contracted, they were cut-out of the opportunity. These conditions still persist today.
The government shutdown in October was a disaster for home buyer confidence and sales. It created great policy uncertainty and paralyzed buyer commitment. There is now a buyer/seller apprehension that the same scenario could unfold again in January or February, 2014.
As one NY real estate agent commented, "There is confusion everywhere - interest rates, the economy, jobs, elections, shutdown, and the difference between getting a mortgage now and getting one in 2014." (Credit Suisse Monthly Survey of Real Estate Agents, for October, 2013, Pg. 25)
A nation-wide labor recovery still has not occurred. It's begun in just a few select metro areas, and that's where the home builders are increasing their community count. And although housing is usually the first to lead an economy out of recession; it hasn't happened this time around nationally (yet) because of low participation in the labor market (wages). The decline in the labor force participation rate has actually made the unemployment rate appear lower than it is.
This is why mortgage applications have dropped dramatically, and foot traffic at open houses fell off a cliff, when mortgage rates rose 100 basis points last Summer. That spike in rates was a big deal for Main Street. There remains too much "structural (actual) unemployment" at the margins to sustain sufficient mortgage demand. See charts below.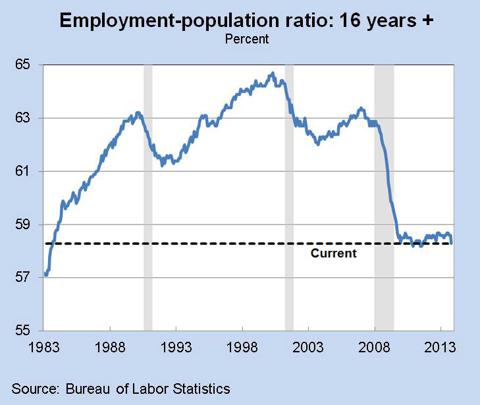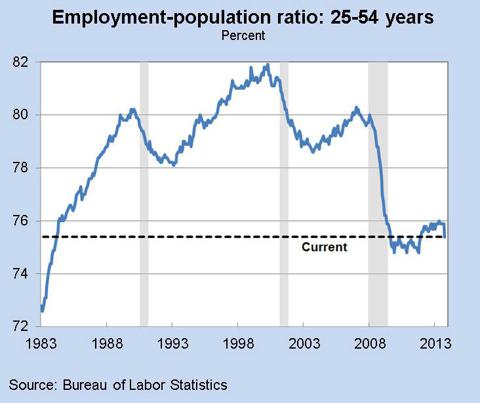 But the other two-thirds of home-buyers? They continue to buy homes in a rising-rate environment, in geographies where jobs are growing. As one poster commented:
"As a Real Estate Broker, who has sold new homes for Major Builders for 35 years...Putting all the previous economic postulations aside, people buy homes when they feel good about their economic future, when their incomes are rising, and they feel confident that tomorrow will be better than today...period. Rates are important, but rising rates can be irrelevant if the previously mentioned conditions are in place."
Secondly, even though there has been a recent set back, the Federal Reserve has no intention of cutting-off the housing recovery at the knees of interest-rates. They want to keep Main Street in the game. The FOMC has made specific policy statements affirming low interest rates, continued asset purchases, and the goal of higher employment and labor participation rates. Recent comments by incoming Fed Chairwoman Yellen reiterate this intention.
The previous time that rates were this low was an extended period at the end of the Great Depression from 1940-1955. Our current TNX (Ten-year yield) rate of 2.75% was normal from 1935-1955. Even the long-term TNX median (3.92%) and mean (4.64%) for the past 140 years are not extreme. The anomaly is 1965-2000, not now.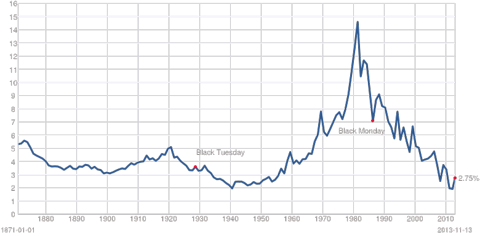 The new language of FOMC communications has evolved from date-based policies (e.g., "we will hold rates low at least until early 2015") to conditions-based policy goals (level of unemployment; targeted 2% PCE inflation).
I think the FOMC now regards the tapering-comments of May and June as a public relations fiasco because of the confusion they caused. Without labor's participation, the United States will not rise out of this recession; and cooling off a recovery is the last thing the Federal Reserves want to do right now.
Comment from Minneapolis Fed President Kocherlakota:
"The perception of monetary policy ineffectiveness is itself a key factor in generating the problem. Let me elaborate on this last point. If the public thinks that monetary policy is ineffective, then it will expect relatively weak macroeconomic conditions in the future. But these expectations about the future have a direct impact on current macroeconomic outcomes.

If households expect their incomes to be low in the future, they will save more and spend less today. If businesses expect low future demand for their products, they will invest less today and hire fewer people today. In this way, any perceptions of future FOMC ineffectiveness in generating favorable macroeconomic outcomes are hurting current employment."
He believes that the Fed should hold rates down for an extended, open-ended period, without any withdrawal of stimulus, until a policy goal of 5.5% to 6% unemployment is fully met.
He addresses inflation expectations (chart below) and the Federal Reserve's capacity to stimulate the economy without unduly raising inflation.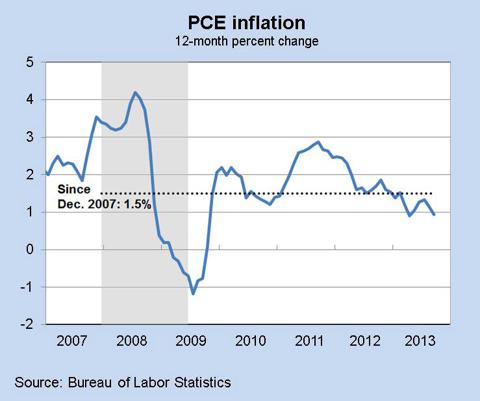 "These low levels of inflation tell us that monetary policy can be useful in increasing the rate of improvement in the labor market. Here's what I mean.

At a basic level, monetary stimulus increases the demand for goods among households and firms. This higher demand for goods tends to push upward on both prices and employment. Hence, the downside with using monetary policy to stimulate employment is that, when employment is near its maximum level, further stimulus can lead to unduly high inflation.

But the data show that over the past few years inflation has been below the FOMC's target of 2 percent. It's expected to remain below desirable levels for years to come. These low levels of inflation show that the FOMC has a lot of room to provide much needed stimulus to the labor market."
He continues with a bold plan:
" Doing whatever it takes in the next few years will mean something different. It will mean that the FOMC is willing to continue to use the unconventional monetary policy tools that it has employed in the past few years. Indeed, it will mean that the FOMC is willing to use any of its congressionally authorized tools to achieve the goal of higher employment, no matter how unconventional those tools might be.

Moreover, doing whatever it takes will mean keeping a historically unusual amount of monetary stimulus in place-and possibly providing more stimulus-even as:
Interest rates remain near historic lows.
Economic growth rises above historical averages.
Per capita employment begins to rise appreciably.
Asset prices rise to unusually high levels, leading to concerns about "bubbles."
The medium-term inflation outlook rises temporarily above 2 percent.
It may not be easy to stick to this path. But I anticipate that the benefits of doing so, in terms of employment gains, will be significant."
So we have come full circle here. The builders are data-mining census and jobs data to position themselves in favorable geographies, ones that are growing with fully-employed, potential home buyers. They have filled out their land banks for 5 to 8 years. The Federal Reserve is on a long-term campaign to get Main Street back in the game.
I would be really surprised if the TNX rose to 4% and mortgage rates climbed past 5.5% any time during the remainder of this decade. Maybe the bond market will "front run" such a strong recovery (a recovery which we have not yet experienced) but based on Fed President Kocherlakota's reasoned comments, I doubt the Fed would want to follow after that with higher short-term interest rates.
And if we do begin to have a strong jobs recovery within a mortgage environment of 4.5% to 5.5%, buyers will cue up for home showings. There hasn't been a generalized rise in inflation-adjusted wages since 2000. Any upward change would be a welcome change for the economy.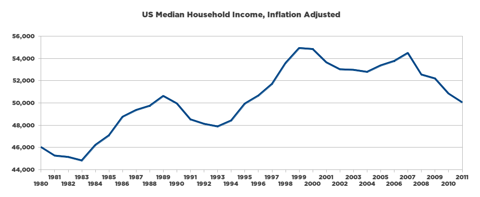 And if we actually got such a push that reversed U.S. median income stats? Jobs would supply the fuel for home purchases, not the purchasing power afforded by uber-low mortgage rates. That kind of housing growth is indicative of a secular bull market and an expanding economy.
******************************************************
Foot notes on recent housing activity:
Bid Wars Wane in U.S. Housing Market, by Jonathan Alcorn, Bloomberg, November 14, 2013, is a good synopsis of the current slowdown in the U.S. housing market.
Credit Suisse Monthly Survey of Real Estate Agents, for October, 2013, Real estate agents in almost every metro market mention customers' sudden unwillingness to commit in October as a result of the recent economic uncertainty caused by the government shutdown crisis.
I estimate this reticence to buy could last until February, 2014, the next possible time for a government crisis. But if a crisis is averted; after that, the Spring selling season will go into full swing. One of the difficulties in "gaming" one-off events like a potential crisis is it could be resolved in a twinkling, and then your entry point would be late.
Disclosure: I am long BRP. I wrote this article myself, and it expresses my own opinions. I am not receiving compensation for it (other than from Seeking Alpha). I have no business relationship with any company whose stock is mentioned in this article.