The market tends to compartmentalize and treat certain type of information the same. When something works well for one company there is a good chance it will work for a relatable company. Ford's (NYSE:F) stock has appreciated about 30% YTD which is good, but in my opinion mediocre, when compared to other companies that have delivered the results and outlook that Ford has. Ford's lineup includes 5 cars in the top 20 by unit sales including small cars, a segment that has traditionally been dominated by Japanese manufacturers. The F-Series line of trucks has sold more than 60K units in the last three months and it has been the sales leader in the U.S for the last 31 years. With its "One Ford "strategy Ford sells the same cars globally which allows it to streamline operations and attain economies of scale by using parts from the same bins. In Q3'2013 Ford reported its 17th consecutive quarterly profit including YOY market share gains in all regions. Ford beat consensus estimates and raised guidance for the rest of the year. Ford also announced an upgrade to investment grade of its debt by the S&P and has the highest brand loyalty score amongst its peers in the U.S. It is hard to ask more of Ford but expectations are a privilege not a burden. In this article I explore why I believe Ford's stock could do better. I also make comparisons to Boeing which has surged by doing something that I believe Ford is in a good position to emulate.
Ford's Stock (The Gander):
Ford's 30%YTD growth perplexes me for its apparent dissonance from the performance of company. While the momentum in the stock appears to be petering out the business continues to deliver strong results with improving traction in challenging markets. About 19% of the 30% YTD appreciation of the stock happened from January through July 1st (see chart below). From July onwards, even though the stock outperformed the Dow Jones Average (Private:DJI), it only grew about 10%. This 10% growth in my opinion does not reflect the progress in Europe, Australia, Russia, Brazil and the overall progress reported by the company. In China, even though Ford has a relatively small percentage of the market, Ford's one Ford strategy looks like it is working after all. Success with the One Ford strategy will allow Ford to make up ground and show percentage gains in future quarters. Even Lincoln, the perennial laggard in Ford's portfolio, grew 38% over same period in October and there are more interesting upcoming models in the Lincoln queue.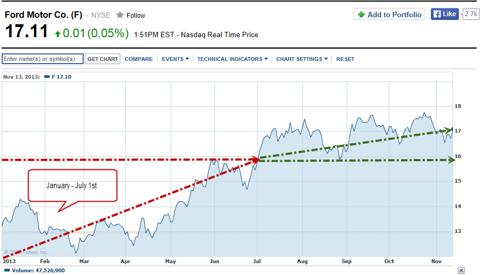 Source: Yahoo Finance
The improvements at Ford touch on all key valuation, financial, and market share metrics. They do not, however, separate Ford from the perception that continues to hold the performance of Ford's stock closer to General Motors Company (NYSE:GM) which is at about 32% YTD.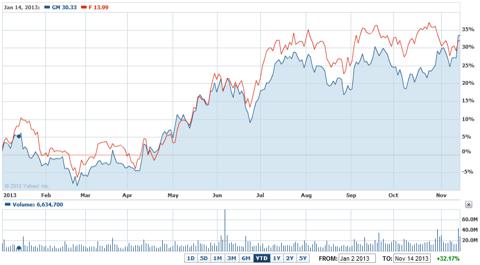 Source: Yahoo Finance
GM and Ford for all their similarities have fundamental differences that should at least allow them to behave differently. They have both grown but have not demonstrated an ability to maintain any sort of momentum despite their results. I did not set out to observe this behavior for Ford but could not ignore the Seeking Alpha email alerts and how the stock behaves to usual catalysts (see table below). Note how the stock drops despite the positives that are being reported.
Seeking Alpha Email Alerts

Ford October U.S. Sales • 9:39 AM

Ford's (F) unit sales +14% to 191,985 to match the estimates of analysts.
The automaker reports passenger car sales rose 19%, utilities increased 9%, and trucks were up 14%.
Brand breakdown: Ford sales were up 13.2% during the month, while the re-energized Lincoln brand moved 38.4% more units than a year ago.
The Ford Fiesta had its best October ever and the F-Series powered past the 60K sales mark again. (PR)

Market - Ford Motor Co. -NYSE 16.89 Down 0.22(1.29%)

Lincoln sales strong in October as brand re-energizes • 3:27 PM

Ford (F -1%) reveals sales of Lincoln vehicles rose 30% in October with the restyled MKZ sedan receiving a marketing boost during the month.
For the year, Lincoln deliveries in the U.S. trail Mercedes-Benz and BMW by more than a 3-to-1 margin.

Automobile heavyweights all gunning for huge Q4 • 1:32 PM

•Wards Auto pushes aside worries on capacity constraints to forecast Q4 car production in North America will reach a 14-year high of 4.02M units.

•The forecast for the Big Three is just as promising. Wards Auto taps Ford (F -0.9%) to see its best Q4 N.A. production run since 2005, Chrysler's (FIATY) its highest tally since 2006, and General Motors (GM +0.6%) to top output for every year since 2007

Jefferies lifts targets on Ford • 1:00 PM

•Jefferies raises its price target to Ford (F -1.1%) and lifts profit targets on the automaker.

•The investment firm sees Q4 EPS of $0.40 and FY13 EPS of $1.70 for Ford
The Lesson from Boeing Co:
Boeing Co (NYSE:BA), for a while, slugged through a similar competitive situation to Ford. Boeing was stable, profitable with consistent dividends. Like Ford, its stock was blue chip which meant its growth prospects were limited. Boeing was not at risk of failing but it was finding it increasingly difficult to differentiate its value proposition from that of its direct competitors. When Allan Mulally was asked about his transition from Boeing to Ford he said there are "more similarities in cars and planes than not". He has gone on to demonstrate that quote with some of his decisions. A key difference, however, has been in the performance of Ford's stock to Boeing's. While Boeing's fundamentals have not changed much from previous levels (see chart below) the stock has. Notice the trajectory of the revenue, net income and price lines below.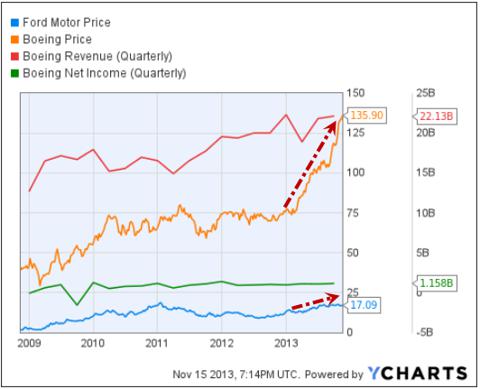 At 80% YTD Boeing's stock is significantly higher than the 14% that it gained all of last year. Boeing's outlook has changed and the stock's trajectory has followed. Boeing took a fundamentally risky decision to challenge the status quo within the airplane manufacturing industry. Boeing could not continue to compete on established norms because their products had caught up forcing sales to driven by price.
A la carte additions and incremental changes to current platforms had allowed Airbus - parent EADS (EAD.PA) - and other competitors to catch up. Instead of chasing capacity like Airbus did with the A380, Boeing pursued fuel efficiency and flexibility. Boeing's airline customers were increasingly less reliant on trunk routes with the increase of point-to-pint nodes. Boeing estimated that jumbo jets would eventually fade off and that flexibility and efficiency of planes would become more important. In an industry first Boeing designed a plane made of composite materials, carbon fiber-reinforced polymers that are both lighter and more durable than traditional aluminum planes. In addition to the composite materials Boeing also incorporated lithium-ion batteries which were also a first.
These changes have in many ways tested Boeing's resolve. While Boeing has made some supply chain adjustments and many concessions to airlines as it works through the initial problems Boeing has demonstrated great conviction in seeing the changes through. This willingness to disrupt an assured revenue generator has put Boeing in a strong position to bring advanced future plane models into the market that its competitors will struggle to match. The rise in Boeing's stock is a testament to the outlook the market has on the impending 777X, 737 Max, 787 Dreamliner and an overall healthy backlog in Boeing's order book.
What does this mean for Ford?
Ford is, in many ways, very similar to Boeing prior to Boeing's current surge. They are both blue chip companies in industries that previously seemed to like they could not be reinvented. Ford competes directly against a glut of global car manufacturers than can match or beat Ford in many areas. Ford also, by the nature of its products, participates in an industry that is predictably cyclical industry. Changing demographics, tighter regulations and changing consumer tastes further strains the outlook of the auto industry. The inability to find clear areas of distinction among car manufacturers eliminate the emotional attraction that usually account for significant new investors to drive up stocks. Boeing's success with similar dynamics provides key lessons that could help Ford Motor Company provide returns to its shareholders.
Dare to be misunderstood: Ford was first to market with the SYNC® and SYNC® with the MyFord Touch® interface. This system was a very early attempt at in-car connectivity. This is a system that would have overlapped very well with the recent proliferation of smartphones. The SYNC system provided Ford an opportunity of differentiation and additional revenue per sale. While the rationale was obvious the reception in the market has not been as smooth. The SYNC system has contributed to a significant increase in customer complaints and a drop in the reliability ratings by the respected Consumer Reports agency. While other car manufacturers have developed their own versions of the SYNC system Ford has scaled back and reintroduced traditional buttons for MyFord Touch®. This fear of failure and apparent lack of conviction dilutes the impact of the discomfort required to initiate change. Boeing stuck it out even if it did not necessarily have a choice and its shareholders are benefiting from that. The recent acquisition of Livio may yet prove that Ford is only taking a breather but Ford must continue to push the boundaries on value to its customers.
Disrupt the norms: Ford's Ecoboost line of engines, EV technology and premium designs for its cars have all contributed to its recent success. Rumors of the next F150 having an aluminum body, though unconfirmed, is exciting. While this will be tricky and inherently come with challenges it is the type of disruption that will allow Ford to blow away its competitors in fuel efficiency and car weight. If Ford can figure this out with a workhorse vehicle like the F150 it will invariably trickle down into other models and provide huge and sustainable advantages. Most importantly it will provide a key differentiator in the eyes of its customers that could buffer sales when the industry invariably gets into a downturn.
Leadership: There is an unexplained inevitability on the imminent departure Alan Mulally from Ford to retirement or to Microsoft (NASDAQ:MSFT). Stocks usually have some reaction to leadership change but it is highly unlikely that there will be major shifts by Ford if a new CEO were installed. Hopefully recent success will allow the new CEO to be more adventurous and receptive to challenging the status quo. Ford weathered the crisis better than most and followed up with difficult choices in Europe and Australia that should assure relative health going forward.
Conclusion:
Good fundamentals are necessary and Ford has delivered in that regard. Momentum, however, is emotional and Ford needs to find a way to get the attention of emotional investors. Ford is quite possibly the best positioned U.S. manufacturer for sustained organic and global growth. The "One Ford" strategy has allowed Ford to right size in the U.S., Europe and Australia. It has also allowed Ford to be flexible with an increased ability to control supply to match demand. The constraints of the auto industry including the cyclical nature will continue to take away some of the allure of the industry. Fortunately for Ford the timing of its important upcoming models (F150, Mustang) including models from Lincoln should allow it to outperform or at least match the industry in 2014. While Boeing's resurgence has been significant, with the right ingredients Ford should be trading in the $25-$28 range.
Disclosure: I am long F. I wrote this article myself, and it expresses my own opinions. I am not receiving compensation for it (other than from Seeking Alpha). I have no business relationship with any company whose stock is mentioned in this article.