There is a lot of misinformation and fear in the public sphere concerning investing in Argentina and more specifically investing in that country's oil and gas industry. Much of it was spurred on by the Argentine government's expropriation of integrated oil company YPF (NYSE:YPF) from its Spanish parent Repsol (OTCQX:REPYY) in early 2012. While the erratic and interventionist policies of the de Kirchner government have further fanned these fears.
This has seen many investors, market commentators and analysts claim that investing in Argentina and in particular its oil and gas industry is akin to investing in Venezuela or Cuba. There have even been those who have claimed that Argentina is nothing more than an asset rich North Korea. However, many of these claims are typically based on bias rather than fact and fail to take into account the key drivers of economic policy in Argentina.
As a result of the negative view of investing in the Argentine energy sector the Argentine government has introduced a range of incentives to promote additional investment by foreign energy companies. These incentives have attracted considerable attention from a number of foreign oil majors including Chevron (NYSE:CVX), Exxon Mobil (NYSE:XOM), Petrobras (NYSE:PBR) and Apache (NYSE:APA). It has also seen a number of small-cap independent oil and gas explorers and producers join the fray including APCO Oil and Gas (NASDAQ:APAGF), Madalena Energy (OTCQX:MDLNF), Americas Petrogas (OTCPK:APEOF) and Gran Tierra Energy (NYSEMKT:GTE).
This growth in foreign investment in Argentina's energy sector is a result of the government implementing a range of measures to make it more profitable for oil companies to operate in Argentina and reduce the risks they face. Such measures include the implementation of the Oil Plus Program, the Gas Plus Program and a reduction in import duties on oil equipment.
Just how did Argentina end up as a pariah state?
There is no doubt that Argentina is perceived to be an economic and political basket case. Since the end of the First World War it lurched from one political and economic crisis to the next, seeing an economy that had the potential be one of the strongest in South America finally collapse into crisis in 1998.
The roots of the crisis lay in Argentina's many years of military dictatorships interspersed by weak democratic governments. But the key catalysts that triggered the crisis itself were the Russian and Brazilian financial crises. These initially triggered a depression in Argentina that deepened into a widespread crisis that almost caused the economy to collapse.
The end result was that the Argentine government defaulted on the majority of its public debt totaling around $100 billion, which at that time was approximately one seventh of all the money borrowed by emerging economies. This left Argentina unable to access international credit markets and something of a pariah state in the eyes of many investors. It now means that in effect Argentina is unable to tap international credit markets and has been starved of foreign investment. Leaving it reliant upon generating a trade surplus to bring much needed capital into the economy.
But by 2011 Argentina's trade surplus was under threat with a rapid rise in energy imports affecting the balance of trade. In that year alone energy imports increased by 100% from the previous year to $9.4 billion. This was almost as much as the country's trade surplus. Argentina had been a net exporter of natural gas to Brazil and Chile.
But with growing demand for energy - an integral part of economic growth - it found itself importing around 20% of its natural gas requirements from Bolivia. For these imports it is paying a hefty price, well above the spot price at around $11 per MMBtu for natural gas and $17 per MMBtu for liquefied natural gas.
The high cost of energy imports is draining Argentina's foreign currency reserves, while the large energy subsidies are significantly contributing to the country's soaring inflation rate, further debasing its domestic currency. All of which is threatening Argentina's trade surplus and its balance of payments, potentially moving the country towards another economic crisis.
It was for these and other more obscure reasons that the Argentine government expropriated YPF from its Spanish owner Repsol. A key driver of this was the discovery of 27 billion technically recoverable barrels of oil in the Vaca Muerta in the Neuquen Basin. Further details of which, can be found in my earlier articles 'Is the Outlook for YPF Growing More Positive? Part 1' and 'The Real Fallout from Argentina's Nationalization of YPF'.
Besides the Vaca Muerta in the Neuquen Basin Argentina has four other major oil basins have a combination of conventional and unconventional oil and gas reserves as shown in the map below.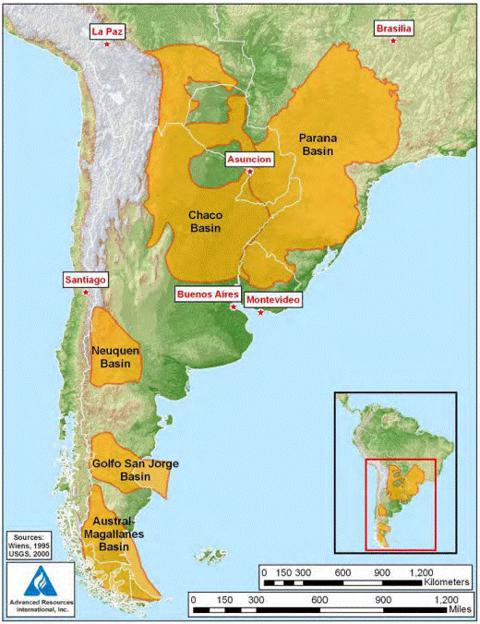 Click to enlarge
(Click to enlarge)
Source: U.S. Energy Information Administration.
Giving Argentina around 2.8 billion barrels of proven oil reserves making it an attractive proposition for oil companies seeking to diversify their operations.
The government realized that it would need to introduce a range of measures to promote investments in the country's energy sector in order to boost domestic energy production and remain a net exporter of oil and gas. Particularly with the expropriation of YPF making foreign energy companies and investors even more wary of investing in a country where the government had shown a willingness to expropriate assets when it saw fit.
An oil price cap of $42 per barrel in Argentina made the country unattractive to foreign oil companies, because the spot price for crude is typically more than double the price cap. This saw the Argentine government introduce a range of measures to obtain the much needed foreign investment in its energy industry to boost production and access the vast shale oil and gas reserves of the Vaca Muerta.
What are the measures?
The Argentine government has introduced a range of measures to attract foreign investment in the country's oil and gas sector. These include providing tax incentives, differential pricing and reduced restrictions on retaining profits in Argentina.
Decree 927/2013 reduces import duties on equipment
The Argentine government enacted Decree 927 in 2013 as a means of incentivizing companies to invest in the countries oil and gas sector by reducing the import duties payable on certain equipment. The decree has removed the 35% import duty that was previously applied to oil and gas drilling rigs and reduced the import duty for other oil and gas equipment from 35% to 14%.
This creates a significant cost reduction for oil companies operating in Argentina. It is also in stark contrast to Brazil, where companies are hamstrung by local content rules and import duties, which are hampering development of that country's vast oil reserves.
Decree 929/2013 incentivizes investment and mitigates some of the risks
The Argentine government enacted Decree 929 in July 2013 creating a significant incentive for oil companies to invest in Argentina if they meet particular conditions. Essentially the decree allows those companies that invest more than $1 billion over a five-year period to sell 20% of their production at world prices without paying export taxes.
It also exempts those companies from retaining the proceeds of those sales in Argentina and companies may dispose of those profits as they wish. This is an important incentive for foreign companies operating in Argentina's oil sector because there are a range of restrictions and punitive sanctions applied to sending profits out of Argentina. Thus this measure mitigates many of the risks associated with retaining profits in Argentina. Especially the currency risk associated with the wild fluctuation of the value of the Argentine peso.
More flexible oil pricing
In the past oil prices in Argentina were effectively capped at $42 per barrel. When an oil company operating in Argentina exported its oil production and received the higher international spot price, any amount received over $42 per barrel was subject to a punitive taxation regime. This meant that taxes of up to 100% would be levied on those proceeds. Effectively creating a strong disincentive to invest in developing oil assets in Argentina.
However, in January 2013 the Argentine government agreed to permit higher domestic oil prices in order to stimulate oil exploration and production. As such domestic oil prices are now determined through the application of an export parity factor that is intended to equalize the realized prices between export and domestic markets. This has seen the introduction a sliding-scale export tax regime. This has lifted the reference price for exported oil from $42 per barrel to $70 per barrel, whenever the international spot price for crude is above $80 per barrel.
With the spot price for WTI now at just under $94 per barrel combined with the level of current oil demand in Argentina, the gross selling price is effectively set at around $78 per barrel for Argentina's primary oil blend, Medanito light crude, according to Americas Petrogas. This price per barrel, while far higher than the price per barrel that oil companies received in the past for exports, is still 16% lower than the current spot price for light sweet crude.
But this pricing regime has certainly made investing and operating in Argentina more enticing for oil companies, particularly when it is considered that development costs per barrel are generally lower than North America. As a result producers operating in Argentina are still able to generate a reasonable netback per barrel typically with an average range of $35 to $45 per barrel.
Domestic natural gas prices offer a considerable premium
Another incentive introduced by the Argentine government to attract investment in the oil and gas sector is to pay a natural gas price that is significantly higher than the spot price. Currently the Argentine government pays $7.50 per MMBtu, which is a premium of 105% over the spot price of $3.66 per MMBtu.
However, this still benefits Argentina, because not only does it help to reduce energy imports improving the balance of payments but it is almost 32% lower than the price paid per MMBtu imported from Bolivia. It will also boost Argentina's energy self sufficiency and over time potentially return Argentina to being a net-exporter of natural gas.
What does this mean for investors?
The Argentine government is serious about encouraging investment in the country's oil and gas sector, but this is being driven by necessity with the country desperate to grow its oil and gas reserves and production. All of which is aimed at ensuring Argentina remains a net energy exporter and is able to continue generating hard currency from those exports.
These incentives are generous and allow oil companies operating in Argentina to benefit from higher oil prices and generate margins similar to those oil companies operating in North America. Royalties in Argentina are also lower than North America, also reducing costs and helping to boost margins.
But Argentina is still perceived as a high risk jurisdiction for investors with Transparency International ranking the country at 102, where the lower the ranking the lower the level of corruption. This makes Argentina more corrupt than Colombia, Peru, Brazil, Chile or Uruguay but less corrupt than Venezuela and Bolivia.
Oil companies operating in Argentina also have an advantage over those that operate in more favorable jurisdictions in South America. This is that Argentina has good production and transportation infrastructure. This also helps to mitigate some of the risks and costs associated with operating in the country.
Already some of the companies operating in Argentina are starting to report solid operational and financial results. Since being expropriated YPF's operational and financial performance has continued to improve. For the third quarter 2013 its net income grew by 87% year-over-year, while oil production increased for the fourth consecutive quarter by 3.4% year-over-year. But with its share price having grown by 162% over the last year there are better value plays for investors.
Two companies worth considering are small-caps APCO Oil and Gas and Americas Petrogas. Both have companies have solid reserves, commercial levels of production and promising exploration and development operations in Argentina. They also appear attractively valued with Americas Petrogas trading with an enterprise-value of 2 times its EBITDA and APCO Oil and Gas trading with an enterprise-value of 11 times its proven reserves.
Final thoughts
The high level of corruption along with the interventionist predisposition of the Argentine government makes investing in the country high risk. But I doubt that for the short- to medium-term that the government will take any measures that threaten investment in the oil and gas sector. This is because development of Argentina's energy reserves is imperative to promoting economic growth in Argentina. Along with which if energy imports continue to grow the country may face a balance of payments crisis and lose what is an important generator of hard capital for a country that can't tap international credit markets.
Disclosure: I am long OTCPK:APEOF. I wrote this article myself, and it expresses my own opinions. I am not receiving compensation for it (other than from Seeking Alpha). I have no business relationship with any company whose stock is mentioned in this article.