We blogged on January 18 that the smart money in the energy space should follow Rich Karlgaard's advice and back cleaner and more efficient traditional sources of electricity generation rather than wind and other devices.
The key area in our mind is the overlooked area of clean coal technology. The hidden gem in this field is Acorn Energy, a holding company with five portfolio businesses: CoaLogix, DSIT Solutions, GridSense, Coreworx and Comverge, each of which is advancing the cause of a cleaner, safer, stronger U.S. energy industry.
The diamond of these five companies is Coalogix, the business leader in SCR catalyst regeneration technologies that reduce the environmental footprint of coal-fired plants.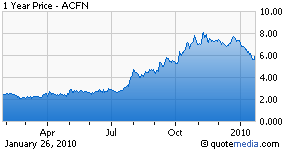 This morning Acorn Energy (NASDAQ:ACFN), announced preliminary unaudited consolidated revenue for 2009 of $31.3 million, up 51% compared to 2008 revenue of $20.7 million.

While these types of companies are very hard to value, on guided revenue of $48 million (up 50%) Acorn's price to sales ratio is an undemanding 1.6, given gross margins of 44 percent and a positive future revenue statement.
The share chart suggests that once the $7.00 barrier has been broken on the up side, the shares could turn out to be one of the "Darling Energy" investments of the decade. The shares are held within our model Master Portfolio.

Previous Seeking Alpha commentary on Acorn can be found here and here.

Source Googe Finance
Highlights of 2009 Revenues (unaudited)
-CoaLogix revenue up 80% to $18.1 million in 2009 versus $10.1 million in 2008
-DSIT revenue up 10% to $9.2 million in 2009 versus $8.4 million in 2008
-Coreworx revenue of $4 million were flat versus full year unconsolidated 2008 revenue
The Company will provide complete audited results for the full year in its earnings press release and conference call that will be announced at a future date.
Fiscal 2010 Financial Guidance
Acorn Energy management expects fiscal 2010 revenue, including the pending increased revenues associated with the contemplated acquisition of GridSense, to increase more than 50% to over $48 million with an expected consolidated gross margin exceeding 44%.
Commenting on the preliminary 2009 revenue numbers, John Moore, CEO of Acorn, said, "Our portfolio of businesses, which provide technologies for energy infrastructures, performed exceptionally well in 2009 and have not been significantly affected by the worldwide recession. We are looking forward to accelerating growth in 2010 as DSIT, Coreworx and GridSense enter early stages of market penetration with new products and services.
"We expect much of the momentum in anticipated revenue growth to come in the second half of the year after CoaLogix completes the first phase of capacity increase in its new plant and Coreworx introduces its new software in the middle of this year. Since our companies are marketing new technologies to very large energy companies, it is important to note that forecasting the closing of contracts and starting periods is not an exact science; therefore, the actual results may vary from the guidance provided."
About Acorn Energy
Acorn Energy, Inc. is a publicly traded holding company with equity interests in CoaLogix, Coreworx, DSIT and GridSense. These companies leverage advanced technologies to transform and upgrade the energy infrastructure around the world. Acorn companies are focused on three problems in the energy sector: improving the efficiency of the energy grid, reducing the risk for owners of large energy assets, and reducing the environmental impact of the energy sector. Acorn's strategy is to take primarily controlling positions in companies led by great entrepreneurs. For more information visit: http://www.acornenergy.com.
Disclosure:
No positions, but the shares are featured in our model portfolio.