It's been a month now since The Coca-Cola Company (NYSE:KO) declared its $0.28 per share quarterly dividend, which you can still receive if you get into the name in the next week or so. But looking at this dividend, you'll notice it is the fourth payout of $0.28, and that is important. Unless something dramatic happens, this will be the last payout at that dividend rate. This is good news. It means that the dividend is about to be raised. Today, I'll look at how the beverage giant is doing, what a raise could look like, and what it means for the stock.
Recent dividend history:
This has been a great name to be in when looking for dividend growth. The following chart shows the company's dividend history over the last decade. The chart factors in the 2 for 1 share split from 2012.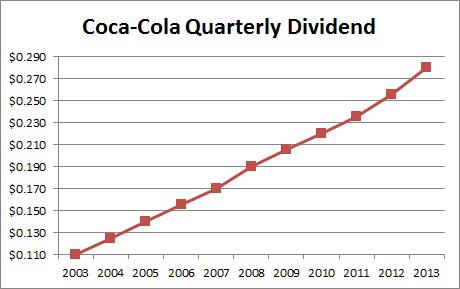 From 2005 to 2013, the dividend doubled. In the past three years, the dividend has gone from $0.22 to $0.28. In early 2013, the dividend was raised by nearly 10%.
Looking at the balance sheet:
When examining a possible dividend raise, it's always good to look at the company's balance sheet. The company must have the financial flexibility to not only pay its dividend, but to raise it as well. The following table shows some key balance sheet metrics at the end of the Q3 period the last few years. Dollar values in millions.

*Includes cash, cash equivalents, short-term investments, and marketable securities.
**Includes current maturities (portion) of long-term debt, and long-term debt.
***Liabilities to assets ratio.
Coca-Cola's balance sheet is in decent shape. Sure, you would like to see some of the ratios going in the opposite direction, but we're not talking about a company in financial trouble here. Adding on some debt for stock buybacks may even be wise with interest rates so low right now. It's also nice to see the domestic cash pile increase over the past year. Remember, only domestic cash can be used for dividends and buybacks. To see all of the company's financial data, please see the most recent 10-Q filing. The key takeaway is that the balance sheet is in good shape, making a dividend raise possible.
What a raise may look like:
Let's now look at what some dividend possibilities might be. You should also know that over the past year, Coca-Cola has reduced its outstanding share count by a little over 1.5%. The following table shows dividend raise possibilities: how much the increases would be, what the new annual total dividend would be, and what the yield would be (based on Friday's close).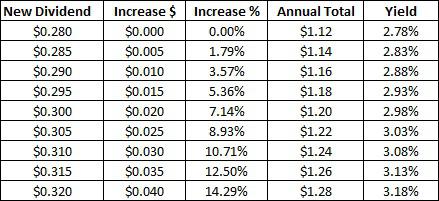 I didn't go more than four cents out because I don't expect a dividend raise of more than 14% or so. Three cents would probably be the maximum at this point anyway, but I went out an extra cent just to be sure. My personal guess at this point would be a raise to either 30 or 31 cents, somewhere in that area. The company could go to a fractional cent if they are targeting a certain percentage raise, but I think they'd like to stay at a whole cent if possible.
Comparisons to other beverage names:
The table below shows some key comparisons for Coca-Cola against two other large beverage names, PepsiCo (NYSE:PEP) and Dr. Pepper Snapple (NYSE:DPS). I also threw in a smaller name, SodaStream (NASDAQ:SODA), to show what a growth company in this space looks like. The table shows currently expected revenue and earnings growth for 2014, as we are nearly finished with 2013. The price to earnings multiple is based on currently expected earnings. I've also included an annual dividend yield, as of Friday's close. I chose to separate SodaStream because that is a growth company, which will obviously show a lot more growth, and not pay a dividend.

Coca-Cola does trade at a slight discount to PepsiCo. That seems fairly reasonable, as Coca-Cola has less growth but a slightly higher dividend yield. The interesting part is Dr. Pepper Snapple. While Dr. Pepper has the least amount of growth, it does have the highest dividend yield. It seems unreasonable that Dr. Pepper would trade at such a discount, but Coca-Cola and PepsiCo are investor favorites. Investors are obviously willing to pay more for them. In the case of SodaStream, you certainly get more growth. However, SodaStream had a revenue miss at its latest quarter, something investors are not used to. SodaStream shares are off 12.4% since the earnings report, and 40% off their 52-week high (much more if you count a pre-market buyout rumor pop). Obviously, SodaStream's valuation was much higher, being in the 20-25 range in the past. Right now, Coca-Cola and PepsiCo look fairly valued, while Dr. Pepper and SodaStream seem a bit undervalued if current forecasts are hit. Obviously, Coca-Cola's dividend raise could put it closer to the yield of Dr. Pepper Snapple, and at that point, another update on these numbers will be needed.
Where the stock is now:
Coca-Cola shares essentially bottomed at my last update, which makes sense because support was found at the 3.00% dividend yield level. Coca-Cola shares are up about $3 since my last update, so investors have certainly done well over the past 5 weeks or so. I mentioned in that article that Coca-Cola shares had dropped because of three items. First, the government shutdown was hurting markets. Second, Coca-Cola lost its top brand spot to Apple (NASDAQ:AAPL). Finally, shares had a technical event known as the death cross. Shares dropped, but I said they seemed close to a bottom, and they were. An updated chart is below, showing moving averages in green and red, and Bollinger bands in gray.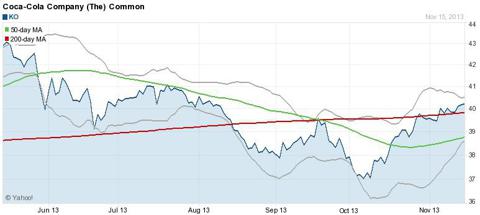 (Source: Yahoo! Finance)
What's the key takeaway here? Well, it is nice to see shares rally above the 200-day moving average. At this point, Coca-Cola shares are trading near their upper Bollinger band. This could be a little bit of resistance, currently at the $40.50 level. Right now, I'd wait for a pullback before jumping in.
Final thoughts:
We are getting close to another dividend raise for Coca-Cola. The beverage giant has been a dividend and investor favorite for decades, and that is unlikely to change anytime soon. Based on Friday's close, I'll be looking for the company to declare a new dividend that will yield about 3% annually. Last month, shares found support and rallied off that 3% level, and they feel a little stretched right now. I'd wait for a pullback before buying, but this is a great dividend name to be in over time.
Disclosure: I have no positions in any stocks mentioned, and no plans to initiate any positions within the next 72 hours. I wrote this article myself, and it expresses my own opinions. I am not receiving compensation for it (other than from Seeking Alpha). I have no business relationship with any company whose stock is mentioned in this article.
Additional disclosure: Investors are always reminded that before making any investment, you should do your own proper due diligence on any name directly or indirectly mentioned in this article. Investors should also consider seeking advice from a broker or financial adviser before making any investment decisions. Any material in this article should be considered general information, and not relied on as a formal investment recommendation.