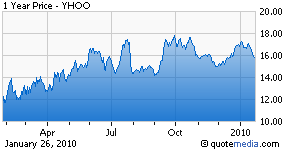 Yahoo (NASDAQ:YHOO) swung to Q4 EPS of $0.15, after losing $0.22/share a year ago, beating consensus by $0.04 Revenue of $1.26B was in line. Yahoo says demand for premium display advertising improved significantly.
Highlights from Yahoo's Q4 earnings release:
Owned & Operated display advertising revenue grew 26 percent compared to the third quarter of 2009 – compared to a 16 percent increase during the same period in 2008.
Owned & Operated search advertising revenue continued to stabilize, increasing 4 percent compared to the third quarter of 2009, the first sequential increase since the third quarter of 2008.
Yahoo! finalized its Search and Advertising Services and Sales Agreement with Microsoft (NASDAQ:MSFT), and is still hopeful that the transaction can close early this year.
Yahoo! formed a strategic partnership with Emmy- and Golden Globe-winning producer Ben Silverman's newly formed content studio Electus, an operating business of IAC/InterActiveCorp. The partnership will produce original programming for Yahoo! users while providing advertisers new opportunities to integrate their brand messages into the next generation of online programming.
The Company launched Yahoo! Ad Interest Manager, which takes transparency in online advertising to a new level—providing significantly greater control over users' interactions with interest-based advertising to improve personal relevance and build trust.
"The fourth quarter marked a strong finish to 2009, which was a transformative year for Yahoo!," said CEO Carol Bartz. "We beat the high end of our revenue guidance, saw demand for premium display advertising improve significantly, and grew Owned & Operated search advertising revenue sequentially for the first time since the third quarter of 2008. Our business has positive momentum and we feel good as we head into 2010. We're pleased that the midpoint of our Q1 revenue outlook marks the first quarter of year-over-year growth in six quarters."
"We're intensely focused on improving execution in all areas of the company, and our solid financial results for the fourth quarter demonstrate the progress we're making," said CFO Tim Morse. "We'll continue to execute against our key financial objectives of accelerating revenue growth, and increasing our operating margin and returns on capital over the next few years."
Highlights from Yahoo's Q4 earnings slides (click to enlarge):