Customer Relationship Management software is a vital tool for today's marketing executives in an increasingly competitive and online world. Companies need to mine social data, track internet searches, target demographic groups, and assess competitive trends. For this kind of activity, big data and sophisticated software is needed.
The market for CRM software is estimated at about $18 billion in 2012 and growing at about 12.5%.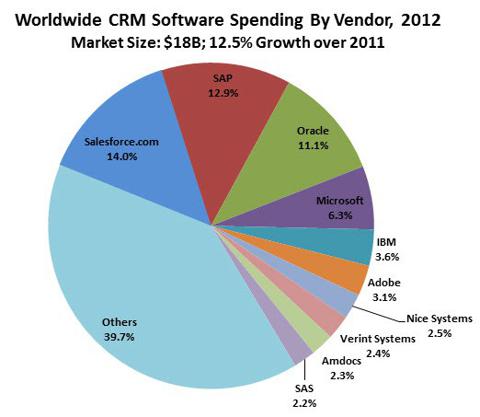 Salesforce.com (NYSE:CRM) is the big player in the field, followed closely by SAP and Oracle (NASDAQ:ORCL) with Microsoft (NASDAQ:MSFT) and IBM having meaningful positions.
Survey data also identify a host of smaller players that serve niche markets within the CRM space including names like ACT!, Goldmine, Sugar, Zoho, Sage CRM and a few others.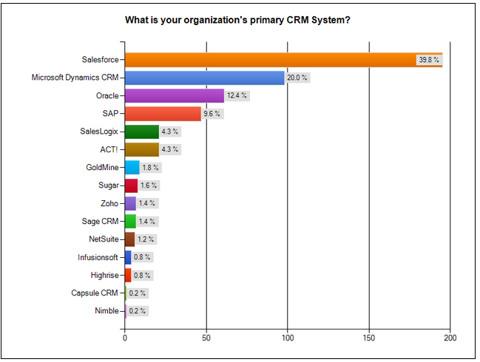 The ten fastest growing providers in 2012 were Zoho (81%), Hybris (79%), Teradata (70%), Bazaarvoice (56%), Marketo (54%), Kana (44%), Demandware (44%), IBM (39%), Technology One (37%) and Neolane (36%). Salesforce.com did not make the list.
Salesforce.com has reported sales growth of more than 30% a year for the past 3 years fuelled in part by acquisitions.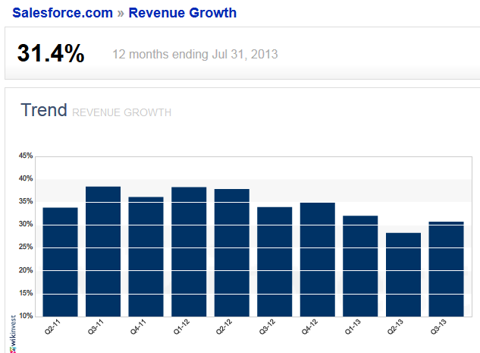 The question for investors is simple. In a market growing at 12 to 13%, how long can one supplier growing at 30% maintain that rate of growth? The arithmetic is grade school - it is about 7 years. After that point, that supplier would have 100% market share and would represent the total industry. Growth beyond that would match industry growth, in this case 12 to 13% unless something changes to spur more growth.
Of course if competition does not fold their tents and hangs on to say 50% of the market, saturation of growth is reached in about 5 years. And, if an equilibrium of market share is reached once Salesforce.com hits a 25 to 30% market share it will occur in 2016.
Salesforce.com is valued in the marketplace based on growth in revenue since it has virtually no earnings at this point and none are in sight in the short term. The company is valued at more than 10 times sales.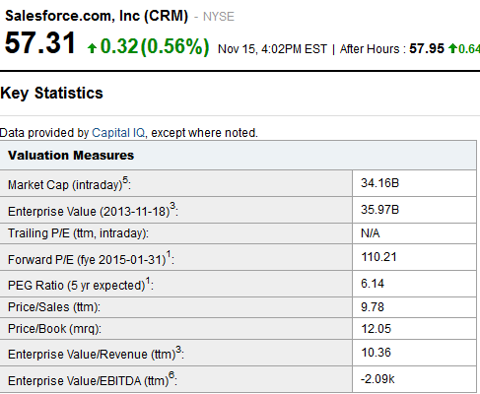 Investors are clearly betting salesforce.com revenues will continue to grow at 30% or more for the foreseeable future. They are also clearly wrong.
By 2016, Salesforce.com needs pretty well everything to go its way to be a company with $6 to $8 billion in sales. It is possible and maybe even likely that competitors react with aggressive prices; new products; and, creative features to counter salesforce.com in its efforts to expand its market share. Assume they don't and salesforce.com reaches a sustainable market share of about 25 to 30% and holds on to that, with subsequent growth in line with the industry.
A company growing at 12 to 13% with sustainable profits might have an enterprise value to revenue ratio of something like 2.2 to 4.7 times, based on the ratios of Oracle (3.86), SAP (4.67), IBM (2.22) or Microsoft (2.22). If it did, its market capitalization in 2016 would range between $13 billion and $36 billion.
But wait, it has an enterprise value of $36 billion today!!
There is a lot more downside risk to salesforce.com than there is upside potential. Momentum players have driven this stock far beyond any sensible level and may drive it higher yet. Today's earnings report is widely expected to be strong. But the smart money steps aside and the aggressive investor buys put options or sells short on the news.
That would be me. I am short 17,000 shares. Given the "bubble" state of today's markets I may hedge my short by selling puts or buying calls going into the earnings after the close today since the sentiment is pretty positive on the stock. But make no mistake, I am a definite short.
Disclosure: I am short CRM. I wrote this article myself, and it expresses my own opinions. I am not receiving compensation for it (other than from Seeking Alpha). I have no business relationship with any company whose stock is mentioned in this article.
Additional disclosure: I am short 17,000 CRM shares