This article marks my 10th Seeking Alpha article on Kimco Realty (NYSE:KIM) in less than two years. With a background in shopping center development I have always admired the management team led by veteran CEO, Dave Henry, and the company's Co-Founder and Co-Chairman, Milton Cooper.
In my first article (on Kimco), "Nobody Does it Better" I referenced the James Bond classic and Kimco's "best in class" model explaining that the shopping center giant is simply one of the best. Back then (January 12, 2012) Kimco was trading at $17.15 a share and I was targeting a mid-point $22 a share price for the New Hyde, New York shopping center REIT.
Seven months after my first article Kimco caught the attention of Mr. Market and shares began to trade just like the "spy who loved me". That's when I started to sing the Carly Simon song in the shower, "Baby you're the best".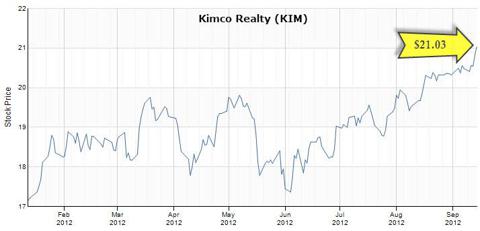 A few months later (May 2013) I wrote an article on Kimco and shares were climbing. As Kimco was solidifying its focused model of simplification, the market was starting to discover the power of Kimco's strategic platform of investing in a circle of competence. In that article (May 5) I suggested a Kimco Target price of $30.00.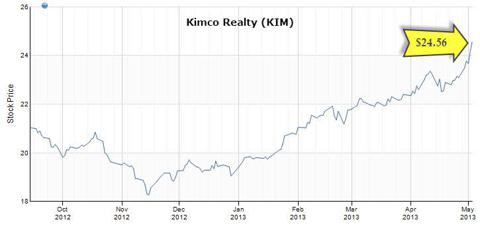 Then we all know what happened - on May 22nd the REIT market took a tumble. All of the momentum that Kimco had earned over the last few years was erased. On September 30th I wrote an article on Kimco and the shares were trading at $20.00. As evidenced by the chart below, it seems that Mr. Market hasn't let Kimco get much past $20.00. (The yellow marks indicates the dates that I wrote on Kimco).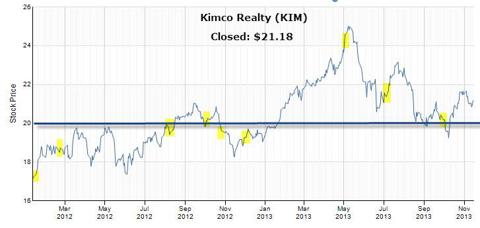 Now here's a snapshot of Kimco's 5-year history and as you can see, the growth has been muted (over the last two years).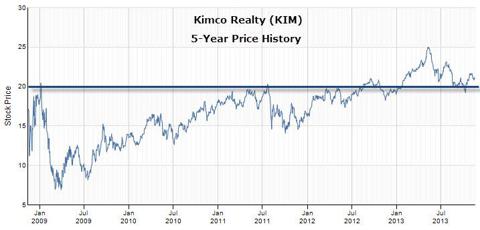 Now looking at Kimco's 10-year share price history we can see the amazing growth that led up to the Great Recession and then the sudden decline in value. There was certainly momentum leading up to the Great Recession, yet Kimco's recovery has been less rewarding (for investors). So now I ask myself the question: "when will Kimco get to $30?"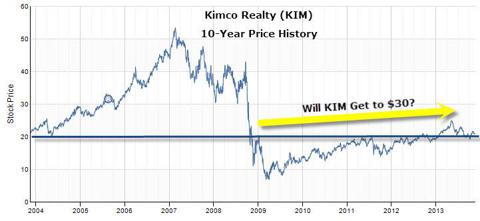 The 22 Immutable Laws of Marketing
A few years ago a friend mentioned the book, The 22 Immutable Laws of Marketing. It's a well known book written by Al Reiss and Jack Trout and although I'm no expert in marketing, I often reference the book and its widely accepted marketing principles. As the co-author's explain:
We have distilled our findings into the basic laws that govern success and failure in the marketplace.
So I decided that I would use this book to come to some conclusion regarding Kimco Realty and perhaps determine whether there's anything missing. In other words, I will examine several of the time tested immutable laws and determine whether Kimco has successfully passed the test or maybe even violated them, hence the reason for the less than impressive performance (of the shares).
It's not necessary to compare Kimco to all 22 immutable laws so I decided I would pick the most relevant: (1) The Law of Leadership, (2) The Law of Category, (3) The Law of Resources (4) The Law of Focus, and (5) The Law of Failure. By examining all of these laws in detail, I am hoping to find some meaning in Kimco's share price and decide whether I'm ready to buy the shares or wait.
The Law of Leadership
Kimco's decision to go public in 1991 kicked off what is now considered the Modern REIT Era. Twenty-two years later, Kimco has changed the face of commercial real estate investment. Today, equity REITs have become a widely accepted way to invest in commercial real estate, whereas that might not have been the case prior to Kimco's IPO. Before Kimco became public in 1991, REITs were primarily mortgage REITs with somewhat of a jaded history. It was really the beginning of a trend of the growth and the acceptance of equity REITs.
The attending benefits of the REIT approach to commercial real estate investment have been significant. They include liquidity, transparency and a consistent dividend. Henry also noted that REITs restrained use of leverage offers investors stability.
As the law of leadership applies to Kimco, the 22 year-old REIT was the first REIT to revolutionize the equity REIT sector and it proved to be a brilliant move for Kimco and the industry. Kimco's IPO raised $128 million and spurred a wave of REIT IPOs, with four other companies taking the plunge in 1992, raising a collective $638 million. 1993 to 1994 saw record growth for REIT IPOs, with over 80 companies going public, raising over $14 billion.
Today Kimco sets the bar for other shopping center REITs that includes seventeen peers, including the recent IPO of Brixmor Property Group (NYSE:BRX). The shopping center sector has a market cap of around $48 billion with an average dividend yield of 3.61%.
The Law of Category
In regards to the Law of Category Kimco is certainly the largest REIT in the shopping center sector. With a retail portfolio that consists of 855 properties (totaling 125 million square feet), Kimco has one of the most diverse revenue models in the REIT sector. As the largest owner and operator of shopping centers in North America, Kimco ranks as the biggest in the land. With a market cap of around $8.7 billion Kimco has dominating scale and size as compared with the peer group:

Kimco's geographic footprint spans 42 states, Peurto Rico, Canada, and Latin America.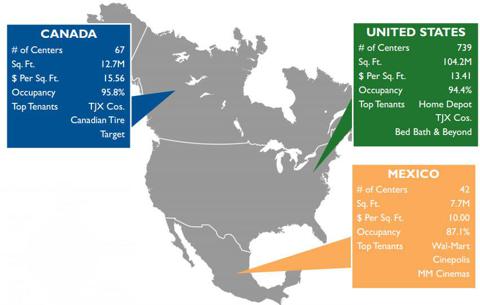 The well-balanced model provides Kimco with an advantageous "margin of safety" as the retail centers are well-anchored by many best in class tenants. Here is a snapshot of Kimco's geographic diversification by annual base rent (NYSE:ABR).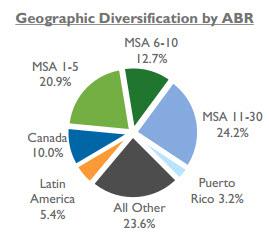 In the U.S. Kimco owns 739 shopping centers and over 104 million square feet. Here is a snapshot illustrating some of the key markets and areas of growth.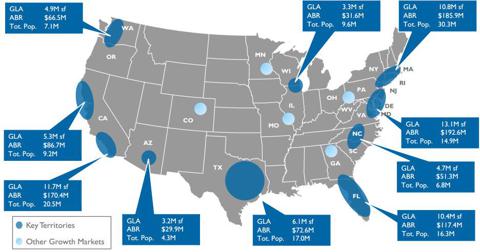 Kimco has achieved above average occupancy (94.4%) in the U.S. driven by improving economic fundamentals: Sound GDP Growth (2.0% - 2.3%), Modest Inflation (1.1% - 1.2%), and Improving Unemployment (7.1% - 7.3%). In addition, many of the U.S. retailers are continuing to expand providing a strong outlook for America's largest shopping center REIT.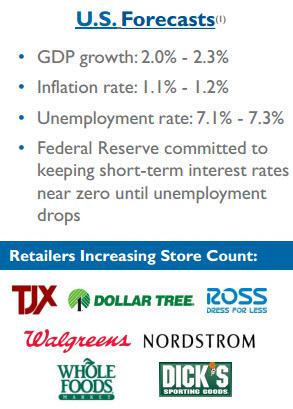 In Canada Kimco owns 67 centers and around 12.7 million square feet. As evidenced by a strong occupancy rate of 95.8%, Kimco has achieved success in the growing Canadian retail landscape. Fundamentals in Canada are also solid and Kimco has a competitive advantage with many U.S. retailers that are expanding there.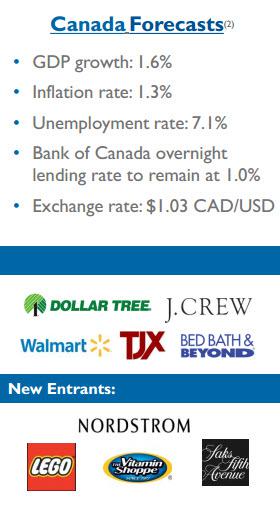 In Mexico Kimco owns 42 centers and around 7.7 million square feet. Kimco's occupancy is not as strong as the U.S. and Canada; however, the economy is Mexico is stronger (5.3% unemployment) and Kimco should benefit from the U.S. retail relationships that are moving south.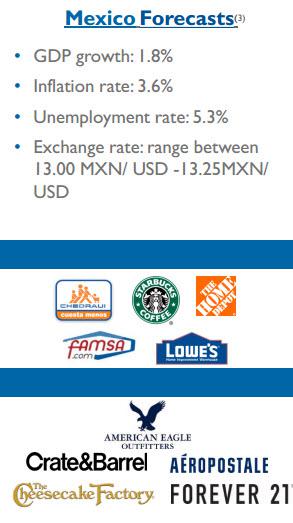 In terms of size, Kimco's diverse model is a tremendous differentiator. With over 13,600 leases and over 7,100 tenants, Kimco's well-balanced portfolio offers extraordinary safety and stability. Here is a snapshot of Kimco's solid tenant mix (Top 10):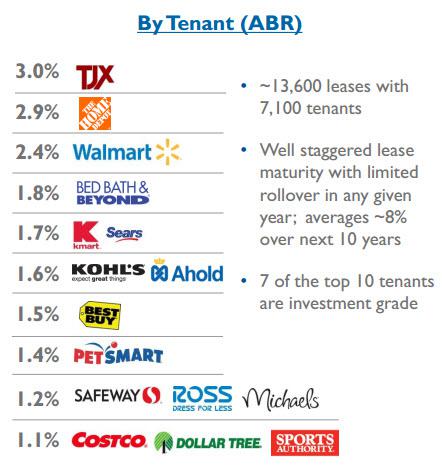 Another one of Kimco's key differentiators is the company's focus on high-quality anchored shopping centers. Over 78% of Kimco's portfolio is anchored by stable best-in-class retailers, and the smaller tenants provide higher growth in the form of shorter lease terms with higher rent increases.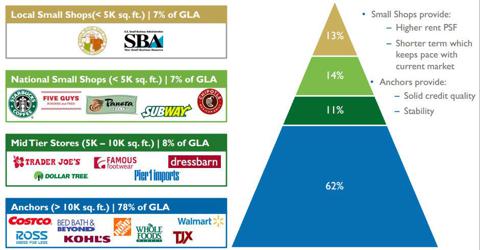 The Law of Resources
In the 22 Immutable Laws of Marketing the co-authors explain that "even the best idea in the world won't go far without the money to get off the ground". That's never been a problem for Kimco, let's take a closer look…
Kimco's liquidity position is in excellent shape with over $1.6 billion available on its revolving credit facility and net debt to recurring EBITDA is now at 5.4x, which is just under the target range of 5.5x to 6x. Kimco's debt maturities are very manageable and the next bond maturities don't occur until June of 2014.

Kimco has fortress balance sheet that includes strong investment grade ratings from S&P (BBB+), Moody's (Baa1), and Fitch (BBB+). Kimco continues to payoff unsecured debt and the company raised over $1.4 billion in 2013 (at a significantly lower cost). This attractive capital structure provides safety, flexibility, and a strong runway for future growth.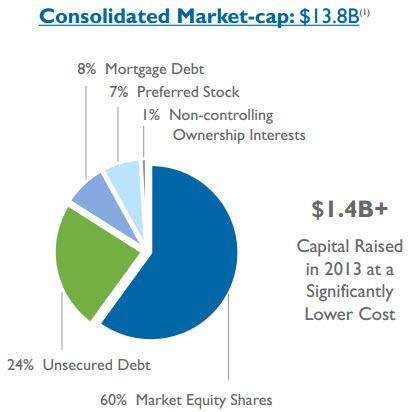 The Law of Focus
In the 22 Immutable Laws of Marketing the co-authors explain that "the essence of marketing is narrowing the focus. You become stronger when you reduce the scope of your operations. You can't stand for something if you chase after everything.
Over the past three years Kimco has evolved into a shopping center REIT with an enhanced focus on quality. As a result of a strategic plan focusing on high-quality retail, Kimco has disposed of 133 properties or around 13.7 million square feet of retail and non-retail space. In addition, Kimco has continued to acquire retail centers (70) with stronger demographics with higher quality tenants. As a result, Kimco has increased its average rent, improved occupancy, and improved portfolio demographics.

As of Kimco's focused "circle of competence" initiatives occupancy has increased to 94% up 60 basis points from the year-ago quarter and 20 basis points from the beginning of the year. U.S. occupancy has increased to 94.4%, up 50 basis points from the beginning of the year.

Also as part of the company's simplification strategy Kimco has decided to exit South America. The primary reasons for departing from the Latin American assets include lack of scale and the difficulty of achieving superior risk adjusted returns. Year-to-date Kimco has sold 14 shopping centers in Mexico (for $399 million) and the company intends to sale the remaining 27 centers in Mexico. Timing appears good for Kimco since the Mexican economy is flourishing and the liquidity for retail investments has become attractive.
One way that Kimco intends to capitalize on its laser-focused retail model is to continue redeveloping in key markets. With a growing pipeline of deals, Kimco is able to generate higher yields (8% - 16%) and deploy considerable equity. With a pipeline of over $800 million of new deals Kimco has substantial opportunity to capitalize on the recovering retail economy.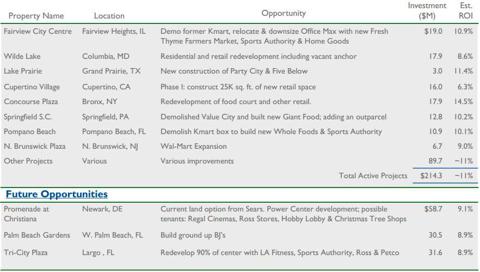 Another way that Kimco has been able to exploit its "circle of competence" is by investing in opportunistic retailer-controlled real estate. Over the years Kimco has been able to unlock considerable value by building on retail relationships in structured finance. As a result, Kimco has been able to act quickly to monetize retail assets and create core/critical investments. Recently Kimco participated in acquiring Supervalu (NYSE:SVU) in a consortium partnership.
The Law of Failure
The last law cited in this article - The Law of Failure - is the most significant. That's the reason I saved the best for last. You see, recognizing failure is the first step towards achieving success. We have all failed in business and that is why Sam Walton explained you had better learn from your mistakes:
If you learn something and you're trying something, then you probably get credit for it. But woe to the person who makes the same mistake twice.
As I referenced above, Kimco has a long history of managing risk and prior to the Great Recession the company was virtually invincible. However, like many public REITs (including Simon and others), Kimco's management team chose to be proactive and access capital (which now appears to have been excessive) so in 2009 with General Growth (NYSE:GGP) filing for bankruptcy, Kimco became overly cautious.
That failure caused Kimco's shares to plummet and although it's easy to criticize in hindsight the number of shares that were issued, one must remember that at the time, this financial collapse which was only paralleled by the Great Depression that saw the end of Lehman Bros and Bear Sterns with the near collapse of Citigroup and AIG; the financial markets were in utter turmoil and there was no certainty that any REIT would have access to the capital.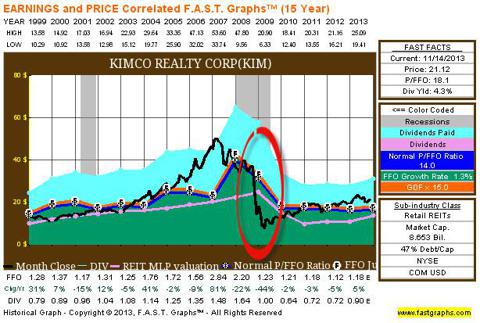 Now let's examine what happened after the Great Recession. By zooming in over the last three years we can see how Kimco has performed and whether or not the Law of Focus has impacted Kimco shares. Kimco has a Price to Funds from Operations (P/FFO) of 15.9x (according to SNL Financial) and as you can see, the share price has stayed around $20.00.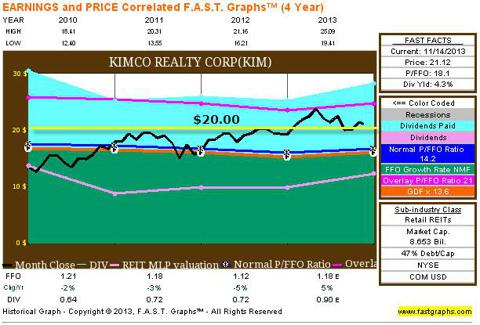 Compared with the peer group, Kimco's P/FFO multiple (15.9x) is trading just below the peer average (16.3x).

Kimco's dividend of 4.25% is trading at the peer average; however, it's important to recognize that none of the REITs with higher paying dividends have the same "blue chip" balance sheet as Kimco. In other words, I believe Kimco's dividend yield is "soundly valued" when compared with the quantified strength of Kimco's "Law of Resources".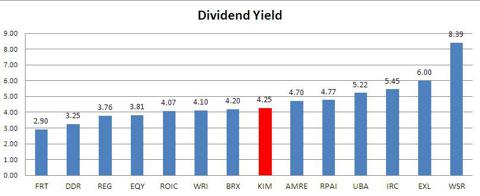 Of course, you can't forget the Law of Failure when examining Kimco's dividend cut in 2008. When comparing Federal Realty (NYSE:FRT) with the other peers (below), it's plain to see that Kimco's dividend has not returned to its attractive level (prior to 2008). I'm convinced that dividend is safe but I'm somewhat perplexed as to why the share growth has been muted.

Taking a closer look at the key metrics we can see that Kimco's fundamentals are much stronger today (9-30-13) than they were at the end of 2008: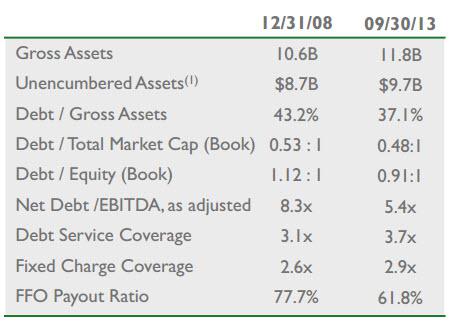 The company's Funds from Operations (as Adjusted) have improved (keep in mind that in 2010 the shares were diluted with a large equity raise).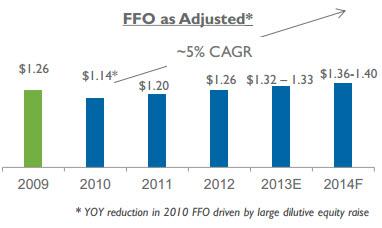 Also recurring retail earnings growth is solid as 97% of earnings is contributed from retail.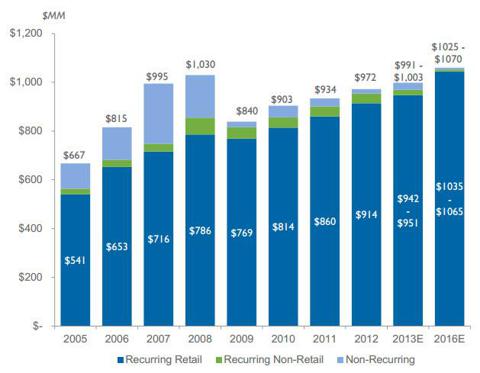 Kimco's 2014 FFO guidance range is between $1.36 and $1.40 per share. That's a very good indicator that The Laws of Focus is working. In addition, The Law of Resources (strong balance sheet) will provide Kimco with ample gunpowder for acquisitions and redevelopment. Alternatively, the Law of Failure seems to be the biggest drag to Kimco's share price.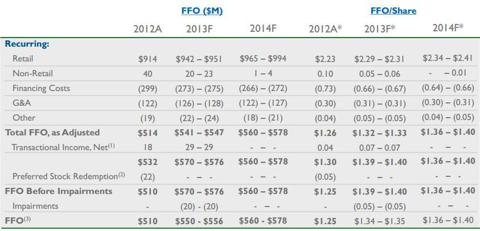 In conclusion, there's nothing that should prevent Kimco from getting to $30.00. Mr. Market has ignored the 5 Immutable Laws discussed above and I see no reason to believe that Kimco will not outperform. I would like to see a "going in" dividend yield of 4.50% so I may look for a window of $20.50 to $20.75.
Finally, when I am ready to pull the trigger (and purchase shares in Kimco) I'm reminded that I will also be buying a solid management team. I'm fortunate to know Milton Cooper and Dave Henry and without hesitation I can define the duo as the "best sleep well at night management team in REIT-dom." Of course, nobody knows when Kimco will get to $30.00. As Reis and Trout sum up The Law of Unpredictability:
Research does best at measuring the past. New ideas and concepts are almost impossible to measure. No one has a frame of reference. People don't know what they will do until they face an actual decision.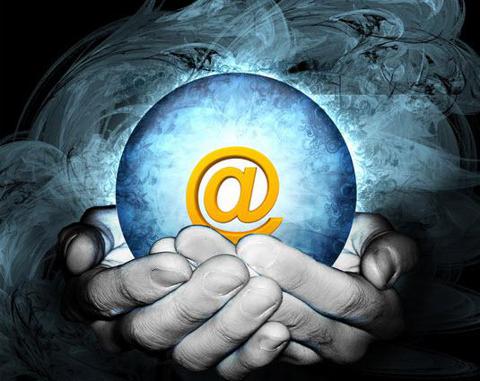 REITs mentioned:(NYSE:DDR), (NYSE:REG), (NYSE:WRI), (NYSE:RPAI), (NYSE:EQY), (NYSE:IRC), (NASDAQ:ROIC), (NYSE:UBA), (NYSE:EXL), (NYSE:AMRE), and (NYSEMKT:WSR).
Check out my monthly newsletter, The Intelligent REIT Investor and my NEW 3D portfolio (coming in December).
Source: SNL Financial, FAST Graphs, Digital Realty November Presentation.
Disclaimer: This article is intended to provide information to interested parties. As I have no knowledge of individual investor circumstances, goals, and/or portfolio concentration or diversification, readers are expected to complete their own due diligence before purchasing any stocks mentioned or recommended.
Disclosure: I am long O, ARCP, HTA, VTR, CSG, STAG, ROIC, DLR, UMH, CBL, GPT. I wrote this article myself, and it expresses my own opinions. I am not receiving compensation for it (other than from Seeking Alpha). I have no business relationship with any company whose stock is mentioned in this article.