After falling for several weeks, the euro finally found some support and finished last week at $1.3493. This translates into a gain of 1% for the week. Still the trend is USD positive and the euro has not broken some major resistance levels.
Last week's dovish testimony of Ms. Yellen, the expected-to-be new chairman of FED, sparked a race in the EUR/USD currency pair which led the single currency to its current level. Whether rhetoric is enough to sustain these levels is about to be seen. Economic expectations are mostly positive for the week ahead and if they are confirmed, this could lead to renewal of the FED's tapering fears which would be USD positive.
Technically speaking, the euro is at a crucial line of resistance. $1.35-$1.37 are levels at which the single currency was stopped at the beginning of 2013 and back in the 2005. MA's are still negative so for the euro to continue its appreciation it should go beyond these levels. As of time of writing the single currency trades at $1.3493, the level at which it closed on Friday last week.
The Week Ahead
The most important risk events for the week are the ZEW Economic Sentiment in Germany (Tuesday), the Consumer price index, retail sales, FOMC minutes and Mr. Bernanke's speech (Wednesday) which makes Wednesday the day with the expected highest volatility in the EUR/USD pair in the week ahead. Those economic events have the potential to determine the near term direction of the pair.
This week's analysts optimistic expectations are significantly above the middle of the range (60%) compared to the previous week (~18%). This is about 240% higher than the previous week's optimistic expectations. Consensuses are more optimistic for the European data (78%) than for the U.S. one (41%), with the positive economic expectations for Europe. increasing faster (406%) than the ones for the U.S. (106%). Positive surprises on the U.S. data could be in favor of the USD due to possibly renewed expectations of FED's tapering despite the recent dovish remarks of Ms. Yellen. The correlation between the last 4 week change in the overall optimistic expectations and the change in the EUR/USD rate for the respective weeks has been negative for the last six weeks and now stands at -0.62. Generally this would mean that the more optimistic expectations of the analysts are, the more stronger the USD becomes.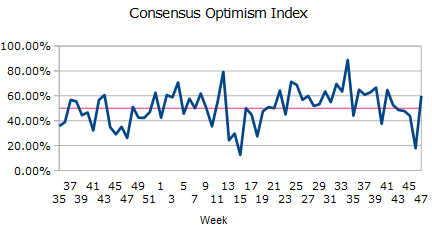 The index shows the proportion the positive consensus estimates take in all the estimates we have available for the respective week. A value above 50% represents an optimistic mood in the expectations rather than pessimistic. The weekly change in index's value could be used as a tool to assess the analysts' mood. It should not be neglected however that the EUR/USD rate actually moves rather on the real data and on how that data differs from the expected one.
Investors could take advantage of their own expectations about the EUR/USD exchange rate movement in order to hedge the positions they have in other assets. For instance, American investors with investments in euro denominated assets who expect that the U.S. dollar would appreciate against the single currency, could try to decrease the currency risk by selling euros or by opening a short position in an ETF which tracks the price of the euro. CurrencyShares Euro Trust (NYSEARCA:FXE) is among the most widespread options here. It tracks only the price of the euro measured in U.S. dollars. This ETF has an expense ratio of 0.40%.
For those who prefer more diversified funds, among the options are the PowerShares DB USD Bullish ETF (NYSEARCA:UUP) and the PowerShares DB USD Bearish ETF (NYSEARCA:UDN). Both funds are U.S. dollar denominated and track the value of the USD against six other major currencies - euro, Japanese yen, British pound, Canadian dollar, Swedish krona and Swiss franc. The funds' expense ratio is 0.50%.
Another option is to use the Barclays iPath EUR/USD exchange rate ETN (NYSEARCA:ERO). It is an ETN with an expense ratio of 0.40%. Its only holding is euro. Investors who believe the USD will continue to appreciate could take advantage of a short position in the ETN, and vise versa. Like all ETNs, ERO has some differences in taxation in different jurisdictions compared to an ETF. Readers are encouraged to consult a tax professional.
Those who are not feeling comfortable with or are not allowed to take short positions but still expect the euro to depreciate, could utilize a long position in the ProShares Euro Short ETF (NYSEARCA:EUFX). It tracks the inverse of the U.S. dollar price of the euro. This ETF is a commodity pool and as such has a slightly higher expense ratio (0.95%).
Monday, November 18
| | | | | |
| --- | --- | --- | --- | --- |
| Event | GMT Time | EST Time | Consensus | Previous |
| EU Trade Balance s.a. (Sep.) | 10:00 | 5:00am | €14.3B | €12.3B |
| USA Net Long-Term TIC Flows | 14:00 | 9:00am | $21.3B | $-8.9B |
| USA NAHB Housing Market Index (Nov.) | 15:00 | 10:00am | 56 | 55 |
Monday is not presenting us with much economic data. Any negative surprise on the EU trade balance data could put some weight on the single currency. On the other hand, a negative surprise on the U.S. net long TIC flows would weigh to some extent on the USD so both surprises could negate each other. A negative surprise on the housing market index would also be euro positive.
Tuesday, November 19
| | | | | |
| --- | --- | --- | --- | --- |
| Event | GMT Time | EST Time | Consensus | Previous |
| EU Germany ZEW Economic Sentiment | 10:00 | 5:00am | 53.8 | 52.8 |
| EU ZEW Economic Sentiment | 10:00 | 5:00am | | 59.1 |
| USA Employment Cost Index (Q3) | 13:30 | 8:30am | 0.5% | 0.5% |
Tuesday data is expected to be generally positive. Negative surprises on the ZEW economic sentiment could lead to some euro depreciation. Otherwise the single currency could continue its current uptrend. Employment cost index in the U.S. is important because it shows if there are any possible price pressures on the American companies regarding the employers' compensations. Because inflation is a vital component of FED's dual mandate, a higher than expected value here could be USD positive.
Wednesday, November 20
| | | | | |
| --- | --- | --- | --- | --- |
| Event | GMT Time | EST Time | Consensus | Previous |
| EU Germany PPI (Y-o-Y) (Oct.) | 07:00 | 2:00am | -0.6% | -0.5% |
| USA Mortgage Applications (Nov 15) | 12:00 | 7:00am | | -0.5% |
| USA CPI (Y-o-Y) (Oct.) | 13:30 | 8:30am | 1.1% | 1.2% |
| USA CPI Ex. Food & Energy (Y-o-Y) (Oct.) | 13:30 | 8:30am | 1.7% | 1.7% |
| USA Retail Sales (Oct.) | 13:30 | 8:30am | 0.1% | -0.1% |
| USA Existing Home Sales Change (Oct.) | 15:00 | 10:00am | -0.9% | -1.9% |
| USA Bernanke Speech | | | | |
| USA FOMC Minutes | 19:00 | 2:00pm | | |
There is mostly an U.S. data on Wednesday. A higher value on the Germany PPI could lead to euro appreciation due to renewed inflation concerns in Europe's biggest economy.
On the other side of the ocean the CPI is expected to show a lesser-than-previous value. This would be USD negative factor as it may give more room to FED for its policy of "easy money".
Attention should be given here to the CPI ex. food and energy prices which is rather close to the FED's target level. In case of a cheaper USD we could reasonably expect higher energy prices. As food and energy now lower the overall inflation in the U.S., if those prices start to rise, the inflation could become a burden for the country and cause FED to reconsider its QE policy.
Negative surprises on the retail sales and existing home sales would put pressure on the USD.
Maybe the biggest risk events for the day (and possibly the week) are the speech of Mr. Bernanke and the FOMC minutes. Increased volatility in the EUR/USD currency pair could be expected around them. They are expected to give hints on the FED's current assessment of the U.S. economic situation and the committee's future actions.
Thursday, November 21
| | | | | |
| --- | --- | --- | --- | --- |
| Event | GMT Time | EST Time | Consensus | Previous |
| EU Germany Markit Manufacturing PMI (Nov.) p. | 08:28 | 3:28am | 52.1 | 51.7 |
| EU Markit Services PMI (Nov.) p. | 08:58 | 3:58am | 52 | 51.6 |
| USA PPI (Y-o-Y) (Oct.) | 13:30 | 8:30am | | 0.3% |
| USA Initial Jobless Claims | 13:30 | 8:30am | 333K | 339K |
| USA Markit Manufacturing PMI (Nov.) p | 13:58 | 8:58am | 52.6 | 51.8 |
| EU Consumer Confidence (Nov.) p | 15:00 | 10:00am | -13.9 | -14.5 |
| USA Philadelphia FED Manufacturing Survey (Nov.) | 15:00 | 10:00am | 16.0 | 19.8 |
With the exception of Philadelphia FED manufacturing survey, all the Thursday data is expected to show better-than-previous values. This gives enough room for negative surprises. Generally such surprises would lead to USD depreciation if happen on the U.S. data and would weigh on the euro if are seen in Europe.
Friday, November 22
| | | | | |
| --- | --- | --- | --- | --- |
| Event | GMT Time | EST Time | Consensus | Previous |
| EU Germany GDP (Q3) | 07:00 | 2:00am | 1.1% | 0.5% |
| EU Germany IFO Current Assessment (Nov.) | 09:00 | 4:00am | 111.7 | 111.3 |
| EU Germany IFO Expectations (Nov.) | 09:00 | 4:00am | 104.1 | 103.6 |
| USA Kansas FED Manufacturing Activity (Nov.) | 16:00 | 11:00am | | 14 |
Again mostly positive expectations for the data on Friday. Better-than-previous values on the Germany data could lead to euro appreciation while negative surprises would put some pressure on it.
Disclosure: I have no positions in any stocks mentioned, and no plans to initiate any positions within the next 72 hours. I wrote this article myself, and it expresses my own opinions. I am not receiving compensation for it (other than from Seeking Alpha). I have no business relationship with any company whose stock is mentioned in this article.