The automotive user interface is getting more and more similar to our mobile experience, as mechanical buttons are being replaced by digital input technologies such as touch screens, touch pads and capacitive buttons. Haptics, in such an environment, should be a no brainer, as the technology can reduce driver distraction and increase confidence in the automotive control system effectiveness.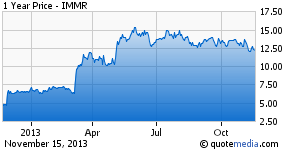 Immersion Corporation (NASDAQ:IMMR) has a long history of product wins with some of the best, high end OEMs. We believe that the automotive vertical is now close to its inflection point, and may represent a long term (2015 and beyond) catalyst for the company.
Given the industry long product cycle, we are still at the beginning of haptics implementation in high volume vehicles. Recent studies and product wins, however, represent in our opinion the foundations for the increase of haptic adoption in more and more vehicles.
Immersion's wins in the automotive sector
Immersion's approach to the market is an interesting combination of partnerships with solution integrators and direct promotion with OEMs.
We've resumed in this chart a few key point, assembling information taken from Immersion's latest presentation and Automotive portal: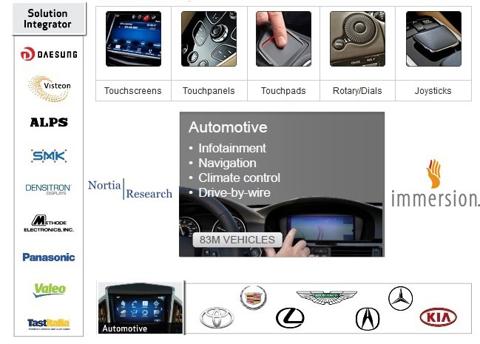 As you may notice, some of the best system integrators in the automotive industry are partners to the company, in addition to some of the best names [OEMs] in the industry.
Early adopters of Immersion's technology were Rolls Royce (OTCPK:RYCEY), BMW (BAMXY), and Lexus.
Going through some of the company's partnerships with solution integrators, we notice that Continental AG licensed Immersion's haptics technology for use in the high-end Volkswagen (OTCPK:VLKAF) Phaeton sedan and Bentley (OTCPK:VLKAY) cars.
Daesung Electric Co. Ltd., a leading Korean automotive original design manufacturer and major supplier to Hyundai (OTC:HYMLF) and Kia (OTC:KIMTF) was instrumental in the more recent Kia K9 / Hyundai Equus win.
Other recent haptic implementations include General Motors (NYSE:GM) Cadillac CUE Infotainment System, launched in 2012, and the European Opel Insignia, more recently.
Haptic implementation isn't limited to touchscreens, but may include touchpanels, touchpads, rotary dials and joysticks. Immersion management indicated that the royalties deriving from one of these implementations (which can also happen simultaneously in the same vehicle) are in the $1 to 5$ range. We expect the company to hit the mid-high end of this range on a per-vehicle basis, as happened historically.
The size of the market is also interesting, and it is indicated in 83 million vehicles per year. Even a relatively small market share can mean a decent revenue stream to the company. In the past Visteon (NYSE:VC) indicated the potential market for haptic Integrated Control Panels in the 8.5 million and 10 million range.
The vertical today represents just about 5% of the company's revenues in 2013: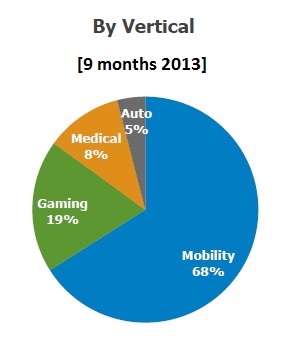 Here are some historical data associated with the automotive sector: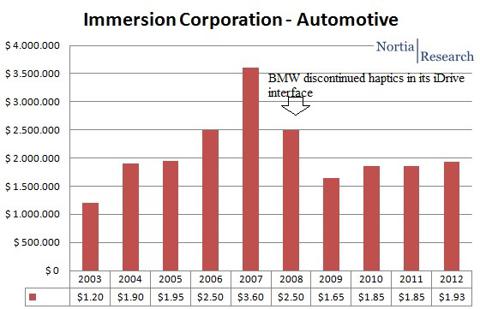 Mercedes-Benz endorses haptics
Before 2009 Immersion's partner ALPS Electric produced a haptic rotary control that has been included in the Mercedes-Benz S-Class sedan. (Immersion s 10-K 2009, pg. 7).
Fast forward to 2013: Mercedes-Benz is now fully endorsing haptics for its newest S65's touchpad:
Like Android in a car: Touchpad by Mercedes-Benz supports writing, gesturing, and haptic feedback

Touch controls in cars can feel primitive compared to those in contemporary smartphones and tablets, but Mercedes-Benz could be onto something with the touchpad in the 2015 S65 AMG. You can write, gesture, swipe, and zoom with it, just like on a touchscreen phone or tablet. It also offers haptic feedback. An Android user driving this car should be familiar with all of these features (iPads and iPhones lack haptic feedback). But even if you don't use Android, the natural feel of these input methods could make this touchpad less distracting than other touch controls we've seen in cars.

We've seen haptic feedback in other cars' touch interfaces, such as the Cadillac CUE, but not in an input device like this touchpad.

Of course, this little touchpad is not quite as luscious as the huge, mega-tablet display on the Tesla Model S. But where that interface is mesmerizing for its sheer size, the Mercedes-Benz's touchpad control is designed to be unobtrusive and could help S65 drivers keep their eyes on the road rather than the screen.
We believe that it is very likely that this is a new product win for Immersion Corporation, although we could not get any official confirmation from our channel checks. It is also interesting that the win is not limited to this luxury high end model, which will debut at the 2013 Los Angeles International Auto Show and should arrive in U.S. showrooms during the second quarter of 2014:
The S65 also introduces a new head-up display and touchpad - both of which will find their way into other Mercedes models.
Test study at University of Kassel shows clear advantages of a touchpad with active haptic feedback
Immersion's partner Continental AG has recently issued a press release resuming some of the findings made in a study conducted in partnership with the University of Kassel (Germany):
"The touchpad with active haptic feedback demonstrated a significantly positive effect in the study," says Prof. Ludger Schmidt, Head of the Human-Machine-Systems Engineering Group in the Mechanical Engineering Department at the University of Kassel. "On average, a driver's gaze is diverted away from the traffic 23 percent less when haptic feedback is switched on. And the control tasks set were performed on average 33 percent quicker than without active haptic technology."
Immersion is also a great source of information, if you feel like making some additional diligence on the subject of the value of confirmation haptics implemented in a commercial vehicle.
At this link, you may find several white papers analyzing the value of haptic feedback in Automotive User Interfaces, including some studies related to the 2013 Cadillac XTS.
Conclusion
The automotive vertical may be seen by some IMMR investors as a relatively disappointing sector, as it hasn't still been capable to develop into a strong revenue stream for the company.
The product development process for vehicles is very lengthy and may take sometimes up to 5 years. The recent automotive industry crisis of 2008-2010 hasn't certainly helped increase the speed of new technology adoption.
Mobility is, on the other end, at the forefront of innovation and haptics is now implemented in several hundred million devices worldwide. Touchscreens are now accepted as the standard for tablets and smartphones - and OEMs relying to physical buttons are associated with "old technology".
As the automotive sector is on its way to "adapt" to this new paradigm, we expect haptics to become an interesting choice in this industry as well - and we loved the "iPads and iPhones lack haptic feedback" comment we read in our first Mercedes-Benz quote. A great sign that the technology is starting to move from "nice to have" to "must have".
Time for some unrelated news
Catalysts for Immersion Corporation are not limited to the Automotive sector we've tried to cover in depth in this article.
Over the longer term, the company is working on automatically implementing haptic feed back in videos, to enhance the user experience: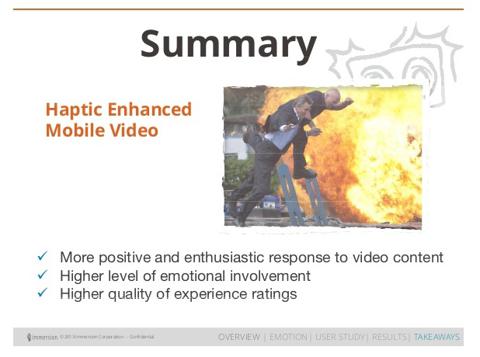 However, if you prefer to examine shorter term contributors to revenues, it should be noted that Sony's (NYSE:SNE) PlayStation 4 is up to a great start, having sold 1 million in the first 24 hours that it was available in the United States and Canada.
PS 4 sales will contribute to the company's revenues starting from Q1 2014, as royalties are recorded one quarter in arrears to product sales. Q1 2014 results might be quite interesting to watch, given the combination of PS4 sales and the traditionally strong holiday sales in mobility.
Microsoft (NASDAQ:MSFT) will also start selling its Xbox One product next Friday. In this case, Immersion may benefit from accessories produced by some of its gaming partners, like Logitech (NASDAQ:LOGI), Mad Catz, , Razer, etc.
Disclosure: I am long IMMR. I wrote this article myself, and it expresses my own opinions. I am not receiving compensation for it (other than from Seeking Alpha). I have no business relationship with any company whose stock is mentioned in this article.