As a variable rate downstream MLP, some fluctuation was expected for Alon USA Partners' (NYSE:ALDW) distribution. However, for Q3 2013, the company announced that it will not be paying a distribution for the quarter. This came as quite a shock to the market, sending shares of Alon USA Partners down as much as 20% before recovering most of the losses over the next few trading days. The vast majority of Alon USA Partners units are held by its General Partner Alon USA Energy (NYSE:ALJ), which spun off Alon USA Partners in an IPO late in 2012.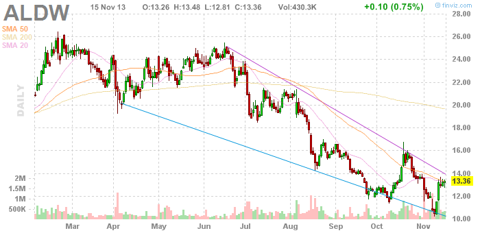 Click to enlarge
Q3 2013 Overview: No Quarterly Distribution due to Negative Cash Available for Distribution
On November 6, Alon USA Partners reported its Q3 2013 results. Below are some of the key stats:
Net Income: -$16.1M

Adjusted EBITDA: $7.1M

Cash available for distribution: -$18.2M

Quarterly Distribution: None

Refining Operating Margins per BBL: $6.46

Throughput: 63,090 BBLs/D
Overall, things could not have gone worse for Alon USA Partners is Q3. For the quarter, the company posted a net loss of about $16.1M compared to net income of $120.4M last year. Adjusted EBITDA, a much more stable and accurate metric for determining profitability for MLPs, came in at $7.1M, down 95% from $141.8M last year.
Even throughput declined for Alon USA Partners in the quarter. Due to an unplanned outage at the Big Spring refinery, Alon USA Partners' throughput averaged only 63,090 BBLs/D, down 9.5% from 69,563 BBLs/D last year. As a result, Alon USA Partners earnings were impacted by around $12M, or $0.19 per unit.
The dramatic decline in profitability for Alon USA Partners can also be seen in its refining margins per BBL. For the quarter, Refinery operating margin was $6.46 per BBL, down 76% from $27.75 per BBL last year.
This decline in margins was almost entirely due to two factors: lower cracks spreads and higher feedstock prices. The Gulf Coast 3/2/1 crack spread was $14.23 per BBL in Q3, down 55% from $31.76 per BBL last year. Meanwhile, the WTI to WTS discount pretty much evaporated, down 98% to a mere $0.08 per BBL, from $3.70 per BBL last year.
Finally, cash available for distribution came in at negative $18.2M. As a result, Alon USA Partners did not have any cash available to pay out a distribution for Q3 2013. As the company is a variable rate MLP, it typically pays out all of its available cash quarter to quarter, thus leaving little to no excess to payout in rough quarters such as Q3 2013.
Q4 2013 is Seeing Improved Fundamentals for Refiners such as Alon USA Partners
Q3 2013 was probably the worst operating environment for refiners since at least 2010. Crack spreads declined, thanks mostly due to surging WTI prices. However, Brent prices remained flat. Thusly, the WTI/Brent discount averaged well under $10 per BBL for the quarter.
For a landlocked refiner such as Alon USA Partners, increased WTI prices directly hurt its bottom line. In addition, as WTS traded at near parity with WTI, the company also loses its feedstock price advantage in Q3.
However, things are looking much better for Alon USA Partners in Q4 2013. First of all, the WTS to WTI spread has widened significantly in recent weeks, averaging $4.35 per BBL. This alone would dramatically boost margins per BBL and likely lead to positive cash flow for the quarter.
Another factor likely to benefit Alon USA Partners in Q4 is the declining price for RINs. In Q3, the company RIN costs totaled around $1.2M. By comparison, RIN costs were essentially zero for most of 2012. However, a recent EPA proposal that lowers lower renewable fuel quotas in 2014 is likely to send RIN prices back down. Part of the reason RIN costs have increased was due to the ethanol mandate. Fuel blends above 10% ethanol may lead to damage in cars, motorcycles and lawn mowers. This is widely known as the "blend wall" and was the main factor in surging demand for RINs.
The last factor would be crack spreads. While Brent prices have remained steady, WTI prices have declined by about 12% from last quarter. The WTI/Brent spread is often a leading indicator for crack spreads. This undoubtedly good news for the stock as crack spreads are the main factor for determining profitability for a refiner such as Alon USA Partners.
Final Thoughts and Conclusion
Alon USA Partners has been a hard stock to own for the past few quarters. I believe the main factor impacting the stock is its distribution. Alon USA Partners was bid up early in the year as the stock was yielding north of 25% in Q1 and Q2. However, just as profitability for refiners took a nosedive in Q3, so did Alon USA Partners' stock.
However, even with the recent improved fundamentals, I still consider Alon USA Partners a very high risk stock. The distribution is not at all stable and may fluctuate greatly quarter to quarter. Crude oil differentials can also have an outsized impact on the stock. Due to its extremely volatile distribution, I would avoid Alon USA Partners.
Disclaimer: The opinions in this article are for informational purposes only and should not be construed as a recommendation to buy or sell the stocks mentioned. Please do your own due diligence before making any investment decision.
Disclosure: I have no positions in any stocks mentioned, and no plans to initiate any positions within the next 72 hours. I wrote this article myself, and it expresses my own opinions. I am not receiving compensation for it (other than from Seeking Alpha). I have no business relationship with any company whose stock is mentioned in this article.