I last wrote about Australia and New Zealand Banking Group (OTCPK:ANZBY) in mid-November 2012, and over the last 12 months the banks share price has increased by 35.25% in the USA, and by 36.49% in Australia. Capping this strong share performance is the bank's healthy dividend yield, currently 5.7% for US ADR holders and 5.0% for Australian shareholders. This article will examine why ANZ Bank has performed strongly, and why it will continue to deliver steady growth over coming years, contrary to consensus opinion among other analysts.
Current Financial Performance
For readers unfamiliar with ANZ's operations and you can read my previous article, which provides a brief overview of the company. Over the last 12 months, the company has continued to deliver solid financial returns, continuing with CEO Mike Smith's strategy to conduct a deliberate expansion into the Asia Pacific region, and bottom line financials benefiting from resurgence in the Australian housing market. In its fourth quarter 2013 and full year results announced on 28 October 2013, the company announced:
Underlying EPS of AUD$2.39 (9% increase)
Revenue of AUD$18.4 Billion (3% increase)
Statutory Net Profit of AUD$6.3 Billion (11% increase)
Underlying net profit after-tax of AUD$6.5 Billion (11% increase)
28% revenue growth generated by the Asia expansion strategy
11% increase on profit from Domestic Operations, including a 21% increase on commercial mortgage lending
Final annual dividend for 2013 of AUD$1.64 per share (13.10% increase)
Key financial performance statistics as at 17 November 2013 are detailed below with all data (less dividend growth) taken from Yahoo Finance. As some readers prefer comparisons to US ADRs I have included the ANZBY, and as per the last focus article I have included Citigroup (NYSE:C) as a comparative banking peer: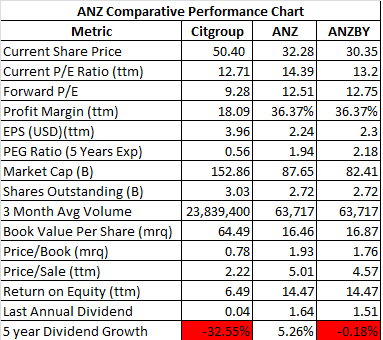 Shareholder Remuneration
When comparing annual returns, shareholders should consider gains made in the underlying shares held, in addition to dividends paid, and the growth of dividends paid as a sign of the current financial health of the company. A comparable 12-month review shows that over the period ANZ shares grew by 36.49%, versus a gain for the ANZBY ADR of 35.25% and 39.61% for C.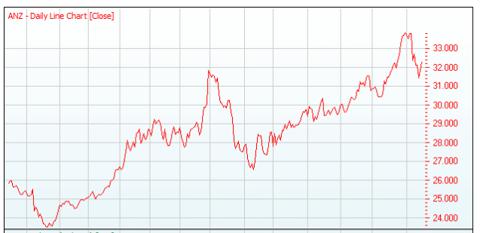 Source: asx.com.au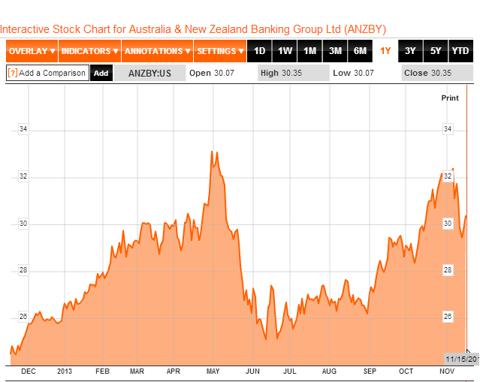 Source: bloomberg.com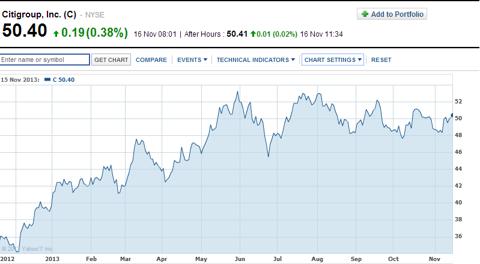 Source: au.finance.yahoo.com
Detailed below is a comparative table that lists the annual dividend paid for Citigroup, ANZ Bank ($AUD), and for the ANZBY ADR. The table covers the last ten year period to provide a long enough snapshot of consistency. The bottom of the table shows 1, 3, 5 and 10-year totals of dividends paid for each stock. These comparative periods are important as they show the impact of the global financial crisis on total returns, most notably on Citigroup (which was the only stock not to pay a dividend in 2010).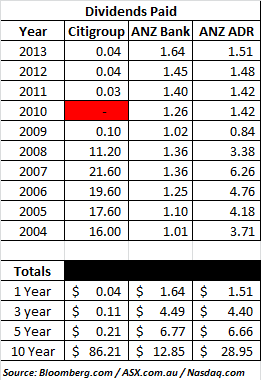 The reduction of dividend payments by Citigroup following the global financial crisis has hurt the bank's performance on a comparative long-term basis, with ANZ returns for total dividends paid over the last 5 years significantly outstripping Citigroup's performance.
In addition to total dividends paid, investors should also be interested in longer-term dividend growth, and the ability of a company to sustain its dividend payments, even during challenging economic periods. Again on a comparative basis, the Australian listed ANZ Bank outperforms on a 1, 3 and 5-year basis: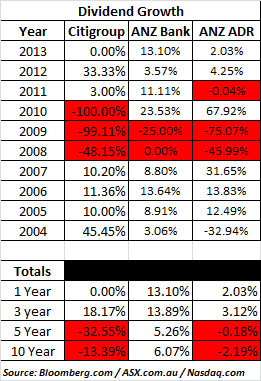 Potential and Pitfalls
When I wrote last on ANZ many investors were suggesting that Australian banks were overvalued, and likely to be subject to a huge correction, driven largely by an overheated property market that would soon be subject to a correction similar to the American property market collapse due to the global financial crisis. There have been many to publicly stand by this stance over the last 12 months, including actively shorting Australian banks - considered to be a 'widow maker' trade by many brokers in Australia.
I have said it before and I'll say it again, anyone arguing that thesis does not understand that the percentage of bad residential loans in Australia was largely reduced during the global financial crisis, and Australian banks have significantly constrained their appetite for mortgage based high-risk borrowers. The same people also fail to acknowledge the supply and demand housing equation in Australia is fundamentally different to the USA. Control of new housing supply is closely linked to demand, and high demographic concentration around major east coast based capital cities drives high property values in those markets - elsewhere (regionally) property prices and growth has been relatively benign.
There has been a correction in Australian stocks when compared to US markets, which occurred in the May - July period as evidenced in the Australian All Ordinaries Graph below:


Source: shareswatch.com.au
Some of the rationale behind these corrections was a cooling of capital expenditure (capex) in the Australian mining resources sector, a correction in the value of the Australian Dollar, and slowing business confidence following the announcement of the Australia Federal election. While many commentators (political and financial) have indicated that the Australian Mining Boom is over, in truth the only part of the boom that is over is the capex boom, while what we are now entering is the operational (or sustained demand) mode that will continue to deliver ongoing revenue for Australian Resource Companies (as I wrote about here). A lower Australian dollar has made commodities exports for Australia more competitive and profitable, as has the increasing spot price for iron ore exports, which now sits at almost double what many commodities analysts said would be the baseline price for 2013.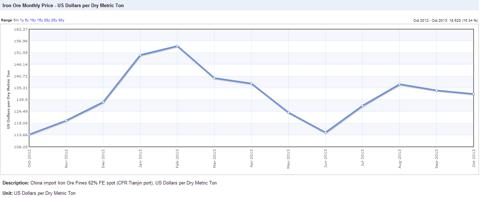 The Federal Election has been and gone, delivering a conservative government to power that is likely to sit for two terms, and which has big visions for Australia as part of its election mandate. This includes scrapping the Minerals Resources Rent Tax (MRRT) and the Carbon Tax, returning the budget to surplus, and investing heavily in domestic infrastructure to support Australia's growth for decades to come. Since the election we have already seen an upswing in Australian property markets led by Sydney with Auction clearance rates in excess of 80% week-in week-out, the precursor to driving an east coast recovery in construction and finance markets, and the smaller underlying companies within and around those markets.
Opportunities will continue to exist for ANZ in benefiting from this recovery and subsequent growth, however its biggest competitive advantage and where I see value in ANZ compared to its peers, is that it is already well progressed in its expansion into Asia strategy, led by the CEO with a proven banking background in Asian markets. Obviously it still remains exposed to any major macroeconomic corrections, but will be less exposed to property market funding corrections given it is developing its Asia strategy as a means of generating funding and revenue offshore, in order to avoid the reliance of growing its bank book through the Australian commercial and residential property markets.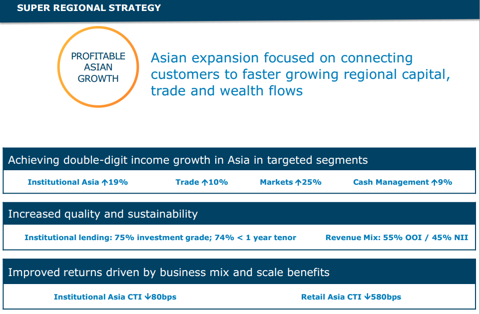 Finally, with interest rates at all-time lows in Australia, and term deposits sitting at around 3% per annum, Australian investors are starting to unlock their hoards of cash held in bank savings and term deposits accounts, and looking for yield elsewhere. Australian companies and the banks stand to benefit directly from this pending cash injection to company balance sheets; after all why hold your money in the bank for 3% when if you invested in those funds in the bank instead, you would have gotten a much bigger return overall over the last 12 months (36% on capital and 5% on dividends for ANZ).
Summary
In closing ANZ continues to demonstrate the soundness of its financial position and continues to deliver year-on-year increases in revenue and profit, backed by a strong return on equity for investors and a continuing growing dividend yield. In terms of a suitable banking investment, it forms a core holding in my portfolio, and I intend to continue accumulating on price dips. It should be a desirable core stock inclusion for Australian investors, or for overseas investors seeking exposure to a quality Australian financial company, who have a long-term investment time frame.
Disclosure: I am long OTCPK:ANZBY. I wrote this article myself, and it expresses my own opinions. I am not receiving compensation for it (other than from Seeking Alpha). I have no business relationship with any company whose stock is mentioned in this article.
Additional disclosure: I am long ANZ Bank shares traded on the Australian Stock Exchange. This advice is general advice only; you should seek independent financial advice before making any investments of your own.