Green Mountain Coffee Roasters (NASDAQ:GMCR) will report its Q4 2013 earnings results on November 20, 2013. These results will likely determine if the latest downtrend in shares of GMCR have been warranted. Since reaching a 52-week high of $88.78 on August 29th, shares of GMCR have been in an extreme downtrend and have lost over 37 percent of their value. The cause of this downturn, after such a positive first half of the fiscal year for the company, has resulted in great speculation amongst investors, but this kind of downturn doesn't occur "just because." We will discuss some of the possible reasoning offered by investors publicly later on in this Green Mountain Coffee Roasters Quarterly Preview. For now, let's take a look at analysts' estimates provided by Capital IQ:
Earnings Est

Current Qtr.
Sept 13

Next Qtr.
Dec 13

Current Year
Sept 13

Next Year
Sept 14

Avg. Estimate

0.75

0.96

3.25

3.78

No. of Analysts

12.00

9.00

12.00

13.00

Low Estimate

0.70

0.90

3.21

3.64

High Estimate

0.79

1.01

3.29

4.00

Year Ago EPS

0.64

0.76

2.40

3.25
Revenue Est

Current Qtr.
Sept 13

Next Qtr.
Dec 13

Current Year
Sept 13

Next Year
Sept 14

Avg. Estimate

963.83M

1.44B

4.27B

4.68B

No. of Analysts

13

9

13

13

Low Estimate

938.00M

1.38B

4.25B

4.50B

High Estimate

982.87M

1.49B

4.29B

4.80B

Year Ago Sales

946.74M

1.34B

3.86B

4.27B

Sales Growth (year/est)

1.80%

7.20%

10.80%

9.40%
It becomes painfully obvious as to one of the speculative reasons why shares of GMCR have come under extreme pressure during the quarter ended September 30th when investors look at the expected growth in revenues YOY for the quarter. Analysts are only expecting revenue growth of fewer than 2% which seems odd given that guidance for net sales offered by GMCR during the quarter was for 11-15% growth. During Q3 FY2013, analysts originally had estimated Q4 FY 2013 revenues would grow over 8 percent. Something is clearly amiss here, but maybe the analysts have seen something in the trend and in the quarterly sell-out data that appears alarming and has forced them to reduce their revenue expectations for the quarter. Moreover, GMCR's fourth-quarter guidance implies that for the full fiscal year, the company expects total net sales growth in the range of 13% to 14% over fiscal 2012. It has been evident for some time now that Green Mountain Coffee Roasters is witnessing severe YOY revenue growth deceleration and it is likely a consequence of the following reasons:
1. Private label market share accumulation
2. Market saturation
3. Pricing pressures
We will touch on some of these aspects as we carry forward with this look inside GMCR's 4th quarter.
Private Label Market Share And Competition
The recent downturn in shares of GMCR could be attributed to the negative market share data coming out of Nielsen's Scantrack Data and OTR Global.
Reports from OTR Global have shown market share erosion as private label competition comes into the marketplace and looks to compete on pricing with Green Mountain Coffee Roasters. In channel checks with coffee buyers representing nearly 7,000 stores, the firm found that half said the company's signature K-Cups are losing share to private-label competitors, a reversal from findings earlier in the year. The trend has continued through the back half of FY13.
As it pertains to market share and the negative publicity surrounding the data point, we would urge investors to consider that this data has been ever-present and displaying similar results for well over two years now as indicated in a report published by Bloomberg News back in December of 2011: The share of coffee dollar sales held by Green Mountain's single-serve products for the four weeks ended Nov. 27 declined to 8.4 percent, down 0.4 percentage points from the previous four-week period, according to a Bloomberg Industries analysis of data from researcher Symphony IRI Group. The company's share rose 3.4 percentage points from the year-earlier period. The market share data has never been able to show efficacy as it pertains to revenue and earnings growth. With that said, Capital Ladder Advisory Group tends to look deeper into actual sell-in data than most channel sales reporting agencies and we found some disturbing YOY trends in the data this quarter.
Competition continues to weigh heavily on GMCR investors as Delonghi pushed deeper into the single -serve coffee category by more broadly distributing its Dulce Gusto product line at Bed Bath and Beyond and various other retailers both domestically and abroad.
The newest addition to the NESCAFE Dolce Gusto line features espresso technology and was crafted with love - literally - featuring the words "LOVE IS THE MESSAGE" on one side, and a pop art image of a man and woman intertwined in a passionate kiss on the other. Like any great relationship, Fiorucci's bold design personality and Dolce Gusto's innovative technology are coming together with a common goal - to bring the art of coffee back into the home.
Back in August of this year, Capital Ladder reported on the successful reception of the Dolce Gusto product evaluation by the most reputable of firms, Consumer Reports. In June of 2013, the firm conducted a study of single-serve coffee machines and concluded that the best machine on the market right now was the Delonghi Dolce Gusto Genio brewer. It rated higher than Keurig, Starbucks, Bunn and Mr. Coffee brewers. (notes) Dulce Gusto continues to market its product line extensively with its latest infomercial which is hosted by Mario Lopez.
Peet's Coffee & Tea didn't want to be left out of the single-serve coffee category any longer and in the 2nd quarter the company finally entered the marketplace with its own line of single cups. Peet's Coffee & Tea announced the launch of Peet's Single Cups in late June. Made with the exact same quality, hand-roasted coffee for which Peet's is known, Single Cups enters the market with five varieties for owners of single-serve machines. Single Cups is now available at Peet's retail stores including Target Corp. (NYSE:TGT), Costco (NASDAQ:COST), Wal-Mart (WMT, major national grocery chains, as well as online at www.peets.com.
The keys to Green Mountain Coffee Roasters' long-term success lie within its ability to grow internationally, grow in adjacent sales channels and continuously innovate its product line. As we have often outlined for investors, Green Mountain has had continuous problems pertaining to product innovation. The Vue platform was developed to become a more functional and advanced arm of the Keurig platform and offers users the ability to brew cappuccino and espresso now. Unfortunately, it has been littered with disappointing sales. The biggest misstep regarding the Vue platform was that the machines were not developed to incorporate the usage of K-cups. Instead they were developed to use V-packs only. With the company launching a brewer platform that was not backward-compatible, more expensive and without the breadth of choice offered by the pre-existing Keurig platform, sales of the Vue product line have failed to meet expectations. Even with a less expensive version of the Vue platform launched earlier this year, the Vue500 has still not garnered nearly the interest or sales of its predecessor.
Unfortunately, the aforementioned statements are less opinionated than GMCR investors might hope them to be based on undeniable sales evidence and retail sentiment. During the 4th quarter, some of GMCR's largest retail distributors committed themselves to the most damaging evidence that GMCR's Vue product line simply wasn't selling at the rate it needed to in order to maintain its shelf placement at the retailers' locations in North America. Target has already begun discontinuing the entire line of Vue products at over 500 locations and we expect this discontinuation of the product line to filter through to more stores in subsequent quarters. Wal-Mart has also begun discontinuing the V700 Vue brewer system and destocking various V-Pack skus at more than 800 participating locations. Now, this would not be as impactful for GMCR had the company additional channels of distribution to initiate during the quarter, but we have seen little distribution expansion to note at this time.
Additional evidence of the Vue's poor sales performance can be seen in sales at Kmart which has further reduced the product's price from $169.99 to $149.99 during the quarter ended September 30th. Wal-Mart recently reduced the price on the V700 brewer to $170 from $199.98 and reduced the price of the V500 brewer to $150 from $169.98 to rival the price reductions from Bed Bath & Beyond (NASDAQ:BBBY) as well as Macy's (NYSE:M). Lastly, it seems as though competition is also taking market share away from the My K-cup re-usable coffee filter as BBBY is now clearancing the product. Capital Ladder Advisory Group would not be surprised to see further price reductions in the future from other retailers. Investors should put into perspective the severe price erosion that has occurred with the V700 brewer system at this time. The product commenced sales in February of 2012 with a $249.99 price target and is now being sold at most retailers for less than $180. This represents a nearly 30% reduction in price in less than 20 months. We hope to see a better consumer reception for the Keurig 2.0 than the Vue product line.
So why is this information regarding the Vue product line so important? Investors should always be considering growth when it comes to their stock of choice and GMCR is no different. In order to determine growth drivers, we have to consider what is providing GMCR with growth and much of the company's growth is coming from the Keurig line and not the Vue line. Last year during the 4th quarter, net sales included $9.6 million of sales of Vue® brewers and Vue® packs. Do we know what the sell-in figures for the Vue were during the 4th quarter of this year? To a degree maybe we do, but given the data at hand through established sales channels, we may have to consider the sell-in to either not have grown all that much or even begun to decline with fewer orders year-over-year. Additionally, we don't know if the launch of the Keurig Rivo machine will offset any distribution sales losses of the Vue product line. We will be listening for details regarding the Vue product line on the conference call and listening intently for the word "destocking." The photo below depicts the destocking of the Vue product line at a "B" volume, expanded grocery Target (B-volume denotes fewer than $50mm annual sales).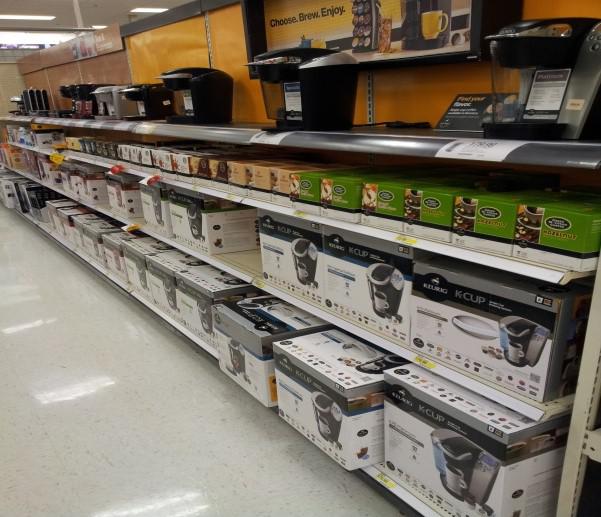 Food And Hospitality Channel Development
Green Mountain is not limited to at-home expansion in the coffee category, but rather with its new Keurig Bolt brewer system, the company will be expanding beyond the at-home channel and into the food service and hospitality business. The company already has a presence in this more commercial industry, but the technology and convenience of the Bolt system will allow the company to grow into this segment of the market in a larger way. The away-from-home segment represents 19% of Green Mountain's total revenues currently, but the company hopes to grow this away-from-home business into the low 20% range by next year. Within that forecast, this doesn't seem to be terribly meaningful in the near term.
Although it was not a result of the new Keurig Bolt launch, Green Mountain did recently land a distribution relationship with Hilton Hotels, advancing its sales in the food and hospitality industry which could serve to stem the tide of market share erosion in the at-home sales channel.
Beginning September 30th, guests in Hilton Garden Inn's more than 73,000 guest rooms in the U.S. and Canada (69,811 in the U.S.; 3,255 in Canada) have the option to brew their favorite coffee using a Keurig® K130 single cup brewing system. Each guestroom will be supplied with four complimentary Keurig® K-Cup® packs.
In the U.S., guestrooms will include two Diedrichs® Regular Coffee, one Diedrichs Decaffeinated Coffee and one Bigelow® Black Tea K-Cup® packs.
In Quebec, guestrooms will include two Van Houtte® Colombian Dark Coffee, one Van Houtte Decaffeinated Coffee and one Bigelow Black Tea K-Cup® packs.
In the greater Canada area, guestrooms will include two Timothy's® Rainforest Alliance Extra Bold Coffee, one Timothy's Rainforest Alliance Extra Bold Decaffeinated Coffee and one Bigelow Black Tea K-Cup® packs.
Additionally, guests may choose to purchase specialty beverages at HGI's 24-hour Pavilion Pantry convenience mart, located in the lobby area, which will feature eight Keurig Brewed® K-Cup® pack varieties, including Starbucks®, Green Mountain Coffee®, Bigelow® Black Tea and Café Escapes® hot cocoa.
Green Mountain inked another deal during the quarter in Canada by way of its new partnership with Metro Inc. in Quebec. Metro Inc. is a food retailer operating in the Canadian provinces of Quebec and Ontario. The company has over 350 stores operating under three different banners in the region. With a 66% growth in the last 52 weeks, single serve coffee pods are among the product categories experiencing the largest increases in terms of annual sales in the Canadian food industry.
GMCR Canada has created three exclusive blends for METRO made from 100% Arabica coffee.
Le Café Colombian Blend, a medium roast coffee which offers a balanced, fruity and light taste;
Le Café Metropolitan Blend, a dark roast coffee, the perfect blend for those fond of strong and bold notes; and,
Le Café Good Morning Blend, a light roast coffee, a mellow blend to start the day.
"The addition of METRO's Irresistibles K-Cup® packs enhances the already wide variety of GMCR's Keurig Brewed family of beverage brands and brings the benefits of GMCR's single cup expertise and our excellence in beverages and brewing systems to the brand", said Sylvain Toutant, President of GMCR Canada Holding Inc. (GMCR Canada). "Our collaboration with METRO is a prime example of our strategy to partner with prestigious brands to increase consumer awareness and adoption of the Keurig® Single Cup Brewing System", added Mr. Toutant.
Capital Ladder would expect to see beneficial results from this new partnership and a previously outlined partnership with Sobeys (Canadian grocery retailer) in the coming quarters. In Canada today, Keurig Single Cup Brewers with licensed partners are the top-ranked coffee maker brand in Canada based on dollar sales and the Keurig system represents 23% of dollar sales for the entire coffee category.
Conclusion
The consumer has been challenged in the recent quarter which likely means that retailers are struggling to keep inventories at manageable levels. Wal-Mart is showing signs that it is broadly reducing inventories amongst a plethora of vendors as the company has been challenged by inventory management in recent quarters. We have seen strong reduction in inventories from the likes of Wal-Mart and Target during the quarter and if what is being viewed through store inventory checks, orders could have been on the cautious side during GMCR's 4th quarter as they were for other vendors.
Pricing pressure continues to weigh on GMCR's product line as competition reinforces the need for more appropriately valued single cups and pods. The combination of increased operational costs and degradation in prices could culminate in slowing profit growth for the foreseeable future or until adjacent channel sales can offset these issues. With Keurig's recent launch of the Keurig Bolt in the U.S. and Canada, investors will need more information on how this product is being received in the marketplace.
Green Mountain Coffee Roasters is planning to increase A&P spend YOY as it takes aim at expanding its presence in the U.S. through markets such as Los Angeles, Miami, Madison, Atlanta and Chicago to name a few. Additionally, the company has stated plans to expand its presence next year into markets such as Sweden, U.K., Australia and South Korea. The company has managed to increase its capacity utilization and operational efficiencies through much of the year which enables the company to leverage certain aspects of its balance sheet. CFO Fran Rathke recently noted that the company has the ability to leverage its balance sheet and shift dollars to the most appropriate areas in order to drive the business, revenues and earnings forward. A perfect example of this taking place currently is the consistent draw down of CAPEX spending which has declined significantly from the stated guidance at the onset of FY13. We would expect the company to continue with this process for the foreseeable future as the business needs dictate. Also of great importance are the recent declining prices of green coffee which will benefit the company going into FY14.
The consumer will help to decide where shares of GMCR will head as the single-serve coffee category grows and more competitions comes into the marketplace and broadens the availability of choice for the consumer on product and pricing. Management's execution over the next several quarters will also be a great determining factor in share price performance. At this time, we should also recognize that GMCR still has purchasing power within its current share repurchase program and we will likely hear more about the program on the upcoming quarterly conference call.
Green Mountain Coffee Roasters will announce its FY14 guidance on the upcoming earnings release report. Capital Ladder Advisory Group would expect the company to offer guidance in the range of 18-22% earnings growth and revenue guidance in the range of 9-12 percent. Our expectations are based on current performance metrics, sales trends and continued deceleration of growth as new products are not set to launch until late 2014. GMCR sold 1.8mm brewers in Q4 of 2012 and has outlined it expects brewer shipments to grow in the low double digit range during Q4 2013.
While the trend in sell-in data does look less robust YOY at participating retailers like Wal-Mart, Target, Kmart and J.C. Penney (NYSE:JCP) (looking at inventory), it is hard to determine sell-in data as a whole for Keurig products as GMCR sells-into local distributors who manage inventory. These distributors maintain large volumes for retailers mentioned.
Disclosure: I have no positions in any stocks mentioned, and no plans to initiate any positions within the next 72 hours. I wrote this article myself, and it expresses my own opinions. I am not receiving compensation for it (other than from Seeking Alpha). I have no business relationship with any company whose stock is mentioned in this article.