At the close of business Thursday we saw many of the hedge funds and other large investors reveal their biggest holdings and the changes to those positions. There were quite a few notable moves by the smart money, but in the commodity space we saw one transaction which really caught our eye and that is the "Stock To Watch" today.
We have heard some talk of gold becoming a trade again now that it appears Janet Yellen will continue to be dovish, and very much so, when she takes over the reins of the Federal Reserve. Our thinking is that the tapering will begin in 2014 and will become a headwind for gold at that time. That coupled with what we suspect will be a healthier economy without inflationary pressures will not be conducive towards a strong bull move in gold and is why we continue to think that investors should look elsewhere in the metals complex for a trade. Our view is of the bearish stance and due to this the only reason we recommend being long physical gold is so one can also be short the gold equities - a trade which has been working.
Stock To Watch:
The stock to watch is Exxon Mobil (NYSE:XOM), a name we have been bullish on due to its underperformance and apparent value. For anyone who doubted the value proposition it would appear to U.S. that Mr. Buffett and Berkshire Hathaway have confirmed it with their latest investment. One can see the New York Times article located here.
Chart of the Day:
Over the past three months it has paid to be long gold merely to be short the bull case in gold equities. The past month tells a different story as the 3x bull ETF for the gold equities is performing slightly better, but long term we think that one has to be exiting their gold equity positions as the easy money policies here in the U.S. appear to be winding down.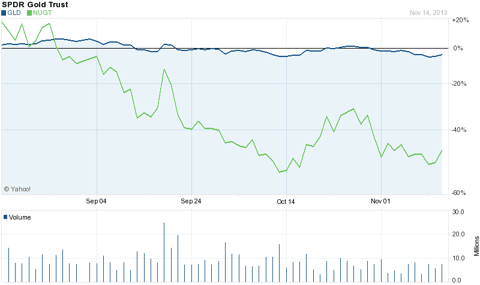 Click to enlarge
(Click to enlarge)
Source: Yahoo Finance
Commodity prices this morning are as follows:
Gold: $1278.50/ounce, down by $8.90/ounce
Silver: $20.545/ounce, down by $0.182/ounce
Oil: $93.47/barrel, down by $0.37/barrel
RBOB Gas: $2.6273/gallon, down by $0.0304/gallon
Natural Gas: $3.693/MMbtu, up by $0.033/MMbtu
Copper: $3.167/pound, down by $0.004/pound
Platinum: $1428.60/ounce, down by $10.30/ounce
Commentary
We have repeatedly discussed our approach to investing in the oil names the past few months with our main point being that we were trying to find value among the names in the industry. That became quite difficult searching through the small to mid-cap names as many of them focus on the up-and-coming shale formations and are sporting rich valuations based on their potential and/or expected future growth. This led U.S. to look towards the limited partnership names and some of the large cap names in the sector. The most attractive name we found was Exxon Mobil, a name we discussed a few times but most recently highlighted in the article located here.
Berkshire Hathaway increased its stake in Exxon Mobil while reducing its stake in another major oil firm, ConocoPhillips (NYSE:COP), by roughly half. That move should go a long way in highlighting the value presented by Exxon Mobil shares but we also think that it is an indictment of sorts on the company's recent execution on the business side. Yes the large natural gas purchase around a top was not the best deal, but it has led to the company being able to quickly expand into the shale boom and use that expertise to leverage its exposure to the liquids rich plays.
Exxon Mobil has underperformed its peers over the past year, but value traders have begun to buy the shares in recent weeks and actually made it an outperformer over the past month and even three months when looking at those comparisons. We believe this shall continue into 2014.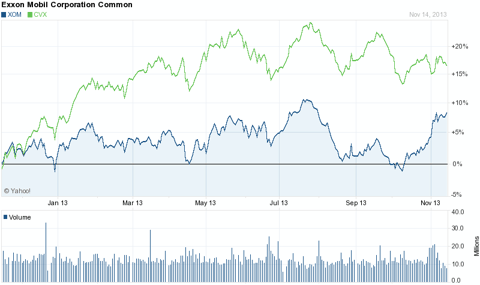 Click to enlarge
(Click to enlarge)
Source: Yahoo Finance
We think that Exxon Mobil will continue to allocate capital in a way that rewards shareholders long term, a trademark of the company, but think that the real upside in the shares exists by the company leveraging the balance sheet via an all cash and debt deal for a domestic producer, think Chesapeake Energy (NYSE:CHK), where they would be able to purchase assets that could give them a very large drilling inventory for years to come.
In this market it is best to seek value, and although Exxon pays a relatively small dividend when compared to its peers we think that the discount it trades at and its recent underperformance set the table for greater gains down the road - even with the lower yield. For those looking for a company that some say is better managed at this point (and pays out a higher yield), Chevron (NYSE:CVX) might be a decent play to look into.
Disclosure: I have no positions in any stocks mentioned, and no plans to initiate any positions within the next 72 hours. I wrote this article myself, and it expresses my own opinions. I am not receiving compensation for it (other than from Seeking Alpha). I have no business relationship with any company whose stock is mentioned in this article.