Petroleum & Resources (NYSE:PEO) is a closed end fund that trades like a stock. The price fluctuates per the bid/ask of the market and usually trades at a discount to the underlying net asset value ("NAV"). As of last Friday's close, PEO is trading at a substantial -14.7% discount to NAV. On top of that, PEO recently announced it will beat its 6% annual distribution commitment for 2013. These two metrics make PEO a bargain. In addition, last week PEO announced it would extend its share repurchase plan with an authorization to buy up to 5% of the outstanding shares of the fund. As a result of these catalysts, income and value oriented investors could easily grab a rather low-risk total return of 10-15% over the next 12 months.
PEO, as of the market close on Friday, 11/15/2013:
Net Asset Value: $33.75
Closing Price: $28.78
Discount to NAV: -14.7%
Petroleum & Resources defines the annual distribution rate as the total dividends and capital gain distributions during the calendar year divided by the average month-end market price of the stock. On this basis, the company's five-year average yield has been 6.6%. As mentioned earlier, in September of 2012 the company took the unusual step of announcing its commitment to paying an annual 6% minimum payout.
The 2013 Distribution
Last week, the company declared a year-end distribution of $1.58 per share. The year-end distribution is composed of:
$1.35 per share from net capital gains realized during 2013: composed of $0.08 short-term & $1.27 long-term capital gain;
$0.23 per share from 2013 net investment income.
NOTE: The payable date for the distribution is December 27, 2013, the record date is November 25, 2013, and the ex-dividend date is November 21, 2013.
Combined with the $0.30 distribution paid earlier in the year, the total distribution for 2013 will be $1.88. According to the company's method of calculating yield, it comes to an annualized yield of 7.2%. If one takes the total yearly distributions and divides it by Friday's closing price, the current yield is 6.5%. Either way you cut it, the yearly distribution was significantly above the 6% commitment made last year and is in line with PEO's 5-year average.
A Buffet Bump?
PEO was up 1.2% Friday, due in part to the year-end distribution and share repurchase announcements. However, an additional catalyst might have been the report that Warren Buffett's Berkshire Hathaway (NYSE:BRK.A) purchased 40 million shares of Exxon Mobil (NYSE:XOM), the fund's top holding and 15.3% of total assets. Shares of Exxon were up $2 in Friday trading. PEO's other top-10 holdings are shown below:
Ten Largest Equity Holdings (9/30/13)
| | | |
| --- | --- | --- |
| | Market Value | % of Net Assets |
| Exxon Mobil Corp. | $127,634,317 | 15.3 |
| Chevron Corp. | 100,845,000 | 12.1 |
| Schlumberger Ltd. | 55,225,000 | 6.6 |
| Occidental Petroleum Corp. | 37,883,700 | 4.5 |
| EOG Resources, Inc. | 29,624,000 | 3.6 |
| Anadarko Petroleum Corp. | 27,897,000 | 3.3 |
| LyondellBasell Industries N.V. (NYSE:A) | 25,264,350 | 3.0 |
| Halliburton Co. | 23,779,841 | 2.9 |
| Dow Chemical Co. | 21,024,000 | 2.5 |
| Noble Energy, Inc. | 20,438,050 | 2.5 |
| Total | $469,615,258 | 56.3% |
As can be seen from the chart above, the fund has a fairly concentrated stake in integrated oil and gas companies with Exxon and Chevron (NYSE:CVX) alone accounting for 27.4% of the total NAV. As a sector, PEO reports that total integrated oil and gas investments account for 32% of assets. The fund appears positioned nicely should weakness in WTI shift profits toward downstream chemical and refining operations. E&P companies come in next at 23.6% of NAV, followed by services at 17.3%.
PEO for Income
For income oriented investors, the chart below displays the fund's 5-year dividend distribution history:
Five Year Distribution History
Income
Dividends
per Share
Short-Term
Capital Gains
per Share
Long-Term
Capital Gains
per Share
Total
Distributions
per Share
Annual
Distribution
Rate*
2008

$0.38

$0.04

$2.57

$2.99

8.9%

2009

0.37

0.14

0.89

1.40

6.6%

2010

0.32

0.19

0.76

1.27

5.5%

2011

0.39

0.02

1.56

1.97

7.1%

2012

0.42

0.01

1.17

1.60

6.4%

Average:

6.9%
Performance
The company offers the following chart to judge its performance: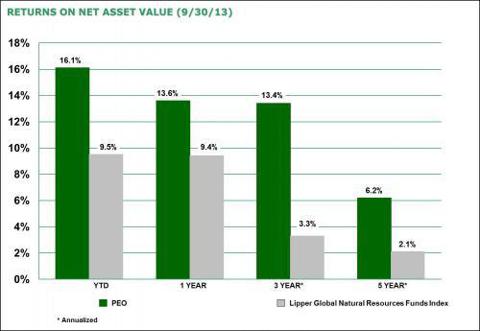 Click to enlarge
Please note those are "Returns on NAV". While PEO may look great compared to the Lipper Global Natural Resources Fund Index, the fund does not look so rosy as compared with energy funds like the Energy Select Sector SPDR (NYSEARCA:XLE) ETF: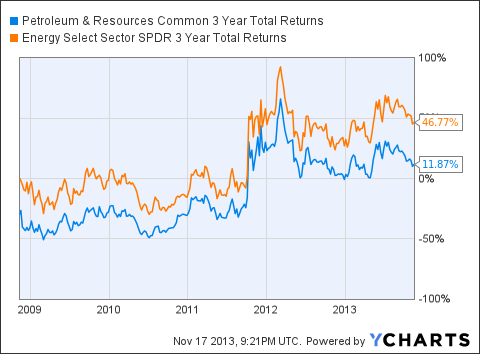 PEO 3 Year Total Returns data by YCharts
However, the chart above does not take into account dividends and distributions. In this case, you can add about a 4% annually to PEO because of its generous distributions. Much of the substantial underperformance is likely due to PEO's emphasis on big companies like XOM and CVX. Exxon, in particular, has had a difficult time of it over the past five years. So an investment in PEO is not appropriate for those seeking very high rates of return. It is more appropriate to income and value oriented investors that want a level of safety that is perhaps unmatched by broader energy and resource indexes.
Summary & Conclusion
Some of my astute followers will say hey Fitzman, didn't you write an article last year (PEO Commits To 6% Annual Dividend: Is It A Buy?) saying PEO was an underperformer and recommending it convert to a standard energy mutual fund that would trade at NAV? Indeed I did. And I still believe the fund should convert. That said, at this point the company has some strong catalysts: the discount to NAV is at one of the widest levels I have ever seen (it was over 15% at the end of Q3). In addition, the solid 2013 distribution combined with the share repurchase plan and prospects (finally) for some gains in Exxon Mobil, PEO now appears quite attractive. With a 6%+ annual distribution, and a 5% narrowing of the discount, the fund could easily deliver 11% over the next twelve months. Throw in a 10% gain for XOM, and investors could reap a 15% total return in PEO over the next 12 months. If Exxon and Chevron both kick into high gear, the total return could be closer to 20%. As a result, income and value oriented investors should consider PEO as a relatively low-risk opportunity.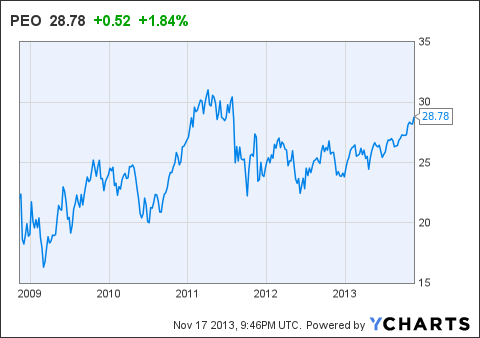 Disclosure: I am long PEO, XOM. I wrote this article myself, and it expresses my own opinions. I am not receiving compensation for it (other than from Seeking Alpha). I have no business relationship with any company whose stock is mentioned in this article.
Additional disclosure: I am an engineer, not a CFA. The information and data presented in this article was obtained from company documents and/or sources believed to be reliable, but has not been independently verified. Therefore, the author cannot guarantee its accuracy. Please do your own research and contact a qualified investment advisor. I am not responsible for investment decisions you make. Thanks for reading and good luck!