Yum! Brands (NYSE:YUM) recently announced its annual dividend increase in September. As has been the case over the past few years, this announcement closely followed McDonald's (NYSE:MCD) dividend increase announcement. Here are some quick highlights from the announcement:
The new annual dividend per share of $1.48 is up 10% from the previous $1.34/share.
This marks the 5th consecutive year that Yum has increased its dividend in the month of September.
Yum has been paying increasing dividends each year from 2004, even though it hasn't always necessarily increased dividends every 5th quarter like MCD.
This also marks the company's 9th consecutive double digit dividend increase, in terms of percentage. To put that achievement into perspective, only 21 other companies have managed this according to the website maintained by SA contributor Robert Allan Schwartz.
This article was written in last year when Yum announced its dividend increase in September. With this increase again in September 2013, it is time to rerun the numbers. Let us get into the details.
New Dividend: The new dividend of $1.48 per share gives Yum a current yield of 2%, at the current share price of $74. Yum's yield now is a little higher than it was at the time of the previous article linked above. In spite of the aggressive dividend growth, this yield still lags that of MCD's at 3.3%.
Payout Ratio: The payout ratio now stands at 50%, based on the trailing twelve months earnings of $2.94 ($0.83, $0.70, $0.56, and $0.85). This has edged up compared to the 42% last year. A 50% payout might indicate that the future dividend increases may not be as generous as in the past, unless the earnings growth is exceptional.
Dividend Growth Rate: The 5 year dividend growth rate has dropped to 14% from the 17% at the time of the last year's article. This is expected because it is hard for any company to grow earnings or dividends at this pace. However, 14% is still commendable and is prompting a few investors to question whether Yum might be a better dividend growth stock than MCD. This question is answered in the sections below.

Extrapolation: This is the section where the expected returns of Yum and MCD are compared, from an income perspective. A couple of comments in our recent article about MCD mentioned how Yum is dominating MCD when it comes to dividend growth. While this is obviously true given the fact that Yum is still a fairly young entity as well as a new dividend paying stock compared to MCD.
However, Yum's dividend growth is also being slowed down as mentioned above. More importantly, as the two tables below show, Yum has to do a lot more catching to do when it comes to dividend yield. The first table below shows the expected yield on cost for Yum investors, assuming a 10% dividend growth for 5 years and 7% for the next 5 years.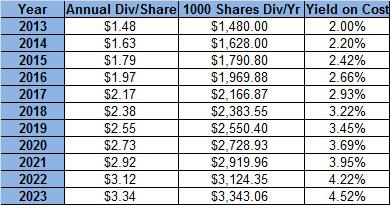 The second table below is for MCD, assuming a 7% annual dividend growth. It is clear that MCD wins, even when assuming a much lower dividend growth rate. Even if we assume only a 5% dividend growth for MCD, the yield on cost will be 5.5% in a decade for an investor buying today. This represents a 22% higher return to investors compared to Yum's 4.5%. Plus, investors are paying a much higher price for Yum when compared to MCD, with a PE of 30 vs 17 respectively.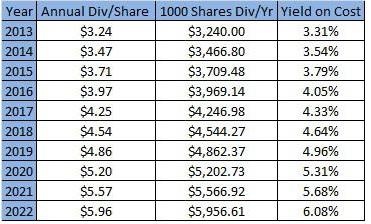 Cash on Hand: Yum's cash on hand has dropped from $974 million at this time last year to $753 million. Cash represents about 2% of the company's market cap. The corresponding number for MCD is 2.4%.
Conclusion: Both these companies face headwinds going forward. Yum's recent quarter had a 15% decline in earnings per share, mainly due to soft sales in China. MCD hasn't been doing great either, with multiple reports of slowing down and flat/reduced sales coming in since the company reported its first sales drop in nine years back in 2012.
The ever increasing focus on healthy foods/obesity issues isn't helping either. That said, these two companies are still clearly the king and prince of fast food in our opinion. They clearly aren't ready to give up, as can be seen in this report about MCD on Seeking Alpha. We strongly believe MCD is still the best income stock in the restaurant industry, while we view Yum as a stock similar to Visa (NYSE:V) and Starbucks (NASDAQ:SBUX) offering a unique blend of growth, dividend, and dividend growth.

Disclosure: I am long MCD. I wrote this article myself, and it expresses my own opinions. I am not receiving compensation for it (other than from Seeking Alpha). I have no business relationship with any company whose stock is mentioned in this article.