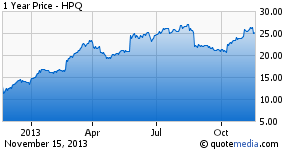 Since January 2010, Hewlett Packard (NYSE:HPQ) has lost nearly 49.63% of its share price ($25.94 on Nov 8, 2013 from $47.07 on Jan 4, 2010). The forward P/E for October 31, 2014 is expected 6.84, down by 33.7% compared to 10.31 in 2010. Overall, HP's valuation is rather disappointing and, for some, it signifies less optimism for future growth. So, the question that arises for HP stakeholders around the world is: can Hewlett-Packard, the world's largest PC maker, get back on track and retrieve its prior success?
Let the numbers do the talking
According to IDC, PC sales are losing market shares to tablets and smartphones. Falling consumer demand has resulted in global shipments of desktops and laptops to drop 8.6% in Q3 2013. Customers are buying less PCs and printers, and HP accumulates more debt than it can absorb through mergers and acquisitions. HP is not that much into mobile phones, and on the top, the PC segment declined 11% with Desktops units down 9% and Notebooks units down 14%. In fact, in Q3 2013 results, only the Software segment was up 1% on a year-to-year basis, leading to decline 8% in net revenue to $27.2 billion. So, basically, it looks like HP struggles to maintain its PC sales with no factual indication of a turnaround. On the other hand though, the company has successfully launched Windows 8.1 PCs.
Why HP loses market share?
One of the main reasons that HP desktops or laptops do not belong to the priority list of the consumers is because HP fails to innovate. The company is not a ground breaker in the industry and strives with intense competition. Microsoft (NASDAQ:MSFT) is the leader in technical innovation; International Business Machines or IBM (NYSE:IBM) has become a cutting-edge PC manufacturer with its involvement into microscopic biosensors and optical probes; Apple (NASDAQ:AAPL) in the face of Job's passing away, has managed to control the smartphone market and reinvent iOS. At the same time, HP PCs and laptops have nothing innovative to entice consumers to line up outside Best Buy (NYSE:BBY) at 4 a.m. to get them. Even the HP tablet with the webOS, which could possibly make a difference, doesn't support too many built-in or third party apps. Nothing really original, nothing really revolutionary in terms of advanced technology. It seems like HP focuses more on the design and ignores simplicity.
Another reason that makes consumers sort of skeptical when it comes to HP products is that the company cannot really handle its management issues. As a result of declining growth, HP engaged in an acquisition spree, looking for "good deals" in the hope of increasing its market share and regain its competitive position in the industry. However, things didn't work as expected. More than the disastrous acquisition of Autonomy Corp. for $11.1 in October 2011 that led to an $8.8 billion charge, the company faced shareholder lawsuits for failure to properly examine Autonomy's finances before the merger.
What about HP's competitors?
Hewlett Packard's CEO Meg Whitman believes that "current long-term HP partners, like Intel (NASDAQ:INTC) and Microsoft, are increasingly becoming outright competitors". It is a fact that the competitive landscape of technology has seen dramatic changes in the recent years as new trends have emerged and advanced technologies have been launched.
In my view, HP products are more differentiated. Even if HP directly competed with Intel and Microsoft, it is more diverse compared to Dell (NASDAQ:DELL) or IBM. For example, HP printers are more reliable than Dell's as they have more memory, and better imaging lenses. They are less bulky and have more value for money as the HP printers ship with 2,000 pages of toner vs. 1,000 pages of Dell. So, there is definitely a competitive advantage, which may be used in the company's best interest. Besides, HP is less reliant on the PC market as a percentage of revenue than IBM due to its numerous different segments from which it can generate revenues.
Future Outlook
HP is expected to release Q4 2013 results on Nov 26, 2013. The consensus EPS forecast is $1.01, down by 12.9% compared to $1.16 of Q4 2012. However, in 2014, HP is expected to recover. First of all, in May, HP announced a major restructuring that involves simplifying business process and lowering marketing expenses. In addition, CEO Meg Whitman plans major job cuts - 29,000 people by the end of 2014 - to save $3.5 billion annually and boost profitability. In doing so, HP seeks to trade off for the losses from the PC sales.
Another focus point for HP should be cloud services. The company has the potential to generate revenues and directly compete with Amazon (NASDAQ:AMZN) on cloud services. The recently launched HP Cloud Computer, HP Cloud Object Storage and HP Cloud CDN, are all built on HP Cloud OS and integrate key features of OpenStack technology to provide the end-user with access to converged storage and integrated data analytics. In my view, this newly introduced converged cloud infrastructure, can be the turnaround point for HP, provided that the company will avoid too many mergers in the future and will capitalize on the R&D investment. HOLD.
Disclosure: I have no positions in any stocks mentioned, and no plans to initiate any positions within the next 72 hours. I wrote this article myself, and it expresses my own opinions. I am not receiving compensation for it (other than from Seeking Alpha). I have no business relationship with any company whose stock is mentioned in this article.