The S&P 500 (NYSEARCA:SPY) closed higher for its sixth week in a row. At a time like this, it can help long-term investors to hear from traders like us about how to look for a possible high that could precede a major correction. Many of us here are both investors and traders and we use the thinking we do for one to guide the other.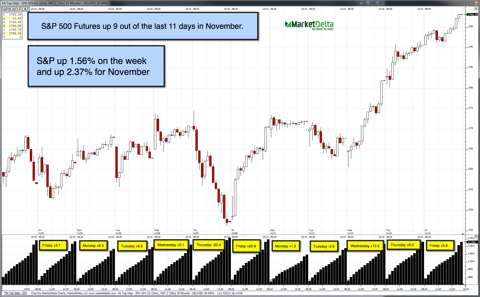 Click to enlarge
For most of Friday's trade the S&P was stuck in a 4-handle (4-point) range, making an all-time new contract high in the final hour during the late Friday rip. The S&P is making new highs almost daily, but do you see anyone cheering?
The economic downturn of 2007 has dissipated but not gone away. I know it, you know it, and so does the lady down the street. There have been good economic times in the past that supported big rallies in the stock market but this is not one of them.
The Asian majors closed sharply higher and in Europe 12 out of 12 markets are trading higher. Today's economic and earnings calendar starts with Boston Fed President Eric Rosengren's speech on financial supervision in Abu Dhabi at 1 a.m. ET, Treasury international capital, housing market index, e-commerce retail sales, New York Fed President William Dudley speech on regional and national economy in Flushing, N.Y., Philadelphia Fed President Charles Plosser speech on the economic outlook in Philadelphia, Minneapolis Fed President Narayana Kocherlakota speech on TBTF in Minneapolis and earnings from Tyson Foods (NYSE:TSN), Urban Outfitters (NASDAQ:URBN) and SalesForce (NYSE:CRM).
Still have to be bullish on the S&P 500
The markets are going up, supercharged by the constant liquidity supplied by the Federal Reserve. We have seen some big moves and this one is far from over.
While we have always expected higher prices, we also like to keep things in perspective. The Dow made its 38th record high on Friday and the S&P made its 36th new high. In September the S&P closed higher 12 out of 20 trading days. In October the S&P closed higher 14 out of 23 trading days and so far in November the S&P has closed higher 9 out of the first 11 sessions or up 4 in a row.
Looking at percentages instead of just higher and lower can give even more perspective. Last week the S&P closed up +1.56% and up +2.37% on the month. The 50-day moving average is 6% lower from Friday's close. The S&P is now up 26% for 2013 and up a whopping 166% since making the March 9, 2009, low. The S&P is currently 151 points higher than its 1637.46 200-day moving average.
Of the 460 companies in the S&P that have reported third-quarter results, 73% have topped Wall Street's forecast. The S&P is up over 30% in the last 52 weeks. Both the S&P and Dow ended near their "big figures" 1,800 and 1,600, and the NASDAQ at 4,000 is the highest that index has been since the 2000 tech bubble.
You think it's over? Guess again; there is still $2.6 trillion in money markets just waiting to get back in. Bullish? Yes, but in awe. This truly is a rally not to fight.
Our view
As the S&P futures approach the big figure at 1800 and knowing that every Tom, Dick and Harry are calling for S&P 2000, you have to be careful. Additionally, the VIX dropped to a three-month low at 12.37 on Friday. When you throw in all of the above we think the S&P could be nearing a pullback level.
While many good traders have called for a selloff in the S&P this year, it's more likely we'll see a smaller, but sizable, pullback before getting back to what the ESZ13 has done all year: make new highs. According to the Ned Davis stats, the Mondays after the November expiration have been up most of the last 21 occasions.
As always, keep an eye on the 10-handle rule and please use stops when trading futures and options.
In Asia, 8 out of 11 markets closed higher: Shanghai Comp. +2.87%, Hang Seng +2.73%, Nikkei -0.01%.
In Europe, 12 of 12 markets are trading higher: DAX +0.55%, FTSE +0.40%.
Morning headline: "Global Stocks Higher As S&P Futures Reach 1800"
Total volume: LOW 1.2 mil ESZ and 4.3k SPZ traded
Economic calendar: Boston Fed President Eric Rosengren's speech on financial supervision in Abu Dhabi at 1 a.m. ET, Treasury international capital, housing market index, e-commerce retail sales, New York Fed President William Dudley speech on regional and national economy in Flushing, N.Y., Philadelphia Fed President Charles Plosser speech on the economic outlook in Philadelphia, Minneapolis Fed President Narayana Kocherlakota speech on TBTF in Minneapolis and earnings from Tyson Foods [TSN] , Urban Outfitters [URBN] and SalesForce [CRM]
E-mini S&P (Sep)1798.75+5.25 - +0.29%
Crude97.80-1.42 - -1.43%
Shanghai Composite0.00N/A - N/A
Hang Seng23660.061+627.91 - +2.73%
Nikkei 22515164.3-1.62 - -0.01%
DAX9243.25+74.56 - +0.81%
FTSE 1006729.72+36.28 - +0.54%
Euro1.3535