I guess it all started, for me at least, with the movie "Minority Report". That was the first real time I saw gestures as possibly being plausable for a user interface. Granted, it was sci-fi at the time - but, like so many other sci-fi "ideas", it doesn't take long for them to cross over into the mainstream.
It was reported on Sunday this weekend that Apple (NASDAQ:AAPL) had purchased PrimeSense, a company that makes the chips that power movement based sensors - like the ones used on Xbox's Kinect.
The deal is being set to close at around $345 million. The company not only had the technology that powered the original Kinect, but they also have manufactured sensors for tablets, smartphones, and other smaller devices.
Seeking Alpha pointed out this morning, as well, that Samsung (OTC:SSNLF) has already been working on gesture support - and that Google (NASDAQ:GOOG) and a startup named Leap Motion are both not far behind.
9to5 Mac had reported a couple of years ago on Apple starting to lock up patents for the same type of product:
Apple was just granted a patent by the US Patent and Trademark Office (via Patently Apple) detailing 3D display & imaging technologies that could potentially lead to advanced Kinect-like navigation through performing gestures or manipulating holographic images within a virtual 3D space.

Essentially, this would allow you to perform hand gestures within a virtual space while your hands are displayed on a screen, allowing for precise manipulation of on-screen elements.

The patent's inventor also notes that these imaging technologies could be used for presence detection, head tracking, and auxiliary display capabilities as well. We can't help think of Kinect-like gaming for a potential future Apple TV, although the extent of the gestures and tech described in the patent goes well beyond current implementations.
This is no doubt a key indicator of the direction that things are going for technology. Apple, Google, Samsung and other are all likely engaged already in an internal "race" to be the first to get this technology out there.
Microsoft (NASDAQ:MSFT) has beat them to the de facto punch with its Xbox One's gesture technology - the question, if Xbox One sells well, is going to be how well it works. Due to the overwhelmingly large amount of likely buyers for the One, we're likely to have a large test group to find out from quickly.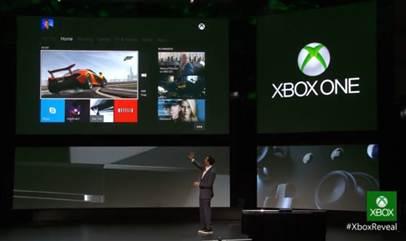 A question that's already coming up is whether or not this is a nod to Apple releasing a video game console - the answer to that question is most likely "no way".
There are tons of people from the camp that Apple will not make a video game console. ARStechnica.com talks about why it probably won't happen:
These days, it's the Apple TV that is most often cited as the stealth entry point for Apple's "ultimate game console," simply by allowing the thousands of iOS games to access the TV. Never mind that controlling games designed for a touchscreen might not be the most natural thing to do on a living room HDTV (no, things like iPad or Magic Trackpad controls don't instantly solve this problem). Apple did file a patent to let other devices act as Apple TV controllers, including what looks a lot like Sony's DualShock, but the vast majority of iOS games are not currently designed with this kind of control scheme in mind. For those that are, if people really want to play them on a TV with button controls, there are third-party devices that already add this functionality. Others are jumping on rumors of a new Apple TV graphics chip as evidence that the box will soon support 3D games, but there could just as easily be innocuous supply chain explanations for such a change.
Now, conversely, you know if Apple was going to venture into the realm of making a TV, they would want it to include innovation that isn't currently on the market - that would be a good starting point for gesture recognition. Apple's TV, as I've predicted in other articles, is likely still a 2015 idea, with the iWatch likely to be the new product in 2014.
So, like with Apple's acquisition of WiFiSlam earlier in the year, I wouldn't expect this acquisition to bear immediate fruit. However, investors that are watching the "ecosystem" battle unfold now between Apple, Google, and Microsoft will now have a new factor to keep an eye on going forward - the inevitable inclusion of gesture technology, and who's going to perfect it correctly first.
Apple, while they may not be first to market with it (see the Galaxy Gear watch), is likely going to make best use of the technology once it is incorporated into their product line (see the coming iWatch, and how it's going to compare).
In the midst of this emerging technology coupled with the ongoing ecosystem battle, my money would continue to ride with Apple.
Best of luck to all investors.
Disclosure: I have no positions in any stocks mentioned, and no plans to initiate any positions within the next 72 hours. I wrote this article myself, and it expresses my own opinions. I am not receiving compensation for it (other than from Seeking Alpha). I have no business relationship with any company whose stock is mentioned in this article.