Historically, no portfolio was complete without a material allocation to real estate. Consistently high real returns and low correlations to stocks and bonds made it easy to overlook the out-of-whack fundamentals that ultimately led to an unprecedented collapse. But when real estate markets got a reality check in late 2008, many investors swore off the asset class for good. Or so they thought.
After losing their shirts in real estate investments during the financial crisis, many investors washed their hands (and their portfolios) of REITs, unable to tolerate such extreme volatility and unwilling to accept the downside ramifications of risky assets. But investors who were able to spot the bottom of the real estate market in the U.S. have been handsomely rewarded, and now many are beginning to consider a more significant allocation to this asset class. The ETF boom has presented dozens of options for investors looking to add real estate to their portfolios, ranging from broad-based U.S. funds to more targeted ETFs to strictly international real estate exposure.
REIT ETFs 101
The most widely disseminated statistical bulletins related to the U.S. real estate market often focus on the residential housing market. The S&P Case/Shiller Index is a closely-monitored indication of metropolitan home prices, while other data releases provide insight into new home construction, existing home sales volume, and current inventory. But the notion that real estate investment trusts ("REITs") are impacted significantly by residential home prices is an erroneous one. While most REITs and REIT ETFs maintain a moderate amount of exposure to residential real estate (usually through the ownership of apartment complexes), these funds are typically dominated by commercial and industrial real estate.
Because many REIT ETFs invest in a wide variety of real estate holding companies, these funds can be impacted by a number of factors. Drivers of REIT ETF performance include:
Vacancy Rates: The majority of REIT holdings consist of industrial and commercial real estate properties, so performance of real estate ETFs is heavily dependent upon office rental rates. Rental rates are in turn dependent on demand for office space, which is influenced by numerous factors, including unemployment rates anticipated commercial growth.
Consumer Confidence: Retail real estate (such as shopping malls and other retail outlets) account for a significant portion of real estate ETF holdings. Since rental rates often depend at least partially on the level of revenue generated by tenants, the amount of consumer spending on discretionary items has a major impact on real estate ETF prices.
Foreclosure Rates: Since real estate ETFs invest in various types of mortgage-backed securities, the rate of default on the underlying assets (i.e., residential and commercial mortgages) has a significant impact on the value of these holdings.
Diversified REIT ETF Options
The most popular real estate ETFs are those that offer exposure to a variety of different types of REITs, including industrial and office, retail, residential, hotels and lodging, and real estate holding and development. Many of these ETFs give significant allocations to the largest publicly-traded REITs, including Simon Property Group, Vornado Realty Trust, and Public Storage.
While there is significant overlap in the holdings of the seven diversified REIT ETFs, there are also some major differences in these funds, including expenses and depth of exposure. As shown in the table below, all of these funds incurred big losses during the most recent economic downturn, losing more than 60% of their value over a six month period.
click to enlarge images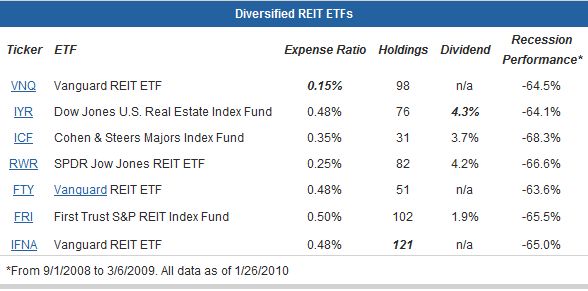 Targeted REIT ETFs
In addition to funds covering a range of real estate stocks, there are a number of REIT ETFs offering more targeted exposure to specific corners of the real estate market. These funds include:
Global Real Estate ETFs
For investors who believe that real estate still has the potential to add valuable diversification benefits to a portfolio but bearish on the prospects for the U.S. market, there are several ETFs that offer exposure to international real estate markets (though its should be noted that some global real estate ETFs maintain exposure to U.S. markets). Investing in international REITs is often more expensive than U.S. real estate, but the expense ratios listed below are still well below costs for most mutual funds.
As shown below, many international and global real estate ETFs include significant allocations to the developed Asian economies of Hong Kong, Japan, and Australia.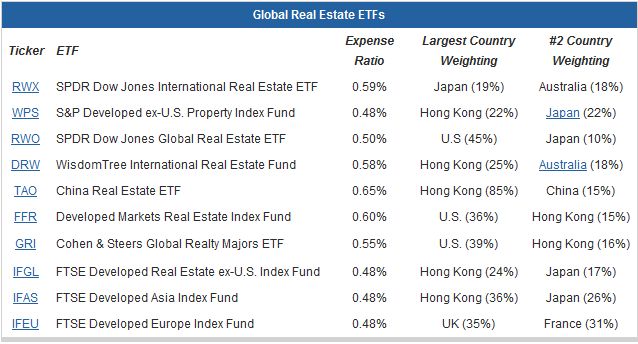 Disclosure: No positions at time of writing.