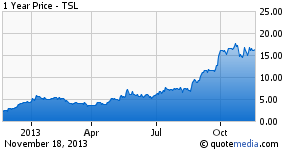 On November 19th, Trina Solar Limited (NYSE:TSL) will be reporting its third quarter results. The company had offered investors the following update on November 5th:
"The Company estimates its solar module shipments in the third quarter of 2013 to be between 750 MW to 780 MW, compared to the Company's previous guidance of 650MW to 680MW. Additionally, for the third quarter of 2013, the Company estimates its overall gross margin to be in the range of 14.5 to 15.5%, compared to the Company's previous guidance of low double digits in percentage terms."
In the article on October 27th, our original estimate for Trina saw the company achieve 12.1% gross margin, with volume at the top of the original guidance at 680MW. At the time, we conservatively applied a loss of 0.27 per share.
We have had an opportunity to revise our estimates. During the second quarter, Trina shipped 467MW of modules, with approximately 26% of revenue drawn out of China. ASP was around $0.64 per watt for all modules sold. The company had a 20% gross margin during August; therefore, we understand that it would be reasonable to see 15.19% GM for the entire quarter.
The question is how much of the ASP in China was seen in the third quarter versus the second quarter, as well as what amount of the amount was shipped domestically? In all, understanding of this relationship would help us to determine the revenue size, and we could better rate the net income potential. The ample size of the Chinese market would reduce operating costs based on shipping cost, which usually, in overseas shipments, adds around $0.03 per watt.
Based on our Export Data Report, global deliveries in the third quarter were lower by some 20%. At the same time, if we use the halfway point of the new guidance at 765MW, they are 118MW higher. We speculate that Trina has inventory in Europe and was able sell at least 100MW from it, giving around 39% of the entire shipment to China versus 30% in the second quarter. Also, based on our reports, we see Trina's ASP increased by at least two cents globally. We believe that a similar increase of two cents per watt would be available in China. For example, Yingli Green Energy was able to increase its ASP to $0.69 during the third quarter, from $0.66. Therefore, based on size and sales of kits, including the more efficiency-capable Honey modules, the revised revenue could be as high as $534M from our prior estimate of $468M.
Using GM of 15.19%, gross profit would be in the area of $81M. Reduction of selling expenses by $0.008 due to more sales in China, inclusion of preliminary guidance adjustment for incremental provision of $10.5M and a foreign exchange gain of $8.5M, the net income comes to negative $7M, or a net loss of $0.10 per share, which is a substantial improvement over our original view and recently adjusted from a $0.14 loss by analysts.
Another potential point of optimism with Trina is guidance for the fourth quarter.
Using Yingli Solar's (NYSE:YGE) estimates both for GM and sales from its third quarter results, we believe that TSL can increase the GM in terms of 1 to 2% higher than Yingli, to possibly 17.5%. The company mentioned it was producing at 20% internally during August, which is easily assumed to be the rate for the fourth quarter. There is no reason to expect ASP to drop during Q4, either. Further, accounting for an increase in guidance by companies that already announced their quarters, we foresee the company to be in a position to upside its guidance for the full year. Certainly, the only threat to Trina's ability to impress with further growth in Q4 is a limitation of its own capacity. To- date shipments, including the 765MW estimated for Q3, show 100% utilization of its capacity, worth around 2.4GW. Therefore, we are not expecting much inventory reduction during Q3. Based on the company's data suggesting 60% of the inventory being finished goods, we hypothesize that Trina has at least 200MW of modules at its disposal, outside of the maximum production capacity. Potentially, due to productivity improvements and module efficiency, optimized capacity can reach 2.5GW or even as much as 20% more over the publicized nameplate. Therefore, it is quite possible we could see that Q4 goal of 800MW or more, moving guidance to 2.6GW. Trina is also outsourcing its sales; therefore, any volume above the nameplate capacity can be covered when necessary.
Trina also recognized $45M in project assets during the second quarter, showing a total of $52M on the balance sheet. The 50MW Gansu Wuwei project was expected to be completed by the end of the third quarter and to be connected to the grid. Whether Trina is going to get FiT from its projects or they are awaiting sale, there is at least 5 to 25% potential to capitalize on this value.
In our bullish outlook, we expect Trina Solar to reach profitability during Q4, as long as the additional ASP increases are achieved. Lastly, stock has not responded in a positive way to the update, closing on November 15th at 0% change from the day of the update-to-guidance release on November 5th. We believe that lack of the profit announcement is the main reason for it, something which could be addressed during the conference call on the 19th.
Disclosure: I am long TSL, JKS, SOL. I wrote this article myself, and it expresses my own opinions. I am not receiving compensation for it. I have no business relationship with any company whose stock is mentioned in this article.