Hugh Young, managing director of Aberdeen Asset Management Asia, sees Asia leading global growth in 2010. Mr. Young explains that Asia is experiencing increased consumer demand, less reliance on exports as well as lower levels of personal, corporate and government debt compared to developed nations.
I strongly doubt you'd hear many voices disputing the economic facts as they are. You might, however, question the conclusions Mr. Young draws from Asia's economic lead; specifically, Aberdeen's spokesman expresses a conviction that Asia stocks will outperform and that those stocks deserve higher premiums over developed world counterparts.
On the one hand, Mr. Young's points are compelling. On the other hand, the opinions of the managing director of a Singapore-based asset management group might be… biased?
Indeed, Mr. Young has a positive-only spin on economic events. For instance, he expresses, "…in the face of slack demand from developed countries, governments in the region have been able to boost local demand through domestic bank credit (as well as public spending)." Yet the very reason that Asian stocks have been hit harder than any other area over the past week is due to a tightening of this credit. What's more, many argue that it is the loose bank credit that has already created a speculative property bubble in China, the bursting of which would send shock-waves throughout the region.
Admittedly, I have my own Asia bias because I lived and worked in the region for 4 years. Predictably, I do not believe that China is in imminent danger of a housing-induced economic collapse. House prices may have surged in price, and they may fall pretty far because of get-rich buying activity. However, many Chinese pay entirely in cash for their homes and the average mortgage typically covers about 1/2 the property value.
I might access Asia (e.g., South Korea, China, Singapore, Taiwan, etc.) through the iShares All-Country Asia excluding Japan Fund (NASDAQ:AAXJ). With the international markets pulling back… and possibly heading for a significant correction… consider entering a position in one of the following ways:
(1) Buy at a 10% correction ($52.20) off recent highs or,
(2) Buy at the 200-Day MA with an expectation of a bounce higher, approximately ($50).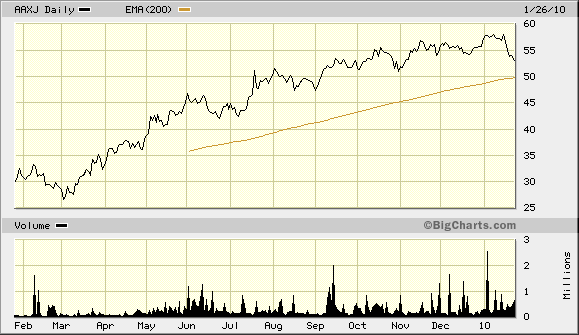 In either instance, you'd want to put a 10%-12% stop-loss sell order on your purchase price. If the correction becomes deeper… if a bear comes clawing out from its cave… you should protect capital.
Disclosure Statement: Gary Gordon, MS, CFP is the president of Pacific Park Financial, Inc., a Registered Investment Adviser with the SEC. The company and/or its clients may hold positions in the ETFs, mutual funds and/or index funds mentioned above. The company does not receive compensation from any of the fund providers covered in this feature. Moreover, the commentary does not constitute individualized investment advice. The opinions offered herein are not personalized recommendations to buy, sell or hold securities.