By now, the investment community is aware of Microsoft's (NASDAQ:MSFT) intent to purchase Nokia's (NYSE:NOK) Devices and Services division for $7.2 billion. As part of the deal, the software giant will also gain access to Nokia's extensive IP portfolio, as well as HERE maps (for an additional $250 million annually). After the announcement of the Microsoft-Nokia deal, a handful of analysts have chimed in with upgrades on NOK stock based on: i) improved balance sheet, ii) improved cash flow, iii) possibility of dividend reinstatement, and iv) increased chance of monetizing its patent portfolio in the near future.
The deal was announced on September 3rd and shares of NOK rocketed from $3.90 to $5.12 that day. For the remainder of the month, the shares continued to make solid gains and finally ended September at $6.51. Fast forward to the present day and NOK is on the verge of breaching $8.00. In retrospect, it was absolutely the correct call to buy NOK hand over fist after the Microsoft-Nokia announcement. Now that institutional holdings for Q3 have been updated, we can look at which hedge funds or investment firms had the more astute and savvy analysts working for them, and which had employed analysts who made the wrong call and sold NOK shares. In the July-August period, roughly 918 million shares changed hands. In comparison, 1,736 million shares traded in September alone, indicating that traders have had ample opportunity to repurchase shares that were sold in the prior two months if they realized the opportunity at hand.
And the winners are...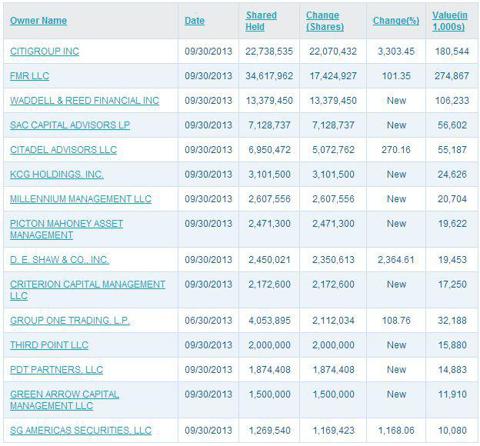 It appears Citigroup is the major winner here, with over 22 million shares added in Q3. Fidelity Management and Research (FMR) is also a major winner, having doubled their position to 34.6 million shares. Waddell & Reed comes in at third place after initiating a position of 13.4 million share. Other notable names in the investment community are also on this list, including Steve Cohen's SAC Capital and Dan Loeb's Third Point.
Goldman Sachs appears to be the biggest loser after disposing 36.2 million shares in Q3. The Capital Group also missed out on Nokia's run after liquidating its entire position. Other notable investment firms which made the wrong call include Morgan Stanley, Arrowstreet Capital, UBS and Credit Suisse.
Although Dodge & Cox also sold 5.7 million shares in Q3, that is peanuts compared to the 170 million shares of NOK that they still own. Basically, this single largest shareholder is holding its stake in Nokia and believes there will be additional gain ahead.
Why do we care?
The fact is, if you are reading this Seeking Alpha article, you are probably a self-directed investor and have little need for professional advice. However, as your portfolio grows and your interests shift, you may one day find yourself seeking professional help on managing your assets. When that day comes, you would be wise to choose an investment firm whose mandate is aligned with your own. If you invest in Nokia and continue to believe that substantial future gains still await, take a look at the big firms who also share the same investment thesis as your own. Keep this list of winners and losers in your back pocket. One day, it may help you choose between a winning and losing strategy.
One major surprise from this research was that the number of new and increased positions combined to roughly equal the total of decreased and sold out positions, with the two sides ringing in at approximately 149 million shares each. Thus, there was no net increase in institutional ownership in Q3. What are the institutional investors waiting for? One good reason to stand on the sidelines is to wait for Nokia shareholders to actually approve the acquisition at the Extraordinary General Meeting on November 19th. The Nokia Lumia lineup of handsets is firing on all cylinders, with roughly 8.8 million units sold in Q3 and a predicted 11.7 million units to be sold in Q4. Some investors might be reluctant to give up this robust growth and may vote against the Microsoft-Nokia transaction. Other investors might be waiting for Nokia to reinstate its dividend after closing of the Microsoft deal. In any case, keeping an eye on the institutional ownership for the next 2 quarter will help gauge which direction NOK shares will likely go in 2014.
Disclosure: I am long NOK. I wrote this article myself, and it expresses my own opinions. I am not receiving compensation for it (other than from Seeking Alpha). I have no business relationship with any company whose stock is mentioned in this article.